We didn't get up to see the first Gatwick flight or the Luton flight people off, well they left about 8.30am ! but as we had to be out of the room by 10.00 or so, we did eventually get up and get our stuff packed while the cleaners were knocking on our door trying to encourage us to leave. When we got down to the hotel lobby we found that Dave was back at the hospital as he was suffering from second degree burns from the sun (presumably mainly at the water park) and his shoulders had come up in blisters the size of fried eggs. We were a little worried that he might not be released in time for the flight home.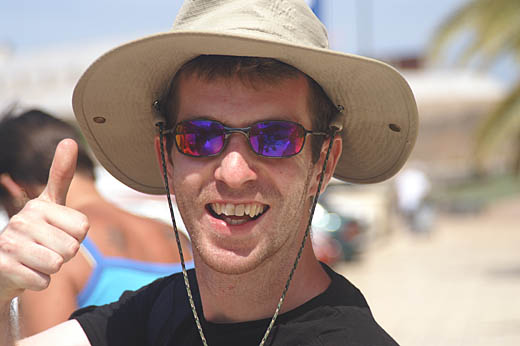 Paul H seems happy enough to be homeward bound
We saw the second Gatwick flight people off at 11.15 and then the group of us who were left went over to a cafe and had a final holiday full English Breakfast. It was all just hanging around the hotel until it was time to leave… when it clouded over and started raining it sort of put the final seal on the fact that the holiday was over. Dave turned up back at the hotel, looking a right mess with blisters and ointment and dressings all over his back. Fortunately we had our own medical personell (Venita) to change his dressings. He had a difficult struggle getting his shirt on as he couldn't move his shoulders, but after much pain he managed it.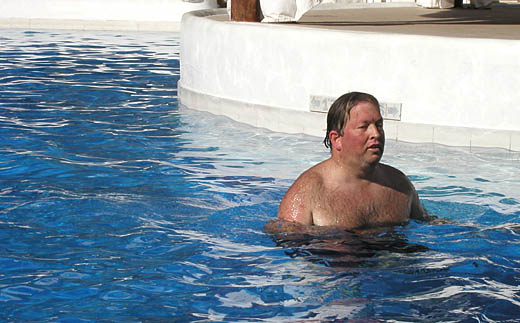 Lance, taking a dip
Then it was minibus back to the airport and hanging around in a long queue for checking in, then the flight was delayed so we were hanging around in queues in the duty free shops until eventually they called the flight.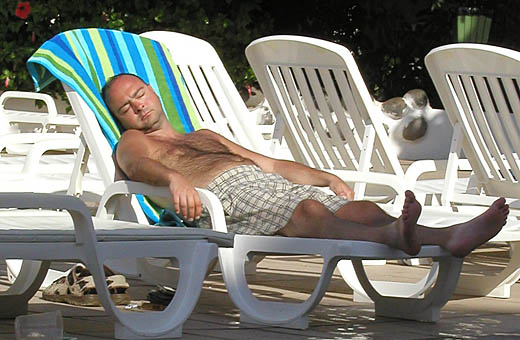 Mark, resting by the pool
It was quite a bumpy flight back, turbulence after takeoff as we passed through the weather then just as they started serving the meal we did a rare thing, flew through the wake of another jet, this caused a lot of shaking and a lot of anxiety among some passengers (and some of the crew had never experienced it before). The film they showed was "X-Men Wolverine" but again I didn't bother to watch it and tried to snooze all the way back cos my book was still not captivating. And again I didn't bother eating or drinking on the plane. It can't have been a pleasant trip for Dave as he had to sit rigid and not lean back on the seat. Venita encouraged him to go straight to A&E when he got back to let the NHS attend to his injuries.
We didn't have to hang about long in Birmingham, the bags were on the carousel almost as soon as we got through passport control. Mark was disappointed that he hadn't brought more (cheap) cigarettes back as there was no one on the customs desk at all. A taxi ride back to Coventry and I said my last goodbyes, got in my car and drove off.
Fortunately I didn't have far to go ! I wasn't driving home, but just driving to a friends house which I got to about 3,00, but what with talking about the holiday and one thing and another we didn't get to sleep until 4:30 again.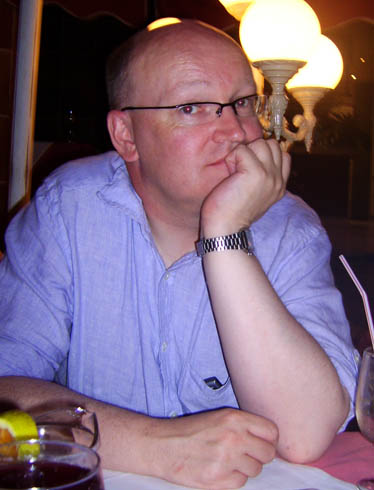 And this is me, waiting in a restaurant earlier in the week
And that was the Plus Holiday 2009 to Tenerife.
Tenerife Holiday – click on a day to find out what happened
Friday 11th
Saturday 12th
Sunday 13th
Monday 14th
Tuesday 15th
Wednesday 16th
Thursday 17th
Friday 18th