December is never a very good month for me to find caches, in Dec 2009 I found zero caches, Dec 2010 I found 1 cache, Dec 2011 I only found caches on 1 day, Dec 2012 was the exception as I found over 120 caches (though 95 of them were on one day) , December 2013 I went caching on only 2 days. You can probably surmise from that that the best December weather was in 2012, and that I had a new toy to play with (the Garmin Montana)
In December 2014 I was back to the usual recording just 4 caches on 4 separate days, and two of them were event caches
3rd December 2014 – Alice Has A Screw Loose GC578K3 – cache #3569
Heading to York for some Christmas Shopping, so I checked to see if there were any new caches in the City Centre (new to me at least !)… just this one, so I took note of the hint and didn't bother with the coords
Going into the alley I spotted what I guessed must be the cache straight away, grabbed it and walked off down the alley with it to sign elsewhere… then the same in reverse… minimises my time at GZ and saves interference from other shoppers cutting though the snickleway
13th December 2014 – 12/13/14 15:16:17 (Pretend you're an American…) GC5G3M3 – cache #3570
A few days later I was in York again, this time for a flash mob event. I thought I was going to be late until I met the organiser (Richlay) walking towards the Minster – If I was going to be late so was he !
The theme for the flashmob was to be holdong or carrying something American – I had a dollar bill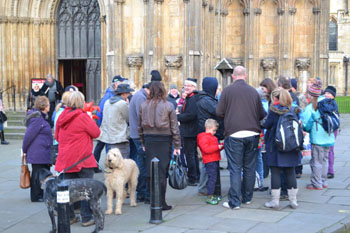 Adam (UK Cache Mag) had come up to stay in Yorkshire for the weekend so after the event we went to the pub with everyone else then we went round a few more York centre caches that were new to him but that I had found before.
14th December 2014 – Brew with a View – December 2014 – Great Whernside GC5GFFZ – cache #3571
My first BWAV event… I wouldn't have gone if it hadn't been for Adam coming up to Yorkshire to take part.
It goes against the grain of my carefully constructed reputation of being a fair weather cacher but I was slowly trudging up the snow covered last steep slope with the ridiculously strong wind blowing me off my feet and not actually able to see another living soul (as I can only go slowly uphill on my dodgy ankle so the others had left me behind) thinking to myself that while it would be nicer on a sunny summer day, and though I can't actually say I am enjoying myself I am not hating it either…
When we got to the top it was probably 60mph wind bloeing horizontally with the rain turned to ice crystals blowing straight into your face.
I had taken up food, drink and my camera, but these stayed firmly in my bag I was not going to boiher with anything other than just being there and trying not to fall over as the top of the hill is just a jumble of rocks that were mainly covered in snow so you had no idea from one step to the next what was underfoot. Coming down again wasn't too bad, the wind abated somewhat and the rain and clouds blew away so you could actually see the top of the hill… It was interesting to see how much higher and faster the streams had become in the 3 hours we were up the hill.
It was an experience !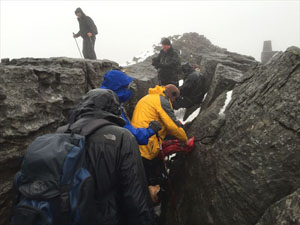 I didn't take this picture, I wasn't going to try and take my camera out of my bag in that weather, so instead here is a picture of me – I'm the one on the top of the rocks with the two walking poles.
There were 5 caches on the way up that other members of the party found, but I never saw them so didn't log them as "found with the group"
20th December 2014 – L&LC – Hirst Lock GC5FYNV – cache #3572
Out on a post Christmas walk with my sister and nieces (Twirlagirl & Madpuplou) along the Leeds, Liverpool Canal and the River Aire around Shipley and Saltaire , I've found all the other caches there previously so although they found loads of caches I just can claim a smiley for this new(ish) one.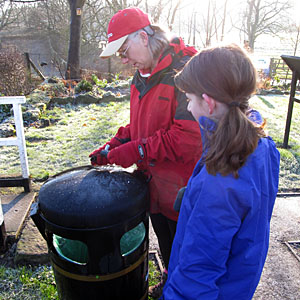 And that was it for 2014, 501 caches in total, of which 17 were event caches (including 3 megas), 18 were Survey Monuments, and 173 were Church Micros. My best day was the day of the Halloween Mega with 53 finds, and the best weekend was the Halloween Mega weekend with 88 finds
I had weekends away in Somerset, Kent, Wales, Scotland, Northamptonshire and two in Norfolk. 319 of the 501 caches were found on these trips, so 113 caches and 9 events were visited from home
This I think goes to show that I have found the bulk of the caches around home and am just picking off the remainder in ones or twos.