Home » WASH
WASH 2005
Big changes at Searles for 2005 – the carpark in front of the venue was gone and the whole area roofed, right over to the reception building to form the new Plaza – also a childrens play area appeared (similar to the 'Wacky Warehouse' play centres). This saw the end of the telephone boxes (see WASH 1990) and the 'Bovis Tree' (see the Dossers section). Apart

What the Committee said…
Hi All
Went for a meeting at Searles on Tuesday evening, it's the third year we have been for a summer meeting with the Searles management and I still can't get my head around:
1. Children
2. People in shorts
3. Sunshine
4. People who are sober

Never mind! Once the shock had worn off we were given a tour of the new Plaza (which we have already christened the Greenhouse). This is the bit between the reception and the venue entrance. It's a bit like the pavilions at Butlins and will be a great addition this year.

NEW FOR WASH 2005
Chinese food (eat in or take away)
Burgers
Pizzas
Southern Fried Chicken

WASHFEST 1
THIS IS NOT TO BE MISSED!!! On the Saturday evening (6.00pm to 9.30pm) we will proudly present WASHFEST 1, which is a German themed beer festival with an Oompah band, commemerative steiners to buy (bet I have spelt it wrong!), trestle tables, the lot. Also we will be putting on some real ale as an alternative.

All the bands and entertainment are booked, so I supposed I had better sort some paperwork out for you very soon. Save your pennies up

Paul – WASH 2005 Bookings Officer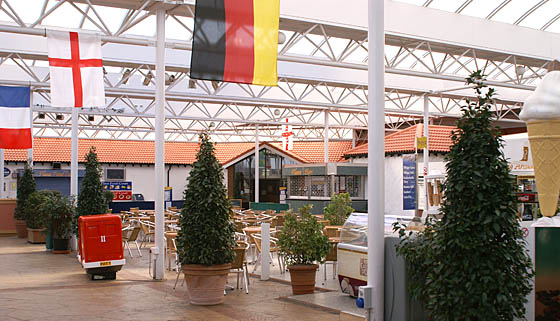 The new plaza
What the Committee said…
Whilst by now many of you are aware of the fantastic atmosphere and entertainment the WASH weekend provides and this years new activity WASH-FEST promises to be quite a blast . It is quite possible to overlook that WASH is an ideal opportunity for you to have a relaxing Autumn break in the company of friends in the popular Norfolk countryside at a much reduced price than you would expect to pay at Centre PARCs or other similar centres (Four sharing at Centre Parcs Thetford in similar standard accomodation over the same weekend would be £112 each).

For a start we will be occupying the centre's top of the range accommodation, which in Mid- Summer would set you back the best part of £1000-00 per week. All units are warm, cosy and have all the facilities you'd expect. Your bed is even made for you on arrival. All have colour TV's and many have microvaves, dishwashers and DVD players. On site we have an indoor swimming pool with 2 organised aqua aerobics sessions with jacuzzi, sauna and Gymnasium. There is also a highly regarded Country club and 9 hole golf course, all of which are available to members attending. You will also have the opportunity to try your hand at Laser Clay Pigeon Shooting. The Norfok coastline gives the more energetic a chance for spectacular walking and the area is steeped in traditional Country Pubs. Within 15 minute of Searles is Royal Sandringham, with over 1000 acres of woodland to explore. If retail therapy floats your boat, then the City of Norwich is less than an hour away and has recently opened a new shopping centre which has been described as one of the best in the UK. As we have said, we believe the party atmosphere at WASH is second to none, but if a relaxing stress free break in the company of friends is what you fancy then WASH has the answers.

The Israelite – Chairman WASH 2005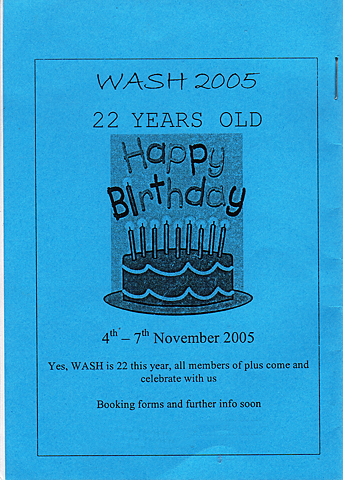 What they said…
Keith, Paul, Dawn et all CONGRATULATIONS!!!!!

WASH 2005 was superb:- I think this was my 11th or possibly 12th year and I think that it was the best by far.

Junior Rocked!. Steve Ferringo Band were just out of this world again.!! T-rexsasty gave the camp rock you promised *grin*

A weekend to relax – We did in the jacuzzi and Sauna
A weekend to excercise – We did at Aquarobics
A weekend to be challenged – We came 7th in the quiz
A weekend to see and hear live bands – We did Saturday and Sunday night
A weekend to meet old aquaintances and make new freinds – well we did this all weekend long.

For the ammount of entertainment provided I have to say that this was the best value for money in ages. Accommodation just awesome – I mean we had a dishwasher – and yet I still did the washing up 3 times!

Superb weekend. Great to see old friends and catch up on what they have been up to.
Enjoyed meeting new people too!  Matt – Joan's friend – great laugh – top bloke , Richard – The wig suits u mate another top bloke

Thanks also must go to Caroline, Chris, Dave, Erica and Fil who made our accommodation home from home.

See you all at WASH 2006.-

Biggles (The Original) – email forum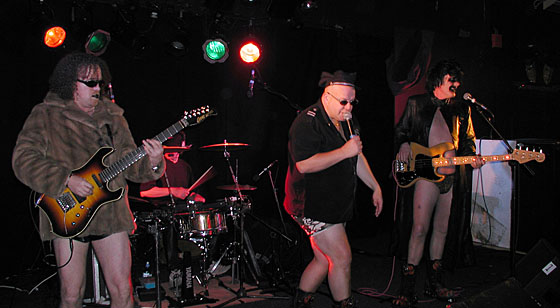 The Steve Ferringo Band – not much more dressed than last year
What they said…
It was really great to be a part of WASH 2005. Had a really good time, drank too much beer……it was brill! – Alex

Hi all what a great weekend it has been at wash many thanks to wash committee – Lisa

Just to a big thank you to Paul,Keith & co. If all members could put into plus what these guys put into WASH, we would never have any problems. – Brian

I also wish to thank the WASH committee for booking the Steve Ferringo Band again they were the best act of the weekend for me anyway. – James

Just like to add my thanks to the wash committee for another fantastic weekend. The Steve Ferringo band were I agree the highlight of the weekend although the rock blues band on the Sunday was great too. Really good to  catch up with all of you who were there, seeing old friends and making some new ones too.
The oompah band they were really funny. Particularly when they got Ian and Richard performing the dance of the sugar plum fairy including lifts. Has anyone any photos?
Having real problems focussing on the screen at the moment. Think catching up on sleep is high on my list of priorites!! A sign of a good weekend me thinks!! – Lara

I think I speak for so'ton friends when I say it was a fantastically brilliant weekend… I went to all but one of the "gig" _really_ enjoyed every act I saw (except the singing "comedian" who I didn't find at all funny and wanted to heckle off – does any one else agree with me on that? – maybe it's my sense of humour) my highlights was trying to avoid seeing fleshy bits that the steve ferringo band obviously wanted you to see, while still enjoying the music and trying not to laugh too hard…
I know organising such a large event is a massive task and I want to thank the entire team for their effort (but maybe even more importantly the results)… – Richard

A big thanks to the Wash committee for a great weekend. I had a great time and it was good to meet new people, and of course met up with old friends. The highlight for me was the Steve Ferringo band and the comedians (though not the singer) – Jo

I would just like to say a big thank you to Keith and the WASH committee for an excellent weekend this weekend. Our accommodation was brilliant and it was great to meet so many other plussers there. I am already looking forward to WASH 2006. 🙂
I would also like to say hello to everyone that I met there, and I hope you all had a safe journey home. To all those who weren't there – you missed out. – Joe

I would like to say that Barnet thoroughly enjoyed the weekend too, thank you to all those in the WASH committee who organised it, you did a great job as usual. None of us enjoyed the comedian musician either!, but the other two comedians were great – Clare

I must have been the only one that got the singing comedian. I got his humour which was dry and very subtle. But then I always say that the comedy at WASH needs to be crude and rude.
But then I realised you needed to listen to what the guy was singing to get it.
I must be getting old as most of the bands were so loud I could feel the air moving around me or was I very drunk and the air was moving anyway 🙂
But I did have a good time even winning a Wok set at the Bingo at Thomas's on the sea front. – Chris

All from the Plus email Forum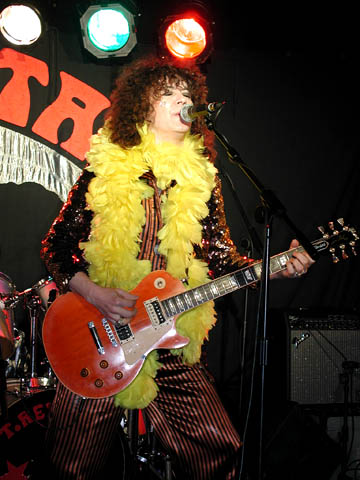 T-Rexstacy – the most realistic Marc Bolan tribute act there is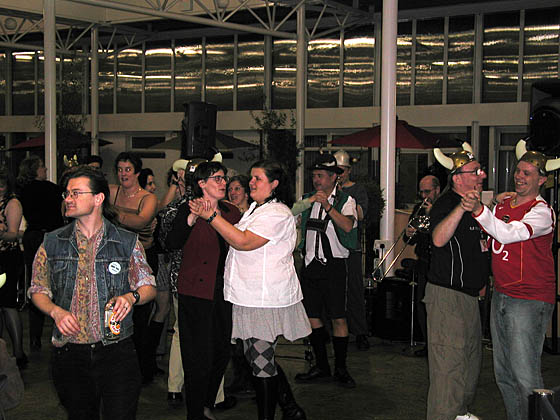 The 'Max Bloodaxe Oompah Band'… and dancers !
A funny thing happened…
What links the WASH appearances of Max Bloodaxe (1998), Legiova Maximus (1999), The Big Wolff Oompah Band (2002) and The Max Bloodaxe Bavarian Oompah Band (2005) ? The answer is that they are all the same band, their 4 appearances make them the band seen most at WASH, ahead of Five Card Trick ('86, '87 & '88)
The Floating Greyhounds ('99, '01 & '03) and Foxx ('96, '99 & '08) all who have played three times… though to be fair Foxx from 2008 bore little resemblance to the guys from the late 90's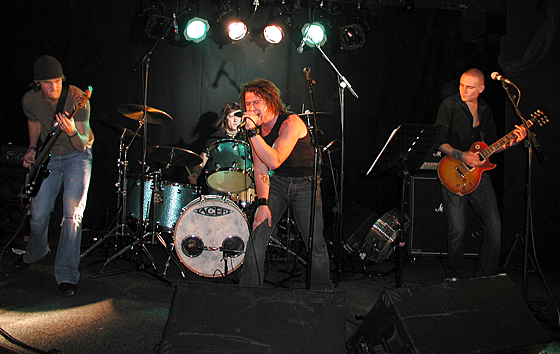 Acer entertained on Friday night
What they said…
Keith, Paul & Co. – What can I say YES!!! An excellent weekend, wished I stayed till the end but unable to, I am sure there were tears from many there. WASH 2006 should be another date to remember, so ensure you all book in, if you don't book you miss out!!
The music was great, the entertainment wonderful, the company magnificent, seeing old friends and making some new ones or just renewing them. Thanks to Donna, Dave, Tony and WASH Virgin Karen (Tony's Sister) for great company and good laugh to. – Wayne

Just to add to the many comments and thank Keith & his team for the best WASH ever. The live acts were to my taste, the highlight being the Steve Ferringo Band. T Rextacy we're great although a bit loud. Daffy & The Alien; that guitar solo on Comfortably Numb had me mesmerised. The Hoochie Coochie band were good, again a little loud for the room. Didn't see the Oompah bad, were they any good? – Mark

Well another great weekend thanks to all the wash committee I had excellent time, was nice to have luxury accommodation again (lodge) 2nd year running. For all those people who asked myself and tracy if wash is running next year, yes it is and I would stongly encourage as many to go you dont want to miss it.
I have to agree with richard about the singing comedian my group all found him awful and so did many others too due to lack of laughing and silence in the room. enjoyed the quiz, steve ferringo band and junior. I am not going to thank the ducks who woke one or two of us up early sat morning.
I would like to thank the people who helped do my sandals up on the way out the venue sat night cant remember who you all were i was slightly drunk.
am already looking forward to next years wash – Lucy

All from the Plus email forum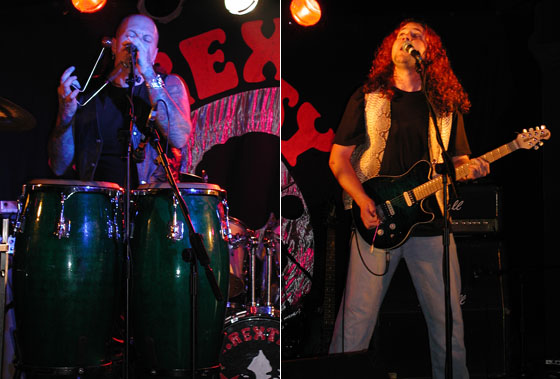 Daffey & The Alien (Though who knows which is which ?)
proving that you can play rock music on one guitar and some bongo drums
What the Committee said…
It has been quite overwhelming to read the one-list since WASH. From us all on the Committee a huge thank you for supporting us, we have had so many lows this year worrying about WASH, standing there on Saturday evening watching Steve Ferringo made me realise just why we run WASH – for FUN.

You have all proved that there is a future for WASH and that is really nice as we care passionately about it. Anyway, we have to have WASH next year so the WASH WA**ERS can defend their quiz title.

We hope to see all you back next year and hope to see some of those who gave this year a miss.

Paul (who has declared Monday 14th November a day of national  mourning for never being able to call myself a 'Thirtysomething) WASH 2005 Booking Officer
A funny thing happened…
I've never been one to drink and drive, but after a weekend of consuming far too much alcohol, not eating properly, staying up well past the early hours and not getting much sleep – your typical WASH weekend – then you probably are going to be a) still over the limit, b) very tired and c) slightly worse for wear on the Monday morning when it's time to drive home. A late start and a fried breakfast at Tesco's probably helps with the first but driving home so exhausted that the only thing keeping you awake is the excessive pain from the pounding in your head is not a good place to be. This happening at WASH 2004 was one of the reasons that I gave up drinking for the whole of 2005. No alcohol passed my lips from about 5 past midnight on Jan 1st to the chimes of Big Ben the following year. Which was "interesting" at WASH, cos I'd never been there sober before !
Click to go to
Previous Year 2004
Next Year 2006