Home » Blog
Tenerife – Monday
Another late morning start to the day… well we were on Holiday !
11:30 ish Mark and I went out to a local place and had the full English breakfast with beer, (well I had diet coke, but Mark had beer) for €2.95.
A number of the group had gone out for a full days cruise, so when we met Paul H and some of the others around the pool when we got back to the hotel we decided to join them for a shorter cruise, just a couple of hours. We had the front of the boat to ourselves, with another party occupying the rear.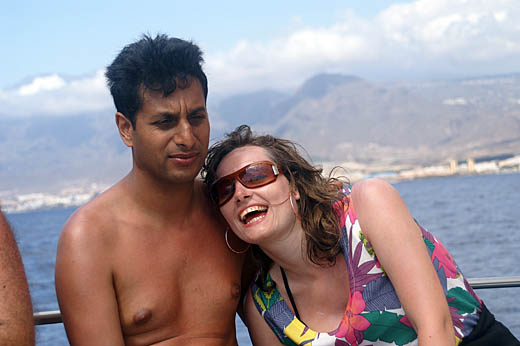 Laura and Manoj, enjoying the sea breeze
Now I've been to Tenerife before and gone out on a whale & dolphin spotting trip that ended in us distantly seeing just one vague black shape in the water, not so this time, after cruising out for 30 minutes we were surrounded by Pilot whales, must have been about 20 in 3 pods. We were getting right alongside them no more than 6 or 7 feet away, they didn't seem bothered by the boat at all.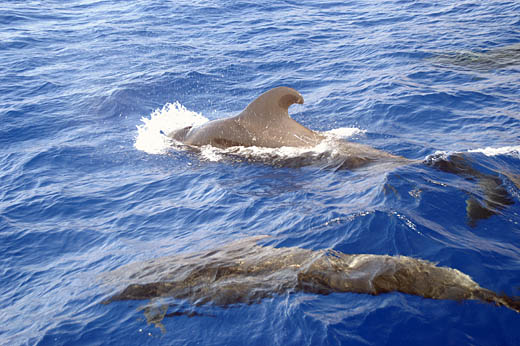 Pilot Whales
In the evening we all met up again and walked down to the town centre, to a restaurant next to the one the others had eaten in the previous night, we were out in the middle of the street, plagued again by Africans and Chinese tat sellers.
At one point some Policemen gathered nearby, they were obviously looking for someone as there were four on foot and two in a car, but whoever it was they failed to find them as they soon returned to near where we were.
I'm not entirely sure what happened then, but katherine kept turning round to look at them and one of them was obviously getting irritated by something and was staring back at her, then he came over and started demanding her passport and her details and where she was staying. Katherine was a little scared by this which presumably was the cops intention, presumably he was frustrated by not finding the person they had been looking for and didn't like the way Katherine was looking at him so decided to hassle the tourist.
The restaurant we were in had a coloured musician who played his keyboard and sang while we were eating, later on he was joined by a couple of ladies from his family who came along with a bongo drum and sang some songs not exactly in familiar style to our ears, but the Spanish holiday makers and locals seemed to appreciate them. The singers didn't speak a right lot of English but we managed to understand that they were originally from Cuba.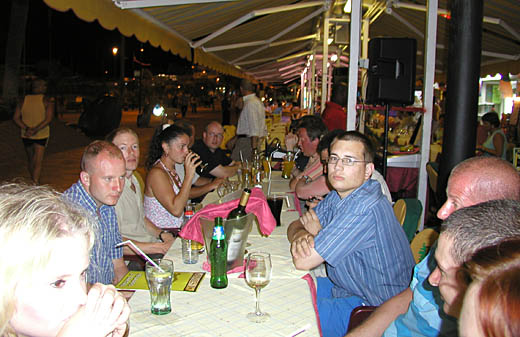 Katherine, Steve, Rob, Nicole, Ben, Lance, Gavin, Pete, Gary and Rhianna waiting for service
We wandered back towards the hotel and came across a place called 'Harrys Bar', as we had Harry with us, the oldest of our party at 62 (Katherine was the youngest at 23) we had to call in for a drink, this was a sophisticated cocktail bar with locals in, not tourists, so we sat outside ! I had a Tenerife Kiss cocktail, Banana Liquer, White Rum, Tequila, Grenadine and Orange Juice (I think) It was the nicest drink I had all week.
We went back to the hotel about 2:30 ish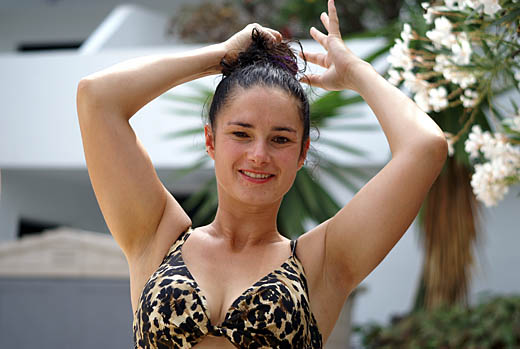 Nicole enjoying the sunshine
Tenerife Holiday – click on a day to find out what happened
Friday 11th
Saturday 12th
Sunday 13th
Monday 14th
Tuesday 15th
Wednesday 16th
Thursday 17th
Friday 18th