Home » Blog
Tenerife – Sunday
Sunday was a quiet day, we didn't do a right lot in the morning, after we got up we sat on the hotel balcony and watched the world go by. Mark and I had a good spot in the hotel, in the corner, a couple of floors above the doorway out to the swimming pool, so we could see everyone elses balconies, and see and shout down to everyone who came in and out of the pool area. Whereas the others had to go down to the pool / bar to meet and talk to each other to arrange what was happening, we could do it all from the comfort of our own balcony.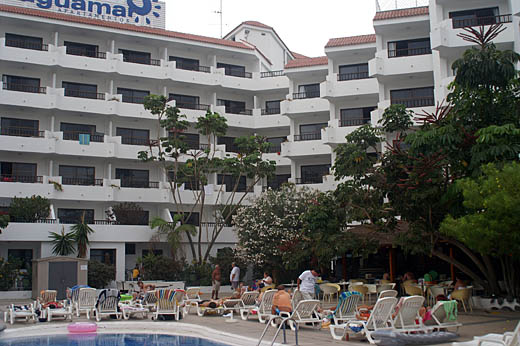 Our room, in the centre, just above the tree with the white flowers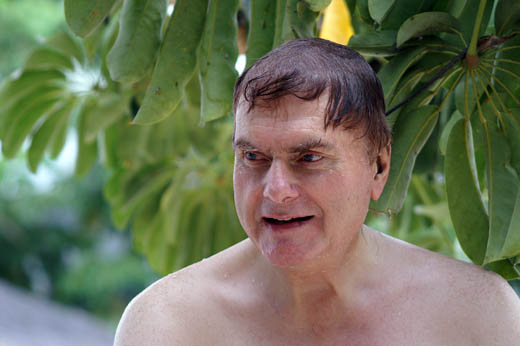 Harry, just out of the pool
We eventually decided to go and get something to eat, and wandered over to a bar over the road from the Hotel and had brunch… and watched the Grand Prix. Mark was a little disappointed cos he watned to watch the football really, and to do that he would have to go inside the bar and watch it on a different TV, but the other few of us were quite happy sitting in the sun and watching the Motor Racing. After that we went back to the hotel and sat around the pool chatting.
In the evening we all met again to go out for a meal, we were joined by a 29th member of the party, Alpa, who had made her own way to Tenerife and was staying in another hotel, but spent the rest of the week with us. Walking out to find a restaurant this time we managed to get past the first one and ended up down in the town centre. A group of 5 of us then split off and went for a €7.50 all you can eat chinese buffet.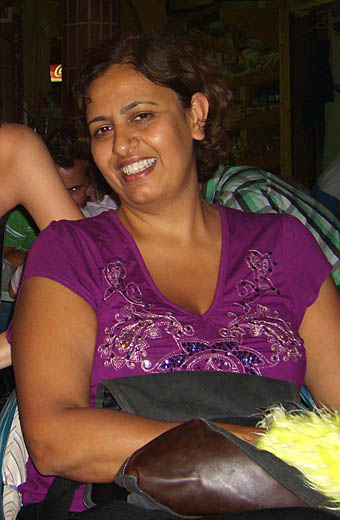 Alpa – why would she buy a drink when there were so many free ones to be had ?
After stuffing ourselves full of Chinese we went back to where the others were, they were just getting served their main courses, so we went back to one of the bars opposite the hotel and had a drink. Adam decided that he was going to treat us all to a cocktail… one he calles a 'Rocktail', he wouldn't tell us the ingredients, but eventually we found out it was Cherry Sours, Jagermeister, Morgans Spiced Rum and Orange Juice… in a half litre glass. The other Katherine not being a fan of Cherries left hers after a couple of sips.
We were the only people in the bar and so invited the barmaid to come and talk to us, she had a strong Cardiff Welsh accent, but came from Walsall originally. Somehow her and Ian and Adam got to drinking Jagermeister depth charges, a shot glass of Jagermeister dropped into a glass of Red Bull and the whole lot knocked back in one. I was invited to join in, but having appropriated the second 'Rocktail' that the other Katherine didn't want I was sorted enough for drinks.
The other Katherine is not a night bird, so around midnight went back to bed, we thought about walking her home to make sure she got there safely, but from where we were we could see the hotel door and the walkway around to her room, so we stayed and watched her safely back from there… the only bit we couldn't see was her journey up in the lift. Ian and Adam continued their drinking games, JD and Cokes and more Jagermeister, while I finished the second cocktail. Venita went to bed, we watched her safely back to her room as well. We saw the others walking back to the hotel in dribs and drabs and eventually at 2.00am the bar shut, Adam settled up for the whole bar bill, (€53… which reminds me I still owe him a drink or two ! !) and we went to bed. Mark arrived in at about 3:30 with tales of the others night, involving witnessing a fight, a big arguement between Steve and Gary and Katherine getting drunk and knocking over a table with lots of peoples drinks on.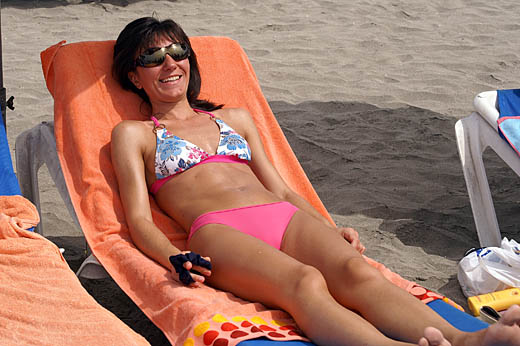 Marietta, enjoying the sun loungers on the beach
Tenerife Holiday – click on a day to find out what happened
Friday 11th
Saturday 12th
Sunday 13th
Monday 14th
Tuesday 15th
Wednesday 16th
Thursday 17th
Friday 18th