Home » Blog
Tenerife – Friday
It's strange that I had to leave home at 9.00 to get a flight at 2:45, well I had to drive to Birmingham Airport… in fact I had drive right past Birmingham Airport to go to Coventry where I was leaving my car then get a taxi back to the Airport. I might not have had to set off so early if I hadn't had to make a couple of stops on the way to go to the Post Office and to grab a geocache, which although it took me down the A38 rather than the A42/M42 I reckon was almost as quick due to the miles and miles of Road Widening works being done on the M1 around Derby and Nottingham.
Check in was quick cos we almost all arrived together and after the interminable waiting we boarded the flight and were off. Flight was quite dull, I even fell asleep which is rare for me on planes, but I guess the book I was reading just wasn't captivating enough. I could have watched the film which was "The Proposal" but they were charging £3.25 for headphones and I wasn't really that bothered. Nor did I eat, or drink… Mark and Pete did have 10 cans of beer between them, but they were only small cans and were frightfully expensive.
We arrived at Tenerife just as the sun set, I mean literally just as the sun set, when we started our descent to the runway we were in the sunshine, but as we dropped down the curvature of the earth meant that the sun was below the horizon and it was dusk on the ground. There was a bit of concern at the baggage carousel as ours were the last bags out of the plane, you do get a little worried that your luggage has gone to Moscow when everyone else has got their bags and gone, but eventually mine arrived. Now I was also a little concerned when it did arrive cos I had deliberately left the zips under the strap, but when it got off the carousel the zips were right round at one end… someone had definitely been playing with them, but there was nothing missing when I checked inside.
Having 11 of us on one flight meant a private minibus to take us to Los Cristianos and our hotel, the Aguamar apartments, so we were there within an hour of landing and it was time to grab a quick beer while the rooms were sorted out. It worked out that while some had 3 and 4 to a room, I was in a room with just Mark, not that we looked at the room much, it was just dump the bags, get changed and get back downstairs to go for something to eat, as the flights bringing people from Luton and Gatwick had arrived earlier in the day and these people were hungry and waiting.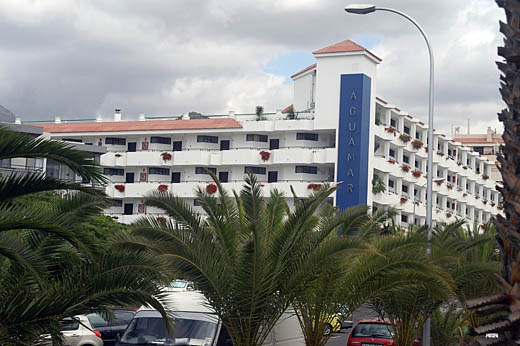 The Aguamar Apartments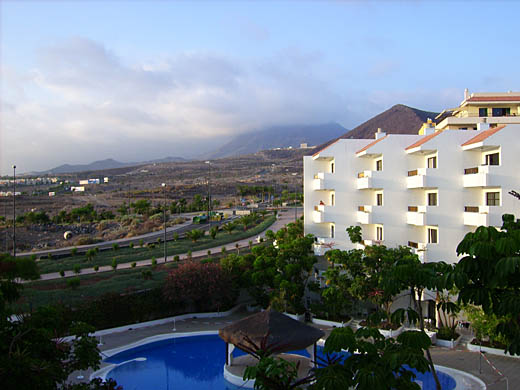 The view from our room
So there's 28 of us ambling down the street, the chap hanging around outside the first restaurant we came to did his job well and managed to persuade the hungry and gullible to eat at his Chinese retaurant, 9 or 10 of us however decided to pass on this for the delights of a €6.95 'all you can eat' Chinese Buffet.
After stuffing ourselves silly Adam and I wandered into the town to find a cash machine, and then wandered back up to the restaurant where the others were… this took some time cos we had no idea where we were going we just headed in what we thought was the right  direction and eventually got there, to find that the others had only had their starters and still had main course and dessert to eat… we headed next door to the bar for a drink.
Much (much) later the others finished their meal and joined us, I suppose we weren't exactly quiet and soon attracted the attention of the local security guard, who was in his mid 50's, very camp and spoke no English – but he was attracted to the youngest and blondest of the girls in our party, Katherine. This was all okay at first, but every time he passed he was getting talked to and egged on until it got to the stage where he was touching Katherines shoulders and stroking her hair… and that got too much for her and she started shouting at him and it all turned a bit sour.
About 1:30 I decided I'd had enough and with a couple of the others who were still left walked back to the hotel and went to bed. Meanwhile, Mark, Gary and Steve had decided to go to Playa De Las America's and hit the night life, and Mark arrived back at 4:30 rather worse for wear and telling tales of  Steve losing his camera and spending all his money on the girls in the local strip bar (knocking shop). He had also bought two fake designer watches for a price he wouldn't have dreamed of spending if he had been sober.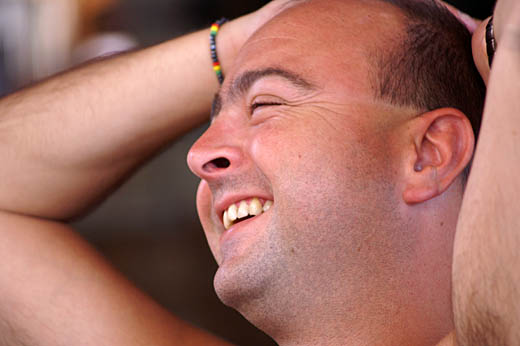 My Roomie – Mark
Tenerife Holiday – click on a day to find out what happened
Friday 11th
Saturday 12th
Sunday 13th
Monday 14th
Tuesday 15th
Wednesday 16th
Thursday 17th
Friday 18th