Home » Geocaching
Caches No's 4471, 4472 & 4473 – Three Events to Start 2018
It's now getting traditional that the first cache of the year is the Hogmanay event in Huddersfield, and as I have put before the only way I am going to fill the calendar grid for Jan is to have events every day… this year has started no better, 2 events in January to start the year, one now a tradition and the other a new venture that will likely become a tradition
9th January 2018 – 'uddersfield 'ogmanay 2018 GC7E4M9 – cache #4471
It's an hours drive on a schoolnight, but always worth attending… even if all I won in the raffle was a tin of Spam.
30th January 2018 – Leeds Drinks and Chat 1 GC7H1DJ – cache #4472
The first of what is hopefully going to be a regular monthly cache meet in Leeds, the idea is to take it round all the pubs in Leeds centre… Not necessarily easy for me to get there, (the event is from 6:00pm until 8:00pm and I got there at 7:50pm – but we didn't leave the pub until 11:30 so it was worth going !)
This first one was held at The Adelphi… I wonder how many venues there will be used before the event comes back here ?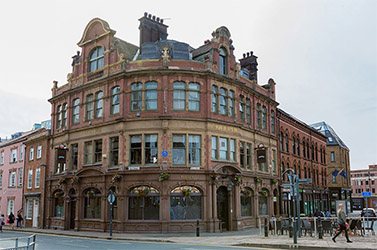 3rd February 2018 – Ribblehead Viaduct – A YM18 Meet n Greet GC7GNWC – cache #4473
We held an event to introduce our new Committee Member, unfortunately Chris had to move down to Wales and so came off the committee and we brought in Tracy to replace her… So we had an event at Ribblehead in the snow.
The Ribblehead pub apparently has the best view from any pub's Gents toilet in the country (at least if you are a train spotter)… but maybe not when the weather isn't good !