Home » Geocaching
Caches No's 4474 to 4479 – Springtime in Portsmouth
I have long wanted to go and see HMS Victory, which resides in Portsmouth Naval Dockyard, and one day I mentioned this to Angel78, and she said she wouldn't mind going to see Victory and the Mary Rose, so we chose a convenient date and booked a hotel.
Our plans were nearly scuppered by 'The Beast From The East' which came a few days before we were due to go and had half the country snowed in.
Even the night before we went Angel78 was still dubious as the news reports were still giving the Police's message of 'only travel if your journey is really necessary' but I had been checking on the motorway cameras online and the roads seemed clear, so we set off… there were only two snow covered parts in the entire journey – firstly getting off my street onto the main road, and secondly the courtyard outside Angel78's flat… apart from this the roads were clear, and the traffic was quiet… we got to Portsmouth in a very quick time.
4th March 2018 – SideTracked – Portsmouth Harbour GC708QC – cache #4474
We found some caches over the days we were there. The first one was at the Station (which is on a pier over the beach)
We found the container easily enough but took a couple of google queries to open it
5th March 2018 – HMS Victory GC7B6E1 – cache #4475
We spent three days visiting all the exhibits in the Dockyard, including two trips around Victory (it was raining and windy the first day so the upper deck was closed off, the next day was sunny so we could visit)
HMS Victory is one of the new Virtual Caches, and is the oldest ship still in commission in the Royal Navy… the newest ship in commission in the Royal Navy, the new carrier HMS Queen Elizabeth is moored behind Victory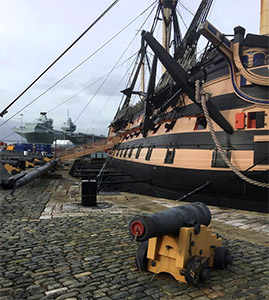 5th March 2018 – Geological Forensics 4 GC5VAZ4 – cache #4476
We were staying in the Premier Inn at the end of Southsea Beach and spent each day visiting the Historic Dockyard, so everyday we walked into Portsmouth along the Millenium Promenade Walk which takes you near to the monument here, which is an earth cache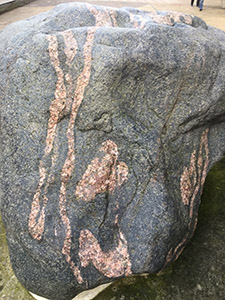 6th March 2018 – The round tower GCYTMG – cache #4477
I didn't find this hard to find, there was only one place to look and really only one place where a cache could be hidden out of site.
Being the first weekend in March and only a couple of days after The Beast from the East and all that I was a little surprised to see one brave soul swimming in the sea by the tower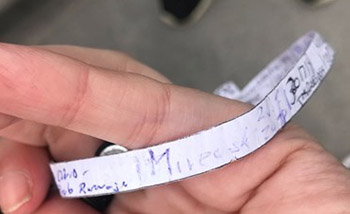 6th March 2018 – Church Micro 10380… Old Portsmouth- John Pounds GC6Z30Q – cache #4478
A little multi-cache, Information was taken from the churchyard and then the cache was easily found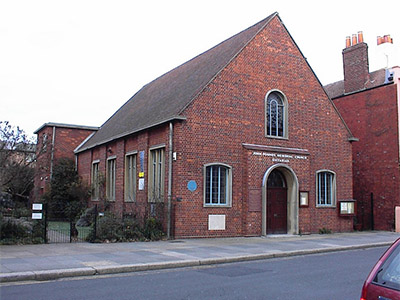 6th March 2018 – Urban Guerilla #1 GC179QZ – cache #4479
Found with Angel78 on our short break to Portsmouth. As it was a damp cold weekday there weren't too many people about so it was no bother finding the cache