Home » Geocaching
Caches No's 3259 to 3264 – The Fifth Month
June 1st was the next date where I had a blank space on my calendar grid, so when a few new caches appeared the night before over Ilkley way I thought they would be perfect caches to go and find to fill the grid. I didn't go out until about 4:30pm so I wasn't expecting to get First To Finds as it was a nice sunny Sunday and there were enough new caches to attract people who wouldn't necessarily bother with one odd cache, but I was first to go looking so got another handful of FTF's
The next blank date I have is in the middle of July, as I did a 33 day streak from early June last year – just got to remember not to forget Wednesday July 9th !
1st June 2014 – Lightning doesn't strike twice?? GC – cache #3259
An FTF ?
Well I may have been the first cacher to this one but I wasn't the first person to find the cache, there was a clear trail through the undergrowth to where it was, and while it was still up in the place where it should be I couldn't sign the logbook as the cache was empty.
The last sentence of the description – Please make sure the lid is securely closed – certainly hadn't been done by someone as I could see the lid sticking up from the main path several yards from the cache

1st June 2014 – At the Start GC – cache #3260
22hrs after publication on a lovely sunny Sunday afternoon – I was quite surprised to get the FTF.
I had trouble spotting the cache at first, under the trees satellite lock was non-existant and so I was checking all the possibilities near the path – and there were a lot of them… Eventually I decided it was too dark for me to see properly so I headed back to the car to change my sunglasses for my normal ones – and then I found the cache the first place I tried !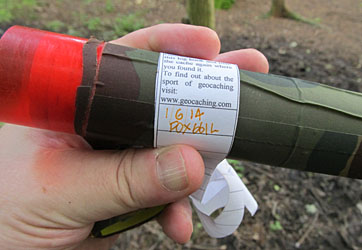 1st June 2014 – Thinking Tree GC – cache #3261
A bit off the beaten track – but then I have searched these woods for caches off the beaten track before !
No Satellite lock under the trees so I had to resort to searching everyplace that matches the hint, and in a wood that is quite a lot of places – but I persevered and got the FTF in the end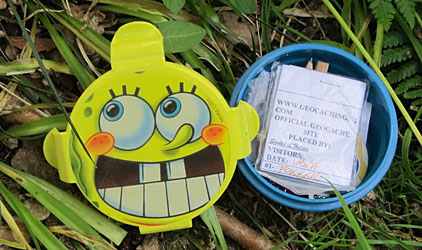 1st June 2014 – Rip Van Winkle II GC – cache #3262
Took me even longer to find than the original cache here – main problem was that under the trees my GPS was giving me an accuracy of between 40 and 55ft and consequently jumping all over – I couldn't even be certain which side of the structure it was at, so I had to search everywhere… In the end finding nothing I resorted to seeing if I could match up the spot where the photograph was taken to see if the cache was near there – well the original Rip Van Winkle cache was near there but there was no sign of this cache…
Eventually I decided I would have one more look around – in all the places that I had already looked to see if I could see something different on fourth or fifth look… and eventually I came up with the well hidden cache… and another FTF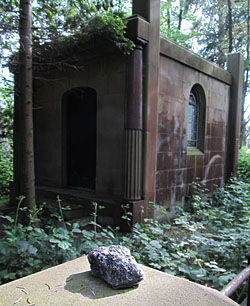 1st June 2014 – Old meets new GC – cache #3263
Quick find along the river bank – would have been even quicker if I hadn't been sending text messages as I walked and so went right past it before I realised !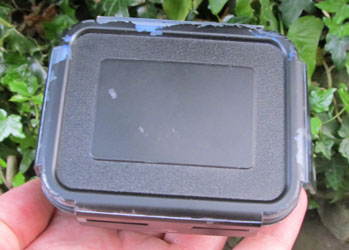 1st June 2014 – Canker Well GC – cache #3264
It seems a bit much to get a FTF on a cache that in reality has been in the same place for 7 years and that I found 5 years ago – but Unknown becomes Traditional with a new GC number so I went along and signed the new (and empty) log