Home » Geocaching
Caches No's 3257 & 3258 – Two More Church Micros
The Church Micro series also has a ranking award system for finding the caches, for finding between 10 and 24 you are ranked as a Reader, From 25 to 49 you are ranked as a Deacon, from 50 to 99 you are ranked as a Curate, and that is where I am now with 64 Church Micro finds… I do have a desire to get to be a Vicar 100 – 249 finds, getting any higher will be pretty difficult as I would need to find every Church Micro within 50 miles of home to get to 250, and that is not really a practical proposition.
So I will just have to get all the local ones I can and pick up others when I am elsewhere in the country, so two in Keighley were high on my list for finding.
30th May 2014 – Church Micro 4293…Keighley GC – cache #3257
A puzzle cache that I had a quick look at, nothing immediately jumped out at me as a solution so I looked at the FTF's photograph… and then a quick scan around the church on Google Street View… not too hard to work out where TeamMX was standing when the picture was taken. I went to Keighley looked around there and it was a quick find as there's really only one obvious place there that matches the hint.
When I walked past the church there was a funeral going on, just about to leave for the cemetary, so I had to wait until I came back past to get a clear photograph.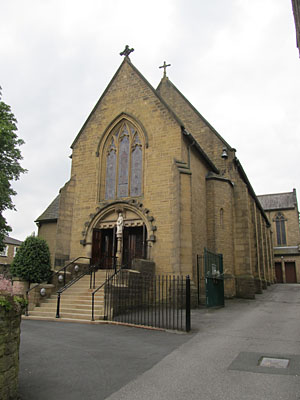 30th May 2014 – Church Micro 4292…Newsholme GC – cache #3258
A quick find on a CM in a tiny village at a tiny church, I didn't have chance to go and look any closer at the Church as I needed to get home for lunch !