Home » Geocaching
Caches No's 3265 to 3273 – A Welsh Wales Holiday In The Sun, Day 1
Another month, another weekend away with Angel78. This time we were heading for North Wales on a cheap holiday booked through The Sun. they say these are £10 holidays, but you have to pay for at least 4 places and then theres a Service Charge to pay and if you want their linen it's another charge and if you want their entertainment in the Clubhouse then it's more money on top, so anyway we had no entertainment and took our own bedding so it was about £80 for the weekend – not too bad, but not a £10 holiday ! Still for Geocaching it's an ideal way to get a reasonably cheapway to visit a different area… 
5th June 2014 – Church Micro 5023…Wales – St John the Baptist GC4X2NJ – cache #3265
Heading off for a weekend away in Welsh Wales I had to go down to the Midlands on the Thursday to Angel78's  flat and then we were setting off to Wales on the Friday Morning. So my trip down the M1 seemed like a perfect time to visit this cache in Yorkshire Wales – which is a familiar place to me as the bungalow with the green tile roof 150yds down the hill from the Church was built for my Great Aunt who lived there until about 1990, I visited many times as a child. My Great Grandmother and several other relatives are buried in the cemetery at the top of the hill, the gravestones peeking up over the cemetery wall are one of the landmarks I look out for when driving down the M1.
Cache was an easy find once I'd had a second thought about the hint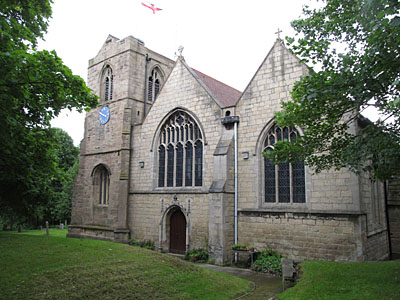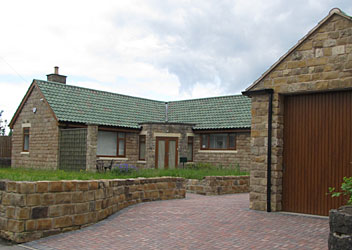 6th June 2014 – Church Micro 3347…Church Aston – St Andrews GC463Y9 – cache #3266
Heading off for a weekend away in North Wales with Angel78 we made a detour to grab this cache.
We parked in the Church car park and quickly found the numbers for the formula… then sat down to work out the co-ordinates and got a negative number !
So a recheck was required and we eventually worked out a set of co-ords a short walk away that seemed likely, and there found the biggest church micro we have yet seen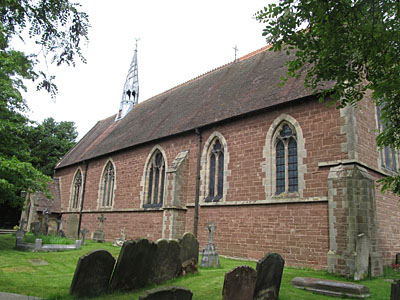 After this we didn't find GC51VRC Church Micro 3931…Newport – St Nicholas GC51VRC, As with the last few people to attempt this cache we had no trouble getting the numbers for the co-ordinates but despite extensive searching at all places that matched the hint in the vicinity of those co-ordinates we failed to find the cache
6th June 2014 – The Guildhall GC4WFA3 – cache #3267
After our failure to find the Church Micro we made a quick visit to Waitrose for some drinks and the use of their facilities then decided to grab this cache before heading on. An easy find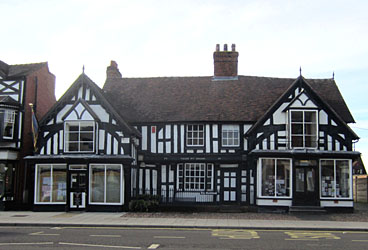 After this we didn't find 6GC45CC Ye Ole Survey Monuments
YSM464 – Longpools Surface Block
So overgrown that we couldn't find anything, the pictures on Trigpointing.co.uk didn't help any either as they show the hedge and verge neatly trimmed, not the jungle it is today.
There were signs of other people looking recently, but we couldn't see that they had found it either
6th June 2014 – Ye Ole Survey Monuments GC45CC – cache #3268
YSM163 – Prees (R)
After our failure to find the nearby Longpools rivet we looked in dismay at the overgrown verge here, expecting the worst, but quickly spotted that this was an above surface block with a fence round so easily located if not easy to actually see !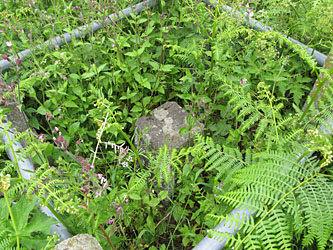 6th June 2014 – Birthday Cache and Dash A41 GC3N1KA – cache #3269
An easy drive by find, though the layby was the opposite side of the road to the way we were going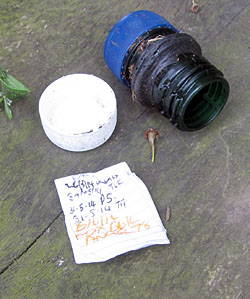 6th June 2014 – Ye Ole Survey Monuments GC45CC – cache #3270
YSM537 – Tushingham
Felt a bit conspicuous here as the owner of the nearby house seems to have adopted the verge as part of his garden, so the grass was neatly mown, though that made this a quick and easy find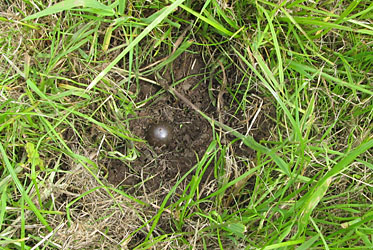 6th June 2014 – Church Micro 5044…Tushingham GC4X3RN #3271
Although a field away from the churchyard there is a nice view of the church from near the GZ. Many possible places matching the hint but Angel78 spotted it in a place where I'd already looked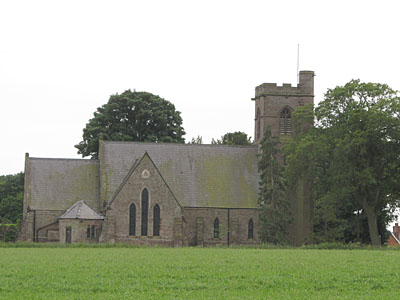 6th June 2014 – Church Micro 4851…Handley GC4W05X – cache #3272
I feel like writing exactly the same as a log a couple down the page from 18/5
"Parked up nearby and soon located the cache whilst watching the church lawns being mown. A nice day for it." – The GeoBEATS log echoes our experience exactly !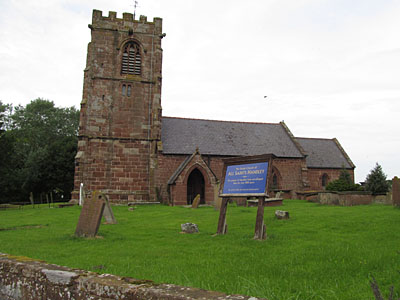 6th June 2014 – Marble Church, Bodelwyddan GC2JNKN
Angel78 likes churches, so we stopped here for a look round. I'd already logged this cache on a previous visit in 2011 so although I rewrote my name in the logbook I only put a note on the cache page
After this we didn't find GC35RYY Doctor Doctor circular 1 – The nearest cache to the Church, it had been archived in between making the Pocket Query for the trip and setting off for Wales, apparently it broke the rules as it was buried , though we couldn't find it anyway ! The next cache on the series Doctor Doctor circular 2 was across a field of Barley which had neither path through it or around the edge of the field, so we decided to move on
6th June 2014 – Coastal Castles Cache No 1b Rhuddlan Castle GCM6WQ – cache #3273
A nice easy find, though Angel78 did nearly overbalance off the wall trying to reach the cache. Traffic around here is a bit of a nightmare as there are roadworks and temporary lights on the bridge at the minute.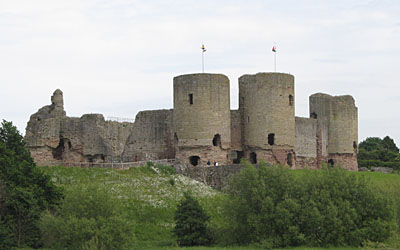 After this we didn't find GC1NHKT Historic Rhuddlan – St. Mary's Parish Church, the cache hadn't been found since last year, several people have put DNF's and we had a look but could't find it either – though the CO has since been to check and says it is still there and we all need to look harder !
6th June 2014 – Rock of Peace GC2GYZ5
We got to the caravan park and decided that as the weather forecast wasn't looking particularly good for the rest of the weekend we would go for a wander along the beach while the sun was still shining… We walked about a mile down the beach to Pensarn Station and then decided to go and find an ice-cream from one of the kiosks on the prom…
While there I recalled this cache which I had found 3 years previously so we wondered off to see if we could find it – No GPS or cache detail with us, but I remembered where the rock was from my 2011 visit (not that it's hard to spot !) and although I was the one who had found the cache before Angel78 was the one who found the cache.
A fitting cache to visit on the 70th Anniversary of D-Day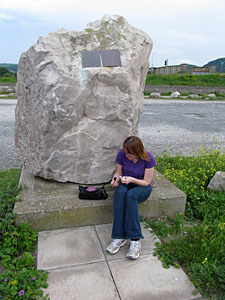 6th June 2014 – Good well? Well good! GCJB5W
When we were at Bodelwyddan Church earlier in the day and I was telling Angel78 about this little church on the coast that she ought to visit… then in the evening I found that we were driving past it by accident (we were driving along the seafront looking for somewhere to get a nice Dinner), so we stopped and had a look.
The cache was easier to get to than when I visited 3 years earlier as it was 8pm at night so there was no-one else about to need avoiding