Home » Geocaching
Caches No's 1162 – 1174 – Roman Road Rambling
5th June 2011 – L&LC – Idle Swing Bridge GC2RCPB – cache #1162
Sunday morning and I just had time for a quick walk along the canal to grab a couple of caches that had eluded me previously. This first one I had DNF'd because it had been removed, but I had had confirmation that I had looked in the right place so it was a quick find once the area was clear of passers by

5th June 2011 – L&LC – Milman Bridge. GC2RW94 – cache #1163
The second cache on the canal was on a very busy bridge, so although I had a pretty good idea of where it was I had to wait for a time there were no cars, walkers, joggers, cyclists, or boats passing by to grab the cache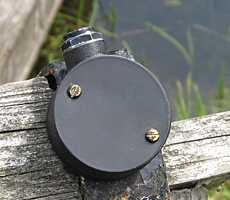 5th June 2011 – Fudge Marks The Spot GC20CFX – cache #1164
On the moors between Addingham and Skipton is a bridleway that forms a 2.5 mile section of the Roman Road that used to go from Olicana to Bremetennacum (Ilkley to Ribchester nr Preston), and on this Bridleway are a set of caches.
The question you always have to ask yourself on these 'one way' walks is do you collect the caches on the way, on the way back, or some each way. I had basically decided to walk first to the end cache and then grab the others on the way back, but mt mind was totally made up by being followed by a female walker along the path. She was following about 25 yards behind me, and for whatever reason did not want to go past, when I stopped to tie my shoe lace, she stopped, when I stopped to look at the view so did she, so not wanting to be observed searching for caches I had no option but to walk to the end of the path, turn off up a path to the top of the moor and wait for her to carry on down to Skipton before going back and finding the caches !
The first cache was familiarly a 35mm film can hidden in the roots of a tree covered by a stone. I did have a little problem finding it as my GPS had the coordinates 30 ft the other side of a wall up a field where there were no trees and the hint for the cache was a photograph which I didn't have with me so I had to search round several trees until I found the right one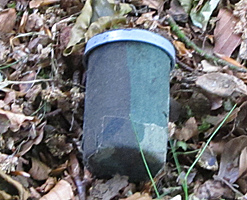 5th June 2011 – Copse Corner GC2X442 – cache #1165
The next cache was also quite difficult to find, being a little nano hanging on the back of a fence post. Due to barbed wire I couldn't actually see the cache I had to go by feel and bend the wire up so I could actually get to unscrew the two halves and get the log out to sign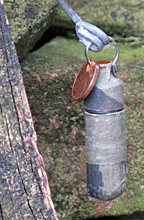 5th June 2011 – Opportunist Carvery GC2X43R – cache #1166
Another one where my GPS had me 30 feet away from where the cache was. The hint for this said a 'Whittlingly good hide' and so with the name I was expecting to find a lump of wood with a cache hidden in it. So when my GPS took me to the wall side of the path where there were two trees I was happy it was taking me to the right place, but I couldn't find any bits of wood other than those connected to the tree, and I couldn't spot anything on the tree that might be a cache either. So I widened my search and quartered a large area until I came across the only piece of wood in the vicinity, what looked like a bit of tree root in amongst the heather and I turned it over to reveal the cache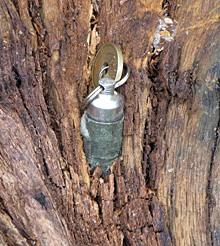 5th June 2011 – Old Steps GC2X43K – cache #1167
The easiest find on the walk, as the cache was hidden under the bottom step of the only steps around !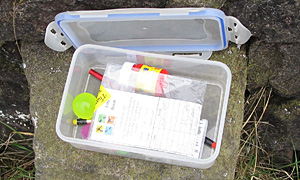 5th June 2011 – Nor Hill GCKM9J – cache #1168
A cache just off the Roman Road – it's just overt he wall on another footpath, there are several rocks that stick out of the ground here, and the cache is tucked under one of them with a stone covering it – pretty easy for an experienced eye to see that this stone is camouflage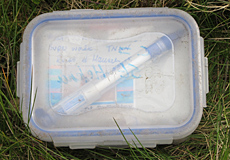 5th June 2011 – Horsey Turnaround GC2X439 – cache #1169
Hidden in some tree roots, underneath a stone – though there isn't a tree anymore, just the stump that is hardly above ground level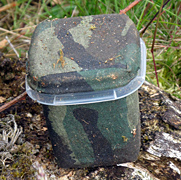 After this I couldn't find GC25MTE Smelly Dog, the hint said 1mtr from fence post – i thought I turned over every stone that could possibly be covering a cache within 1 mtr of the fence post, but I found nothing – and I was tired by now so didn't bother too much about a fingertip search for it
5th June 2011 – Prickles GC25MTP – cache #1170
One of the strangest cache boxes I have come across out in the wilds !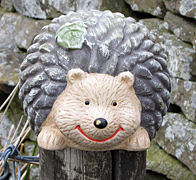 5th June 2011 – The Chariot Park GC25MV3 – cache #1171
Called the chariot park as it's where you park your car for the Roman road, the cache is a magnetic nano attached to the gate

5th June 2011 – High Edge, Draughton Moor. GC1D0BE – cache #1172
Going along the Roman road the other side of the tarmac road there are a couple of caches, this first one which is exactly where the hint says it is, holds the co-ordinates for the second one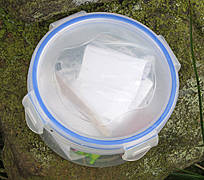 5th June 2011 – Chelker View GC1D0C5 – cache #1173
And the second one has a view over the Chelker Reservoir

5th June 2011 – Eva and Syd GC2E1MY – cache #1174
On the drive home I stopped off to find this driveby cache. A magnetic nano, with the title of the cache there was little question of where it was as there is a bench looking over the view with a plaque to the meory of Eva and Syd on it… the cache was attached to the bracket on the bench

After this I couldn't find GC25MVE Woofa Bank, the hint said 'post and wall' but  there was nothing apparent between either of the two posts that were against the wall.