Home » Geocaching
Caches No's 1175 to 1191 – Swastika's, Wolves and Twisted Trees
Last year I cleared about 50 caches from Ilkley Moor, and for a while there were no unfound ones up there, but while I wasn't able to go caching someone put a new string of caches out, but at least this time on the West end of the moor, a place where there weren't any before and a place where I hadn't been.
10th June 2011 – The Swastika Stone MkII GC2MMBE – cache #1175
There are many marked rocks on the Moor, Bronze age Cup and Ring marks being the most common, but there is also the Swastika Stone, a marked stone of indeterminate age… the carving in the picture isn't even the real Swastika stone, it's a Victorian copy put on the rock next to the real one, which is now very shallow and worn away – but also out more on the edge of the outcrop which forms a small cliff – a sort of Pulpit Rock place maybe ?
Anyway the cache that bears it's name is 25yards or so away under another rock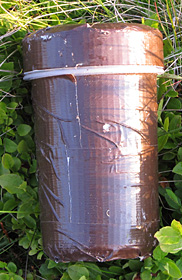 10th June 2011 – The Deflated "ROCK ON" GC2TBWA – cache #1176
An Earth Cache, a rock which looks to be almost volcanic in nature but is actually a lump of sedimentary millstone grit – and does remind you of a bouncy castle deflating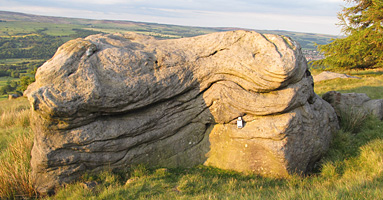 10th June 2011 – The series of tens moor walk No1. GC2V7T8 – cache #1177
The Series of Tens is a set of 8 caches forming a walk of just over 5 miles, with a bonus cache to find from clues in the others.
The first of the caches – as we are on the moors – is hidden under a rock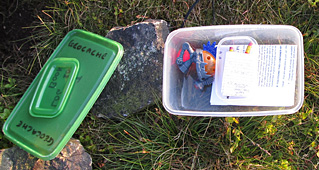 10th June 2011 – The series of tens moor walk No2. GC2V7TN – cache #1178
The second cache of the series is hidden under a rock… having never been up this part of the moor before the views up Wharfedale came as a pleasant surprise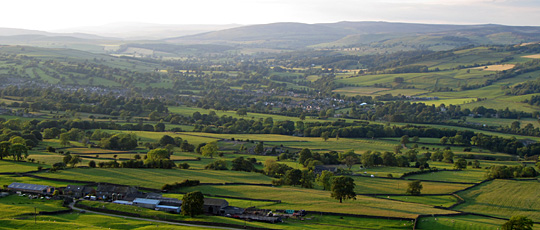 10th June 2011 – The series of tens moor walk No3. GC2V7VG – cache #1179
The third cache is hidden under a rock – yes it's getting a bit repetitive, but on the moors there isn't anywhere much else to hide a cache !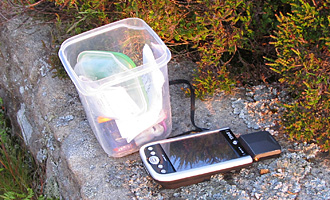 10th June 2011 – Windgate Wolf GC2T27M – cache #1180
Apparently this sculpture just appeared one morning on the crag above Addingham. It's basic form is made from lengths of branches wired together and bolted into the rock.
The cache was a bit dangerous to find as it is almost at the top of a quarry face, on a narrow enough path to make me a bit concerned that I am not as young and fit and thin as I used to be – there was a time, and hopefully will be a time in the future where I would gambol around here like a mountain goat, but instead I was shuffling and concerned about losing my balance.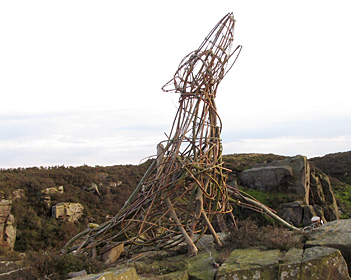 10th June 2011 – The series of tens moor walk No4 GC2V7W0 – cache #1181
I'd originally planned only to walk along from the Sastika Stone to the WOlf and then to do the rest of the Series of Tens starting from the top of the moor at a later date, but I was having a nice walk and so decided to carry on up the moor – although it was almost 9:30pm already
Guess what ? this cache was hidden under a rock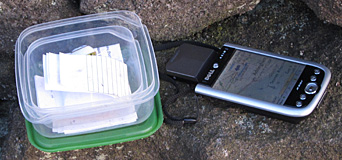 10th June 2011 – The series of tens moor walk No5. GC2V7W9 – cache #1182
Another cache, another rock…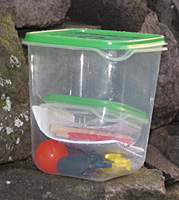 10th June 2011 – The series of tens moor walk No6 GC2V7WN – cache #1183
The only cache on the series that I had trouble finding, the previous cacher had hidden it well – under a big rock.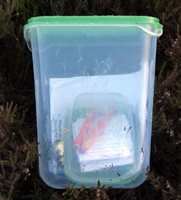 10th June 2011 – The series of tens moor walk No7 GC2V7X6 – cache #1184
I didn't actually find this cache, because it wasn't there to find, there was a pile of rocks under which the cache had been hidden, but no cache.
The ache owner went up the next day and found the cache quite a few yards away, where whoever had discovered it had thrown it – and granted those who hadn't found it the right to claim it as a find as they had found the hiding place.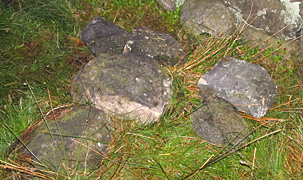 10th June 2011 – The series of tens moor walk No8 GC2V7XK – cache #1185
It was pretty gloomy by now as I got to this, the last 'plain' cache of the series… hidden under a rock as usual.
I took the clues and worked out the co-ordinates of the final cache, and so now plotted it's position on my PDA and headed towards it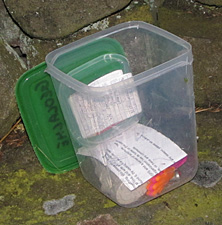 10th June 2011 – The series of tens moor walk final. GC2V7YA – cache #1186
I was glad that it had been the driest spring on record as it was really too dark to pick out paths across the moor and so I was just walking to the bonus cache 'as the crow flies' The bit of moor I was on was pretty boggy in places and obviously just a marsh after steady rain. Eventually I got to some larger boulders and soon hunted up the cache. Now it was just a case of heading for the unmade road that crosses the moor and following this back down to Ilkley.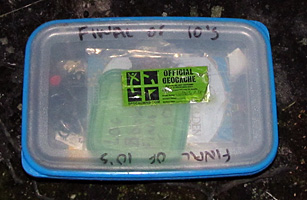 10th June 2011 – The Duke of Cambridge GC2V9NE – cache #1187
There was however one more detour to make, 100 yards or so off the road, in what was now as near pitch dark as the night was going to get – well it was 10:30pm.
When I got to the cache site I found a collapsed shooting butt, no more now than a pile of stones which I had to pick through in the dark until I found the cache, luckily it didn't take too long !
Then it was back to the road and down the hill to my car.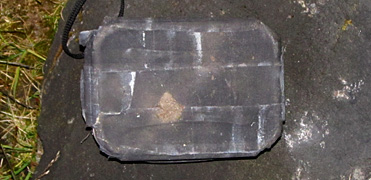 11th June 2011 – The Twisted Tree GC2MMCJ – cache #1188
There were still a few more caches to clear from Ilkley Moor, so on the Saturday evening I headed back over to Ilkley and went to find a couple more of them
You need neither accurate GPS or a hint to find this cache, there is an obvious twisted tree to search round to find the cache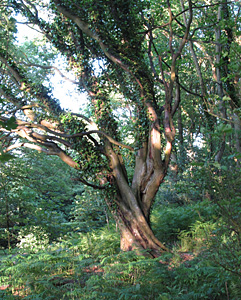 11th June 2011 – Around your neck in the woods. GC2MMC5 – cache #1189
This cache in my mind seems slightly disturbing, as it brings to mind the 'Soweto Necklace'
In this case though it's just a millstone. Millstones were made in situ by the quarries and transported out when finished. there are a couple left in this part of the moor, no apparent flaws in the stones so probably just abandoned when the market for millstones died (with the introduction of steel rolling mills)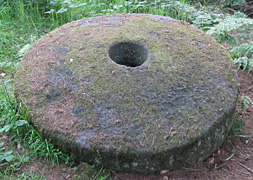 11th June 2011 – A Truckers Delight – A65 Bob GC2AKXV – cache #1190
From Ilkley I went along to Addingham to find this cache, which is at a farm entrance just past a layby, I'm walking down from the layby when a tractor pulling a large trailer comes over the hill behind me and chugs slowly towards the farm, so I walk back towards my car which was just as well as when he got to the farm entrance he turned in – and I didn't really want to explain what I was doing poking around his farm gate !
Then after he had gone up to the farm I started woalking back again to the entrance, and another tractor and trailer appeared over the hill behind me, so I had to go through all the rigmarole again before I could get the cache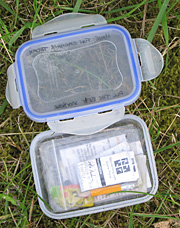 After this I went back to the Roman Road to try and find the cache Smelly Dog GC that I had failed to find the week before. Even though two people had found it in the meantime and I had read the logs and had more idea of what I was looking for I still couldn't find it in a twenty minute search of an aea of about 4 square metres !
I then went along to find GC1BGKT Brave, which was a ten minute walk from the road, and when I got there I found the area was waist deep in nettles so I gave up the idea of finding the cache
11th June 2011 – Woofa Bank GC25MVE – cache #1191
Finally I went back to find this cache which I had failed to find the previous week, even though it was hidden between fence and wall and there were only two fence posts… Someone had logged it after I hadn't found it so I realised it must still be there and went to have a closer look – this time I found the cache easily enough.
The previous week when I had been the field had a few cows in, this week there were no cows, just a rather large bull !