Home » Geocaching
Caches No's 1110 to 1121 – Clearing New Caches
While I have been unable to do much because of the sciatica there were several new caches placed quite near to home, so I needed to get these cleared off
6th May 2011 – L&LC – Gallows Bridge GC2RW78 – cache #1110
A lunchtime caching trip along the canal towpath in Shipley took me to the Gallows Bridge, which which is one of the few original crossings over the Leeds & Liverpool Canal, being built at the same time the Canal was constructed to maintain a historical right of way. The cache, hidden by a local cacher called Grayglove was one of several of his I have found so I knew where to expect it to be and how it was likely to be hidden, and I was right and quickly found it.
8th May 2011 – Spoilt For Choice GC1A6YV – cache #1111
Sunday afternoon and I thought I would go out and clear some of the new caches that had recently appeared within the 6 mile zone I had almost cleared out prior to Christmas. Bur first there was a cache I had failed to find a previous time and that was on my way to the new caches. I don't know why I failed to find it last time as I saw it straight away this time…. I think maybe because the previous time I had been looking at the bushes on the wrong side of the track !
8th May 2011 – Golden bank GC2MT4J – cache #1112
An easy to find cache hidden on a back alley in Horsforth, you do wonder why a plain cache in such an inauspicious place gets a name like 'Golden Bank'… until you see the neighbours !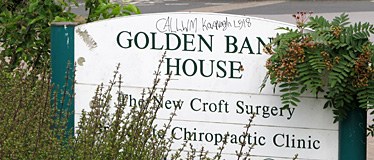 I wonder if they can do anything for my sciatica ?
8th May 2011 – SophieSurprise GC2VQRF – cache #1113
The particular direction for this caching trip was decided upon because this cache popped up on the map just as I was wondering where to go, so I was at the cache site within an hour and a half of it being published. As it was a fine Sunday afternoon I wasn't expecting to be the FTF as there are some cachers who race to new caches… But I was the first cacher to fight my way down the slippery path to the cache… unfortunately though I wasn't the first person to find the cache as instead of being hidden in the roots of a tree covered by a rock as it should have been it was sitting in the open about 10 feet from the tree and although intact had obviously been interfered with by someone since being hidden.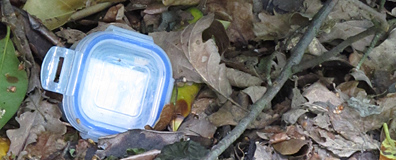 8th May 2011 – Low Hall loop GC2NAFX – cache #1114
Next on the agenda was a short series of caches, about a mile and a half to walk so nothing too strenuous, and all on reasonable paths and roads so I wasn't going to risk hurting my back at all
The first cache of the series was hidden in a pile of stones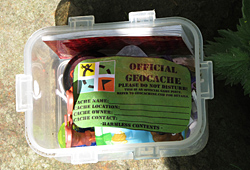 8th May 2011 – Low Hall loop 2 GC2NAG6 – cache #1115
The second one had a clue that says under a large flat rock.. well there were several of them about and a muddy ditch as well hidden in the grass.. fortunately I managed to avoid the ditch and find the right stone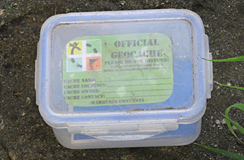 8th May 2011 – Low Hall loop 3 GC2NAGF – cache #1116
Just when I got to this cache site a BMW pulled up and parked right by the cache, and a couple and small child took about 5 minutes to get out of the car and walk 50 yards to the nearest house where they were obviously going for a visit… I had to wander up the lane and hide behind a tree until they were out of view, then rush back and grab the cache quickly in case they came back.

8th May 2011 – Low Hall loop 4 GC2NAGH – cache #1117
A cache with a nice stretch of low wall to sit on while signing the cache, all the better as it was in the sun.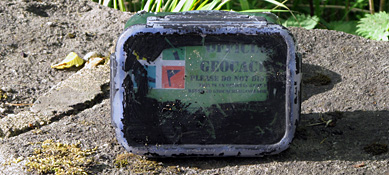 8th May 2011 – Low Hall loop final GC2NAGP – cache #1118
Even on a Sunday afternoon Leeds Ring Road is a busy place, so grabbing a magnetic cache stuck on the back of a road sign is not something you are going to do unseen… Instead of trying to do anything to disguise what I was doing I was just bold and pulled the cache off, walked back to the path and filled in the log then went back to the sign to hide it again. It's not like anyone coming up the road could see what I was doing, they would only see my legs as it is quite a large sign !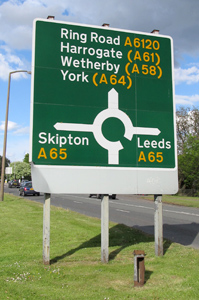 8th May 2011 – L&LC – Apperley Bridge GC2RYQX – cache #1119
Another Grayglove cache so I had no problem finding it as it was hidden in one of his typical fashions. There were lots of people walking along the towpath and that made it difficult to get this one sorted without being spotted, especially as people just appear from under the bridge with no warning !
I hope the people who did walk past while I was hanging around didn't think it was me who was dumping the Sainsbury's shopping trolley right next to the cache !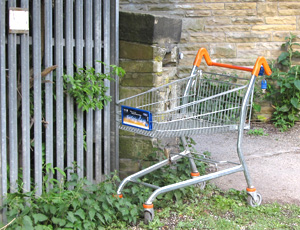 After this I couldn't find GC2RCPB L&LC – Idle Swing Bridge. The clue said it was hidden close to the sign that has the operating instructions for the swing bridge… I couldn't find that either – because the sign, and the cache had gone. It has now been replaced (the cache that is) so I will have to go back and have another go at finding it
9th May 2011 – Pond Life GC2VTEH – cache #1120
Sunday night and another new cache appeared, this time one within range of a lunchtime caching trip down the the mill pond (now duck pond) in Burley.
Again I was quite suprised to be the FTF as I don't have lunch until quite late – it was 1:30pm-ish before I got there and there are other cachers who usually get earlier lunchtimes and find the caches before me.
However two weeks later and apart from another couple of cachers who went to find it later on the Monday no-one else has been to find the cache yet.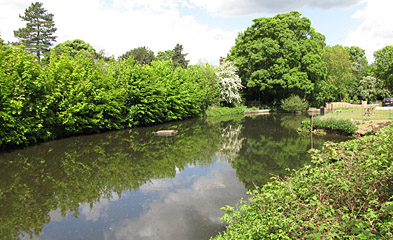 11th May 2011 Should I Turn Left or Right? GC2T44H – cache #1121
Wednesday evening and I went for a walk into a private estate of large houses – where the rich folk live !
This cache was hidden in woodland at the top of the estate, near a fallen tree covered with some amazing fungi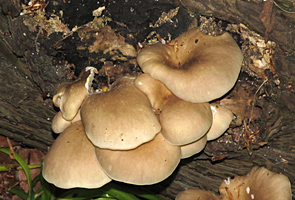 After this cache I didn't find GC1GEK3 One Degree of Separation-Woodlands – a cache that is hidden in the high walls of a path between two gardens. It is supposedly in a hole, but as I was getting a GPS accuracy of 122ft (!) and I didn't have a torch with me to look into the holes I was not too suprised that I didn't find it