Home » Geocaching
Caches No's 1122 to 1127 – Bogs and Bridges
Sunday morning, and as it was a nice day I decided a quick trip to clear sme caches North of me would be a pleasant way to spend the morning
15th May 2011 – Quagmire GCWRGN – cache #1122
This is a two part cache that I had failed to find the first part before on a previous expedition. This time however I quickly spotted a scrap of yellow in among the dark green undergrowth and pulled out the first cache, which contained the Co-ordinates to the second one.
The cache is not called Quagmire for nothing ! Although the Main cache is only 100 yds or so away there is a nice marshy area between the two parts, with a footpath running right through the middle. Fortunately I did go at the end of the driest spring on record so it was possible to dodge the really boggy parts without too much trouble.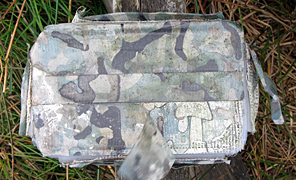 15th May 2011 – Thor GC1EB4Z – cache #1123
Another cache I had failed to find on a previous trip, mainly cos it is hidden in the rock race of an old quarry wall so the GPS signal bounces off the roack and gives no sort of accuracy at all. This time I set off with both the spoiler picture and the hint to guide me. I soon found where the spoiler picture had been taken, but I struggled to find the cache. I think this may be because it isn't in the original hiding place that matches the clue, it's rather higher than the clue had me expecting.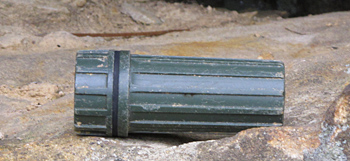 15th May 2011 – Cub Camp Cache GC189NV – cache #1124
A rarely visited cache, I wonder whether because it is all by itself and 500 yards from the road it is too far to be classed as a drive by and too lonely to encourage people to make a walk of it. It's hidden in an interesting place, by some well eroded rock formations

15th May 2011 – CROOKED BRIDGE GCJYDH – cache #1125
A strange bridge over a stream, the bridge isn't big enough or on a historical enough footpath to be a real packhorse bridge like it pretends to be, more of a 'folly' I think. The cache itself is a couple of hundred yards away, nearly far wnough away to make you think there may be another bridge for the cache to be hidden near.
After visiting loads of caches hidden by 'The Smileys' while I was in the Lake District, it was suprising to find another of theirs so close to home.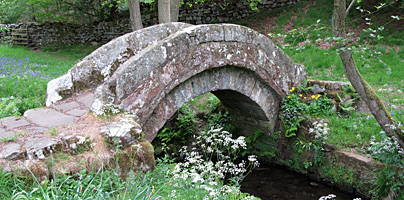 15th May 2011 – Darley Double 1 GC1ZGET – cache #1126
I parked right next to this cache, well right next to the co-ordinates, though it still took a bit of getting to as it was under the bottom step of a stile about 6 feet below the level of the road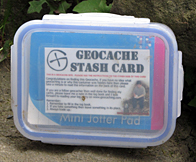 after this I couldn't find GC1ZGFJ Darley Double 2, I spent about quarter of an hour looking around the cache site with no success… The clue said 'two types of stone at the base of the wall', but it looked like an entire section of wall had been taken down and rebuilt. Because of tree cover I was only getting GPS accuracy of about 30 feet and in that area there was plenty of wall for the two types of stone to be at the base of.
I had to give up looking when the local farmer turned up with his dog and his twelve bore shotgun – I didn't fancy trying to explain what I was doing poking around near the section of wall he'd recently rebuilt !
18th May 2011 – George's Marvellous Medicine GC2WYDV – cache #1127
A new cache popped up on the map late Tuesday night. (I get notifications by email of all new caches within 10 miles of home, so it's not like I have to check the map every day !)
This cache was on my route to work – well, on one way to work – well, with just a short detour I could make it on my way to work !
So Wednesday morning I set off a few minutes early and stopped off at the cache site, and then spent longer than anticipated looking for the cache. The hint said in the roots of the biggest tree, but all the trees are pretty much of the same size so I had to search round for a while before I spotted the cache. It was no suprise that someone else who starts work earlier than me had done the same trick of calling in on the way to work and had claimed the FTF