Home » Geocaching
Cache No.1109 – Rooks and Belles
This was not a good caching trip. First I chose to do a local puzzle cache GC2M46Z Navvies' Rook, I had worked out the answers by using google, and plotting the position on Memorymap and then google satellite view showed me I had the right spot, it matched the cache name, the description and the clue… but I couldn't see hide nor hair of it, the fact that the whole area was about a foot high in nettles didn't help as I had no gloves and was only wearing a tee shirt ! The cache probably was in there somewhere but I left it for another day.
The Navvies Rook is actually a ventilation shaft from the railway tunnel running underneath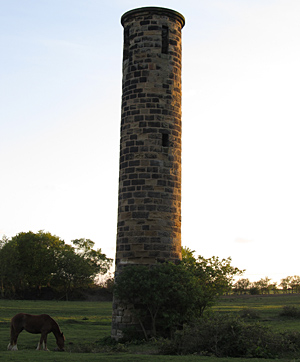 The other caches I wanted to do were the final two of the local Belle's Walk series, the first of these I went for was GC2NEDH Belles walk # 4: The field, which I could't find. There was a new drinking trough for the cows next to the spot where the cache should be and the ground had been dug up to put in a water pipe to the trough. The clue for the cache intimated that it was hidden in a hole, I found a suitable hole (looked like a rabbit hole under a large rock) but there was no sign of the cache… I'm thinking the farmer had probably found the cache when putting in the water pipe and thought it was trash and disposed of it (probably buried in the trench with the pipe !). Anyway I wasn't the first to fail to find this cache and the owner has since been and confirmed it's not there.
2nd May 2011 – Belles walk # 5: The stream GC2NG6R – cache #1109
This cache fortunately was easy to find, hidden inside a camouflage bag by a stream. One out of three for the day isn't a good average, but it's better than finding none !