Home » Explorer 297
Grid Square SE1943
The Ordnance Survey list has 3 Benchmarks in grid SE1943, all of which are normal Cut Marks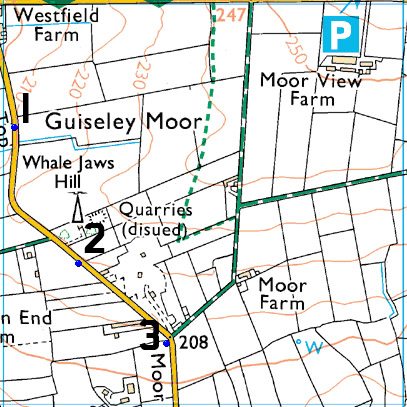 1 – CUT MARK – GT P 27.4M S WALL JUNC E SIDE RD
NOT FOUND
Or in English – Gate Post on the East side of the road, 27.4mtr south of the wall junction
Gate posts come in pairs (usually) so although it was relatively easy to find the right gate I had to check both for the cut mark… but unfortunately I couldn't find it on either. Pacing out the distance from the field wall junction I worked out that it was the right hand side post that I should be looking on, and this post does have a hollow about a foot up from the ground, which would fit with the OS list which has the top of the cut mark 0.4mtrs above ground level – however I think I need to go back and look again as the cut mark may be on the far side of the post (as I found on the next but one benchmark), or hidden behind the new wooden gatepost, rather than having been destroyed, but as the OS list shows that the last time this particular bench mark was verified was in 1957 it may well have been destroyed in the last 56 years !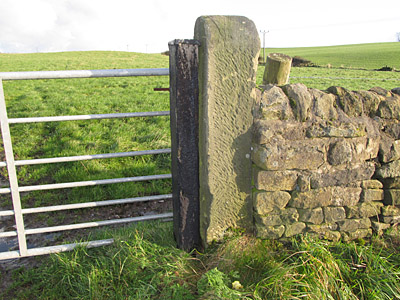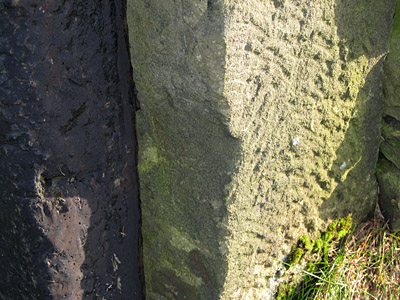 2 – CUT MARK – GT P WALL JUNC NE SIDE MOOR TOP RD
FOUND IN GOOD CONDITION
Gate Post at the wall junction on the North East side of Moor Top Road
I stopped my car in the gateway and got out to investigate the bench mark, which was quite easy to find once I had pulled away some of the grass in front of it. While I was taking the photograph the farmer came out of the next gateway 75 metres down the road, he was going to turn the other way from me, but when he saw me poking and photographing his gatepost he turned towards me.. I jumped back in my car and set off quickly, not making eye contact when we passed.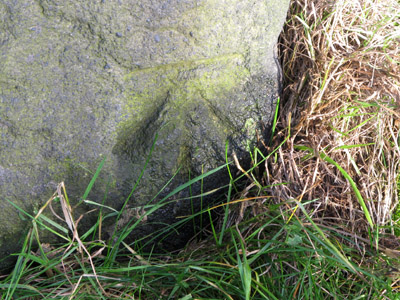 3 – CUT MARK – GT P W SIDE MOOR LANE S RD JUNC 3.4M S WALL JUNC
FOUND IN GOOD CONDITION
Gate Post on the West side of Moor Lane, south of the road junction and 3.4mtr south of the wall junction
I thought that this one was going to be missing as well, as there was no sign of it on the visible faces of the gate post… but then I looked on the rear face, that is hidden by the 'new' gate post and lurking there was the cut mark in apparently good condition.