Home » Geocaching
Caches No's 2957 to 2963 – Buck Woods & Dawson Woods
It was a couple of days after going to Whixley that I could go caching again, and this time it had to be a shorter trip as it was mid afternoon before I could set off… 16 days and 38 or so caches to do – down to 2.3 or so a day. There were a couple of puzzle caches of Team MX's that I had solved but hadn't gone for in a nearby place called Dawson Woods – which joins on to Buck Woods, a place where I have been caching many times before, and there were up to about 10 caches I could go for if I had the time
9th October 2013 – We're Going On A Beyer Hunt GC34D0J – cache #2957
A quick find amongst the trees and stones considering how many possible hiding places there are…. As usual I put it down to the fact that I have seen so many of these fake rocks before that they don't fool me
9th October 2013 – Buck Wood, Dawson Wood No.5 – Whats that in there? GC46XJ0 – cache #2958
Dodgy GPS signal under the trees meant that I had several possibilities of places to search, and for once although it was in the last place I looked it was not the last possibility
9th October 2013 – Scrabble Squabble GC47Y1N – cache #2959
Having helped Team MX with correcting the puzzle I have the co-ordinates for this cache since the day it was published so it's surprising that it has taken me two months to go and find the cache… nice and dry underfoot in the woods today so no bother with slipping down steep slopes, I've no doubt there is an easy way to get to this cache but for me it was more a case of follow the arrow rather than look for a path. The co-ordinates did put me right on top of the cache so it was an easy find. The photo shows the tiles that I changed in the puzzle, otherwise the correct answer was not the one that scored highest, but about the seventh highest (and most of the words you would even have heard of !)

9th October 2013 – Odd One Out GC2RTWW – cache #2960
After reading other people's logs I think I was fortunate that the GPS led me to within 10ft of the cache, and the 10ft I was away was on the right side of the cache to see it from, so a careful look round from where my GPS had brought me was all I needed to spot the cache.

9th October 2013 – Toad in the Hole GC3WRKH – cache #2961
I think I should have read the cache name, description, previous logs and looked at the spoiler picture before setting out for this cache as it would have made it a lot easier to find…
In the end I was a bit like the Grand Old Duke Of York…. I approached from the bottom and followed the arrow to the top (good job it was nice and dry and not muddy and slippery) then at the top I could find nothing so I let the GPS settle and followed the arrow down to the bottom again… but then the arrow pointed to the top again, so I started making my way back up the slope and thought well I ought to look in those two places halfway up just to be certain it's not there… and it wasn't in the first, but I was rewarded with the cache in the second… Then I realised if I'd thought about the title I would have been looking for a spot like this to start with !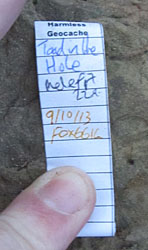 After this I didn't find GC46XGG No.4 – A slippery slope?! – The hint is magnetic and don't slip on the mud, at the co-ordinates there is a signpost with a Mud On Road sign.. but no cache there that I could see
9th October 2013 – Buck Wood, Dawson Wood No.3 – Don't fall in! GC46XF4 – cache #2962
A nice easy find, on a manhole in the woods ? we must be near the water treatment plant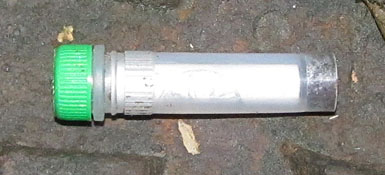 9th October 2013 – Buck Wood, Dawson Wood No.1 – Breath of Fresh Air – cache #2963
A cache in some rather prickly Holly, any blood on the log is mine !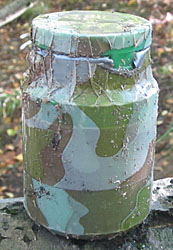 After this I didn't bother looking very hard for GC46XKF Buck Wood, Dawson Wood No.6 – Hanging about – a cache in a 7ft high 50 ft long Ivy covered wall, with dodgy coordinates… life is too short
Now down to 31 in 15 days… but the forecast is for rain 🙁