Home » Geocaching
Caches No's 1395 to 1400 – The End Of The Year Show
7th December 2011 – Sound of Music! GC38GNV – cache #1395
A very windy lunchtime trip brought me to this cache which is one of those caches hidden in plain sight… I could see it from 20 yards away. Took a bit of a wait until people had passed to grab the cache and then a bit of a jump to put it back in place. You can just about see the cache in the headline picture… 
16th December 2011 – Menston Mole GC38J2G – cache #1396
Another lunchtime cache, hidden in the roots of a tree… GPS was giving an inaccurate reading under the trees so I had to look around several before I found the right one – in fact the GPS was putting the co-ordinates on the other side of the path to where the cache actually was, so it took a second visit before I did find it (lunchtimes aren't that long)
Interesting use of camouflage, the bit you could see looked just like a bit of litter on the floor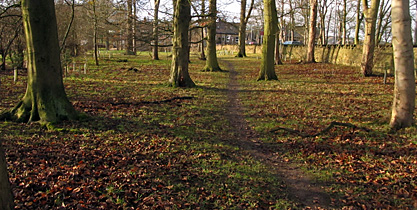 28th December 2011 – Sly as the Fox GC3508Z – cache #1397
Those boring days between Christmas and New Year really can get you down, fortunately one of the days was bright enough weather for me to go out and find some local caches that had been put down. The first cache I thought I was following some other cachers towards as the family in front of me consulted bits of paper one of them was carrying and then broke off the main path and wandered out into the trees in the direction my GPS arrow was pointing. But although I followed them to the big rock where they had been they had obviously not been caching as it wasn't the big rock the cache was hidden under.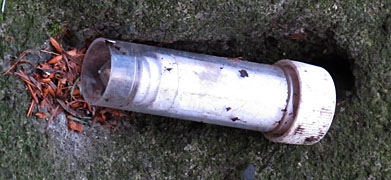 28th December 2011 – El Amigos cuatro GC36EZQ – cache #1398
A hint in Spanish isn't really much use, especially as it just said something about tree roots – not particularly descriptive when you are in the middle of a Forestry Commission plantation ! The GPS wasn't too accurate because of the trees and I wandered around and around for quite a while before finding the right tree roots.
28th December 2011 – El Amigos (uno) GC36EMV – cache #1399
More Spanish hints – at least there weren't so many fallen tree trunks to look around, so this cache was quite quick to find.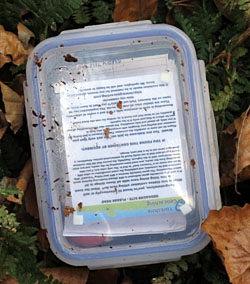 30th December 2011 – Moor the Merrier GC36YT8 – cache #1400
A horrible damp foggy day, but I really wanted to get to 1400 caches before the end of the year and as I was out shopping anyway it seemed like the perfect opportunity. Unfortunately I didn't have my GPS with me in the car, just the PDA with the cache details on, so I had to go on the road up onto Ilkley Moor to find a cache that I knew exactly where it was !
So I'm parked at the end of this road that basically ends with a gate across at the end of the tarmac and leads to a rough track over the moor down to Ilkley. It's pouring with rain and visibility is so bad it's measured in feet not yards. I open the gate to go through to get the cache which is just on the other side… and then along comes a 4WD which swings through the open gate and heads off down the track… now I've seen 4WD vehicles not having too easier time on this track on a dry sunny day – I wouldn't have wanted to attempt it in that weather