Home » Geocaching
Caches No's 1401 to 1405 – Back in the Saddle Again
Two winters ago I had a 3 month break from Caching, from early Nov to Early Feb, last winter it was 20th Dec to 9th Feb, this year I did just a little better, but I really don't like caching in the cold and wet and mud… so as there were no caches I could do easily at Lunchtime I had to wait for a nice weekend to get back in the saddle again (which I have realised I used as the title last year as well)
 28th January 2012 – Goldie GC37N8Y – cache #1401 
A nice sunny Saturday afternoon, and also my first opportunity to go caching this year, so I drove up to Golden Acre park to find a few caches.
Lot's of people about enjoying the sunshine, but this cache is just off the beaten path as it were and so easy to find without any interference
28th January 2012 – SoHealthy1 GC2ZRYV – cache #1402
Another out of the way corner in the park. There are a couple of main paths and a path that joins them by going up a steepish banking via a flight of steps… for some reason these steps are not particularly popular, which is good as this cache is hidden near the path in some tree roots, under a rock as is traditional… So Healthy because the cache is made from a vitamin pill tub (not a film cannister)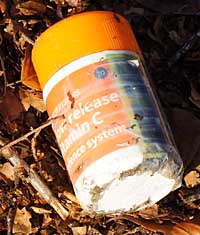 At this cache I collected the TB TB483BH Go Far I…..
28th January 2012 – Goldie 2 GC3A089 – cache #1403
I sometimes wonder about the containers people use for caches, not from a practical pint of view but from an aesthetic point of view, I mean Golden Acre park is a well kept park enjoyed by thousands of people and yet there are these two caches that appear to be litter, they aren't particularly disguised by camouflage tape or black tape, they just look like someone has dropped some rubbish.
I had to wait for a gap in the passers by before I could grab the cache, it's hidden behind an old gatepost but you still look a bit suspicious if anyone sees you leaving 'Litter' around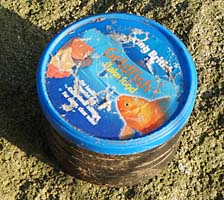 28th January 2012 – Leeds Country Way – Dead Tree GC1EBRE – cache #1404
A puzzle cache that has a series of picture clues to take you from the given co-ordinates to the cache. I didn't find this cache when I last looked for it 20 months ago, but I was passing by and thought I'd just go and have another look for it… It was a bit more of a wade than a walk to the cache site as the path was more of a lake after the wet Winter weather.
It's perhaps a good job I'd been there before and knew where the final clue picture was, as it doesn't look much like it now, the dead tree in the final picture has broken and is now a stump about 5ft tall, there's no undergrowth at all (not just cos it's winter, there has been someone in cutting down trees and bushes and clearing them away) and the path seems to have moved nearer the cache site. These changes made finding the cache a doddle this time.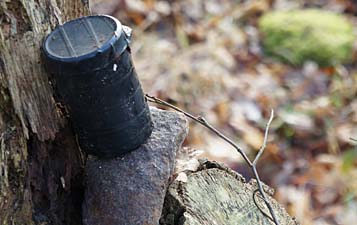 28th January 2012 – MaxKim's Pyrimid Puzzle Cache GC19CMJ – cache #1405
This cache is a type of puzzle cache, not a puzzle to find as it's quite easily found under a large stone by a gatepost, but a puzzle in that you have to assemble a wooden pyramid and photograph it to claim the cache.
When I was there the place was quite busy, there were birdwatchers 50 yards away watching for the red kites that live in the area (at least I assume that's what they were waiting for) They had their telescope's out and no birds in the area so I was being observed. There was also a party of walkers coming along the road from behind me.
So, under observation from the twitchers and with the walkers getting nearer with every stride I had about 3 minutes to retrieve and open the cache, put the puzzle together, sign the log, put it all back in the box and hide the cache again. Some people had logged that putting the puzzle together took them 10-15 minutes, however as with many puzzle caches I do my best to find an easy way to solve, so I had looked at all the photographs logged of the assembled puzzle and it was very simple and quick to put together.