Home » Geocaching
Caches No's 1028 to 1035 – Channel Link Phase 1
I'd decided that while I was down in the South if I had time I would do the Channel Link series which is a set of 55 caches on a 60 mile route from Weston Super Mare on the Bristol Channel to West Bay on the English Channel. Reading the cache logs it seemed that the whole shebang normally takes about 8-10 hours and then there's a 90 minute drive back to where you started from. I was never going to have a single chunk of time available like that so I decided I would have to split it up between two or three days.
So Saturday morning I had a couple of hours free, so I set out to begin the trail – as before I was only going to stop if there was a suitable parking place and no-one around.
April 9th 2011 – Channel Link #05 – Brent Knoll GC2AYAG – cache #1028
The first cache I did was at the bottom of a signpost in a village, no problem parking and apart from a couple walking along the road no-one to disturb me
April 9th 2011 – Channel Link #06 – M5 Bridge GC2AYAH – cache #1029
Motorway bridge, Armco barrier, easy cache find.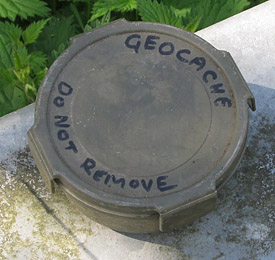 April 9th 2011 – Channel Link #09 – Mark One GC2AYAM – cache #1030
'Mark' is a little village where the road crosses the river, and although it was still before 12 there were already people sitting outside the pub which meant I was under some observation while getting this cache. The cache at the bottom of a signpost on the riverbank, I retrieved it and retreated to a nearby bench to open it, but unfortunately it was too wet inside to sign so I just had to photograph it and return it to it's spot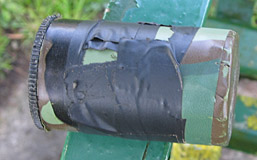 April 9th 2011 – Channel Link #10 – Mark Two GC2AYAN – cache #1031
I'm assuming this sign for the village was put up to 'mark' the millennium… the cache, of course, was hidden behind it. Not really anywhere good to park as it's on a busy road and although I could get a couple of wheels of the road into a gateway I was still causing some obstruction to the cars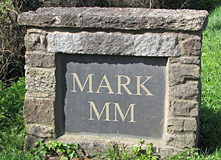 April 9th 2011 – Channel Link #11 – Blackford GC2AYAP – cache #1032
A magnetic cache stuck to a bench, an easy find with somewhere to sit and sign the log, and I could park my car right in front of the bench to shield what I was doing from any passing car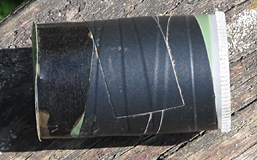 April 9th 2011 – Motorway Madness GC27FFG – cache #1033
A public footpath that zigzags down the embankment from the motorway bridge, a footpath that isn't very well used and is overgrown with very prickly gorse bushes, it brings you down to a field at motorway level, where the cache is hidden behind a fencepost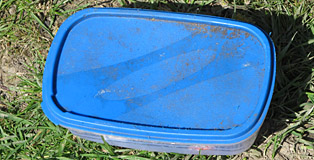 April 9th 2011 – PJ's Birthday Cache GC2NE84 – cache #1034
Well, my initials are PJ and it was nearly my birthday so I just had to go for this one ! (coincidentally it IS my birthday today when I'm writing up this web posting)
It was put out as a limited mobility friendly cache by someone whose son was injured in an accident and spent a long time not being able to walk properly… my sciatica seems a paltry complaint at the side of this, but as I was limited to drive by caches still this was again a pertinent reason for going for this cache
At this cache I collected the Cache Movers Geocoin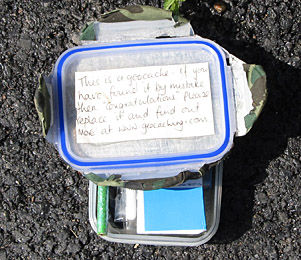 April 9th 2011 – Jubilee Joy GC2FZQW – cache #1035
A lovely little spot by a stream in a picturesque village. The cache is hidden in a crevice in a huge old tree and well camouflaged as it has bits of bark stuck to it