Home » Geocaching
Caches No's 1014 to 1027 – A Weekend Away Part I (again): The Drive South
Just like last year this entry will start "I was travelling down to Brean Sands near Weston Super Mare for the weekend, so I thought I'd do a few drive by caches, it's a 250 mile drive, 230 of that should be on Motorways so it should have been about a four hour drive… it took me seven and three quarters."

8th 2011 – Skeg to Ness #94 GC23V9R – cache #1014
As I'd done the caches on the way down and back last year I went a different route this year, Started off going down the A1 which is mainly the wrong direction as it goes south east rather than south west, but I figured I could get in some more of the Skeg To Ness series. I'd done from the A1 East last November going to Hunstanton, so I figured I could do the A1-M1 caches on this journey. Same rules as before, if there is somewhere easy to park with nobody about then do the cache, otherwise leave it for another time.
The first one was easy, a large parking area with no other cars in sight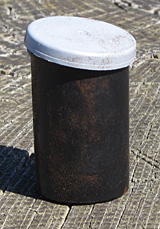 April 8th 2011 – Skeg to Ness #95 GC23VA7 – cache #1015
The second one I could see when I pulled up at the side of the road, just as I stopped another car pulled into the layby on the other side of the road but as my car was between them and the cache they couldn't see what I was doing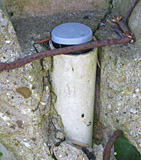 April 8th 2011 – Skeg to Ness #97 GC23VAG – cache #1016
Another cache where just as I got to it someone else appeared. This time I pulled up next to a couple of cyclists who were stopped at the side of the road having a snack, I walked across the road to the footpath where the cache was, and just as I got to it a car pulled up next to me and a bloke got out and spent about 5 minutes getting his dogs out of the car and onto their leads, so I wandered a little way down the path and then hung around til he'd gone before rushing back to the cache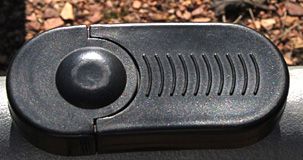 April 8th 2011 – Skeg to Ness #99 GC23VAY – cache #1017
An easy find, the hint says 'tree stump' and there's only one tree stump in the vicinity and a nice cachers path to follow !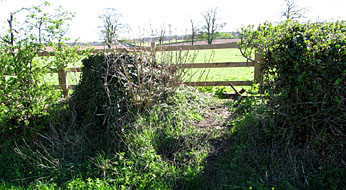 April 8th 2011 – Skeg to Ness #100 GC23VB1 – cache #1018
Disturbed again ! I had parked in the entrance to the church, though the cache is on the other side of the road. Just as I was finishing my business there another car pulled up and two women got out with cleaning equipment – obviously going to do some work in the Church. To give some reason for me to be parked there I made it look like I was taking pictures of the church – well it is quite a nice one !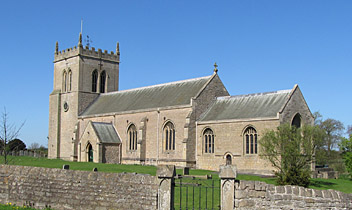 April 8th 2011 – Skeg to Ness #102 GC23RXV – cache #1019
Back to the old favourite, a 35mm film cannister hidden in the roots of a tree covered by a rock… not as easy to find as all that as this is the furthest away from the road of any of the STN caches that I have yet done, 50 – 60 yards from the road in the middle of a wood, so there are plenty of tree roots for it to be hidden behind. Fortunately it was still early enough in the year for their to be no leaves on the trees so satellite reception wasn't compromised too much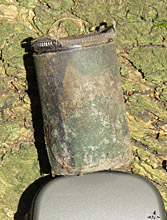 April 8th 2011 – Skeg to Ness #108 GC23RY3 – cache #1020
My seventh cache of the day and the fourth one where I was disturbed… I pulled up in a nice empty parking spot, got out of my car heading over the road to the cache and a woman pulls up in the parking spot, I presume to answer a mobile phone call… so I hung around for a few minutes until she left again then went to find the cache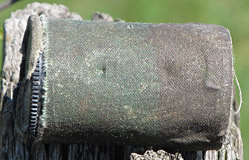 April 8th 2011 – Skeg to Ness #111 GC23RY6 – cache #1021
This was just a little bit confusing, the description and hint said I was looking for a camouflaged cache hung from a Hawthorn bush, and it turned out to be hardly camouflaged at all and not hung from a hawthorn either… I did wonder whether I had found the correct cache !

After this cache I couldn't find GC23RYA Skeg to Ness #113 – as it was supposed to be hidden by a stile, unfortunately the stile is now a pile of broken bits of wood in a nearby hedge bottom, and there is a nice shiny new kissing gate in it's place – though as it turns out from reading subsequent cache logs if I'd looked hard enough the cache was actually still in the vicinity
April 8th 2011 – Skeg to Ness #114 GC23RYC – cache #1022
A nice easy cache to find, hidden in the hedge bottom by a gate post, unfortunately not the easiest one to get too as it was tucked right into the hedge bottom, which of course means a lot of prickly stuff to get through to reach it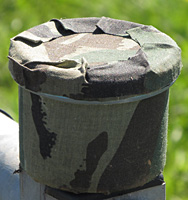 April 8th 2011 – Skeg to Ness #116 GC23RYE – cache #1023
Just to the East of the M1 near Chesterfield is a ridge standing high above the land below, it's on this ridge that Bolsover Castle and Hardwick Hall are built, which gave them an imposing position for both defence and reminding the common people of their superiority. On top of the ridge also is this cache, which is by a bench out there to commemorate the Queens Silver Jubilee, in a psoition where it would give a good view over the countryside below… or at least it would if in the 38 years since the trees hadn't grown up in front of it so that now all you see from the bench is a gap of about 15 feet to an untidy thicket of scrub trees that block your view of anything. Still it is always nice to find a cache that has somewhere to sit and sign the log.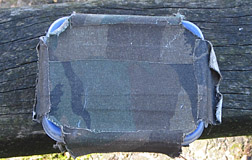 April 8th 2011 – Skeg to Ness #120 GC23TJT – cache #1024
A nicely hidden cache, in a carved out piece of wood. I nearly caused an accident at this cache as there wasn't anywhere to sit and sign the log so I put my GPS on top of the fence while I sorted everything out and then walked off leaving the GPS there… I drove off and got about 50 yards before I realised what I had done. so I started reversing up this narrowish winding country lane, much to the displeasure of the driver who was coming down the hill, round the corner at a reasonable speed and met me reversing up it !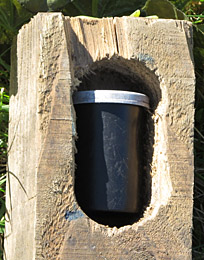 April 8th 2011 – Skeg to Ness #121 GC23TK4 – cache #1025
The last of the STN caches for this journey, I'd only managed to find 12 out of 27 so next time I am heading south I will have to retrace this journey one way or the other to pick up some of the others – This last cache was easy enough to find being hidden in wooden supports of what appeared to be afoot disinfectant bath for horses built in the Foot & Mouth outbreak of 10 years ago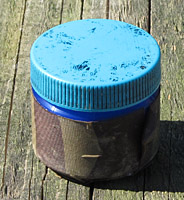 April 8th 2011 – Gr8Tree GC28EFH – cache #1026
200 miles further on  I got to the next cache on my list – Pretty obvious which tree the title referred to, and easy to find when I was there. However it was another case of getting disturbed, as I was emerging from behind the tree three women came round the corner and rode  past on cycles and one shouted "Are you having a wee ?"
"Something like that" I replied… though really it was nothing like that.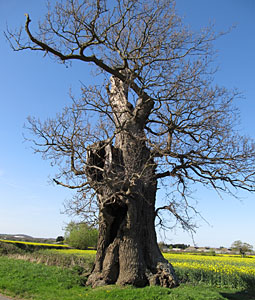 April 8th 2011 – M5 J14 GEOCOIN & TB HOTEL GC1V3Q3 – cache #1027
Last one of my journey, this one is a bit of a trail to get to as although it is on a footpath near the motorway junction there is nowhere to park around there. You have to drive into the village and then down a road that presumably was the 'real' road until the motorway cut it off and then park at the end and access the footpath.
The cache wasn't where I had been expecting it to be but was about 20 feet away, though quite obvious due to the heap of stickoflage piled up on top of it. When I looked at the log I realised that the last person to find it and the one who put all the sticks on top of it was my friend Tracy, (see caches 18 -23) who was heading for the same place I was. I put the cache back and hid it so it looked a little more natural !