Home » Geocaching
Caches No's 873 to 880 – Great Northern Treasure
Another sunny Sunday morning saw me out clearing more of the caches in the 6 & 7 mile radii from home. I sort of intended when I set out to clear the next hearest one to home, but I didn't get around to doing it again !
What I did do was drive up to Horsforth and have a walk up a hill into the woods to find
17th October 2010 – Thomas and Jessica's treasure GC1YKNK – cache #873
There were a few dog walkers to avoid to be able to get to this cache, which is hidden under a stone by a fence post, sometimes I do feel a little conspicuous to be out on my own walking in places that aren't particularly exciting, a dog or child would be seen to give me much more reason to be hanging around in the woods, or maybe it's just paranoia ?
17th October 2010 – Cache 'n' Carry GC11Y4Y – cache #874
A puzzle cache that I had worked out an answer to weeks before but never got around to finding. I wasn't convinced that I had got the co-ordinates worked out right, as I knew the area they were and my memory of it was that it was a plain brick wall at the side of a busy path in a public park, not the sort of place you could securely hide a cache.
Indeed when I got there it was a plain brick wall at the side of a busy path in a public park – but there is a crack in the wall, and in the crack a nicely disguised 35mm film pot cache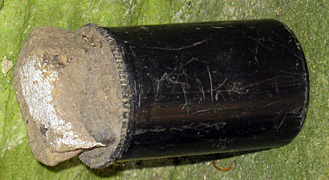 17th October 2010 – Idle WrecK GC2FP5D – cache #875
A quick drive up to Idle brought me to a park I didn't know existed, even though I had worked less than a mile away for 5 years and must have driven past it many times.
The cache unfortunately was not very nice, it was hidden in a small tree stump, disguised by being in a doggy doo bag, the problem was that dogs obviously used the stump for cocking their legs up on. I was very glad I had recently put wet-wipes and disinfectant gel in my car to get clean and sanitized again. (after another cacher had logged the same thing later in the day the cache was disabled as being in an unsuitable place)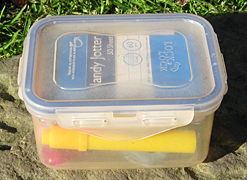 17th October 2010 – Back to school GC2EYGM – cache #876
This cache was down a path on a side of a hill where there are no roads, so it gave me a view of a place I was very familiar with but from a totally dfferent angle, I was so busy looking at the view and working out where things were from this perspective that I walked right past the cache. When I came back up the path to it it was an easy find under some stones by the base of a tree
17th October 2010 – Great Northern No4 GC2G2QZ – cache #877
An old disused railway line that I didn't know existed forms the route for a series of caches that I did in reverse order. I also didn't walk the path, but did them as drive bys. The fourth cache in the series has caused a few people to comment on difficulty in finding it, the description and clue give it as being magnetic and have a number, which turns out to be the number of a telegraph pole, now telegraph poles are made of wood and are not magnetic so there is no obvious place for it to be, but the last 8 feet or so of the wire that grounds the pole are run in a metal conduit which has a flared foot that in most cases goes into the ground, in this case it finishes abut an inch above the ground and the cache is hidden on the inside of this flared foot, and is a bugger to get out as the magnets are strong and you only have your fingertips to pull it out with, and fingertips by themselves are not particularly strong.

17th October 2010 – Great Northern No3 GC2G2QB – cache #878
When the railway line was working there was a track that ran down through a tunnel under the line to a farm, this is the way I accessed this cache, the bridge has now gone, and there is a bit of a banking to climb up to the level railway line. The large dressed stones that capped the bridge are no dumped a few yards along the line and the cache is hidden under these.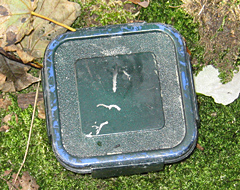 17th October 2010 – Great Northern No2 GC2G2PE – cache #879
A public footpath crossed the railway by a foot bridge that was made of girders for the base and had a deck made of two widths of sleepers with a railing on either side. One row of sleepers has now gone missing and the row that is present is rather dilapidated and full of holes, and there is only a railing on one side, You don't have to cross it to find the cache if you can find a way down to the trackbed at the near side as the cache is magnetically stuck to the girders underneath the bridge at the far side – but there isn't a way down from the footpath, so it's easier to just cross the bridge and hope it's still sturdy enough to stand up !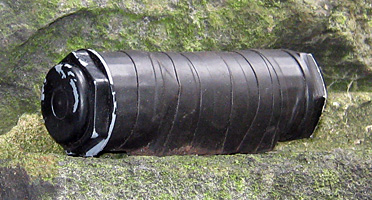 17th October 2010 – Great Northern No1 GC2G2N2 – cache #880
Another magnetic cache that was difficult to get out because I could only use my fingertips, this one stuck between railings and a wall by the gate of the old station building. The building is now a printers so I'm glad I was there on a Sunday when they were shut so no-one would look out and wonder what I was doing fiddling around at the side of their gate !