Home » Geocaching
Caches No's 859 to 872 – The Doubler Stones Adventure
I had decided at the beginning of October that I was going to attempt to get to 1,000 caches by the end of the year, at the time I was on eight hundred and twenty some caches and had 88 days to go, approximately 2 caches per day to find, which really meant 14 per weekend. By now I was down to 76 days and 142 caches to go, so I was a couple or three ahead of target, but needed to make the most of what caching opportunities I had.
14 caches a weekend is actually quite a commitment whenI have already done most of the walks and series that get easy big numbers of caches. So I had to plan to go a bit further away to do multiple caches at one go.
Saturday afternoon then saw me heading to Silsden to do caches that are right on the edge and in some cases beyond my 10 mile radius16th October 2010 – Year 6 Adventure #1: A Squirrels Dream GC2DGHT2 – cache #859
I had decided to do a series of 8 caches that could be made into a circular walk with a few others on the way back, on the map this looked all fine and dandy – I guess I just missed looking at the contours ! the series led me up to the top of a steep hill.
The first of the series made me laugh, it was an acorn shape wooden bannister finial with a cache container stuck in it's base, the whole lot hidden under a large lump of concrete in a hedge bottom
16th October 2010 – Taylors treasures GC1TP5C – cache #860
I had to miss out #2 of the Year 6 Adventure series on the way up due to the presence of a chap standing by the cache spot throwing sticks for his dog, so the next cache I came to was this one, a straightforward hide at the base of a tree covered by a rock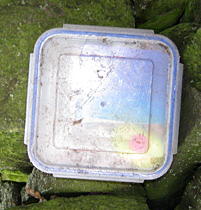 16th October 2010 – Year 6 Adventure #4: Watch Your Step GC2DGTAQ – cache #861
#3 of the walk I had to miss out as well, although it is on a public footpath it is in what is really a garden, and there was no chance of searching around without being seen by the householder who was pottering about.
So I went onto number four, which isn't much better, being fairly close to the farm buildings of a riding stable, I was just hidden from the people in the main farm yard but had to rush to get the cache sorted before one of the people came up to where I was, I covered my hanging round with pretending I was lost and couldn't work out which was the right footpath.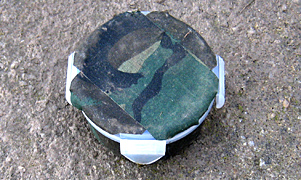 16th October 2010 – Year 6 Adventure #5: Cutlery? GC2DGTD – cache #862
A surprisingly large cache container hidden under rocks in the fork of a fallen tree, easy camouflage to spot when you are looking out for it.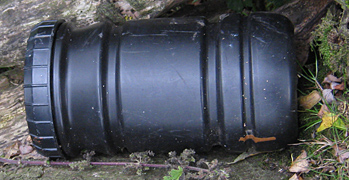 16th October 2010 – Year 6 Adventure #6: Up a bit… GC2DGTK – cache #863
Another poorly hidden cache, it's in some stones at the base of a wall, but this particular bit of wall is in full view of anyone who lives in the row of four houses that are no more than 25 yards away, why the hider couldn't have chosen any of the similar piles of rocks at the base of the wall just another 25 – 50 yards further on that were hidden from the houses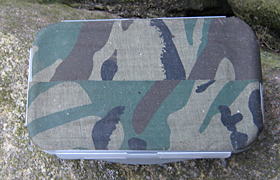 16th October 2010 – Year 6 Adventure #7: Mind the Road GC2DGTQ – cache #864
A magnetic nano on the gatepost, I could see it as I walked towards it, as I've seen so many of them I know what I'm looking for !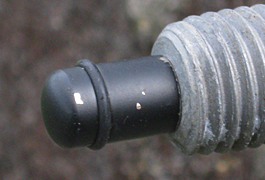 16th October 2010 – Year 6 Adventure #8: A Rocky Road to the Top GC2DGTW – cache #865
The Year 6 Adventure series (how old are year 6 kids ? 11-ish I guess) finishes with this cache just at the bottom of the final climb to the top of the hill, the cache is hidden in some large boulders and is quite easy to find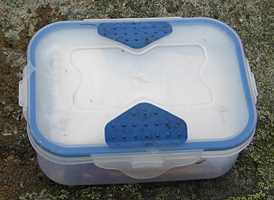 16th October 2010 – NAB END GCN3XZ – cache #866
At the top of the hill on the North side is this cache, hidden in a small disused quarry, with good views down into the Wharfe valley
16th October 2010 – Afraid of Sunlight GC1A783 – cache #867
And on the other side of the hill is this cache, looking over the Aire valley, hidden under a large rock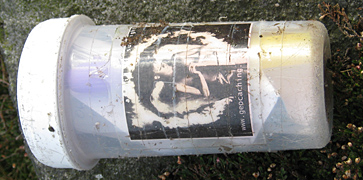 16th October 2010 – DOUBLER QUITS GCN3XY – cache #868
The Doubler stones, never knew these existed. That's the beauty of geocaching, you get to see all sorts of interesting places you'd never know about otherwise.
Cache was easy to find hidden in some stones just down the bottom of the bank from the natural sculptures.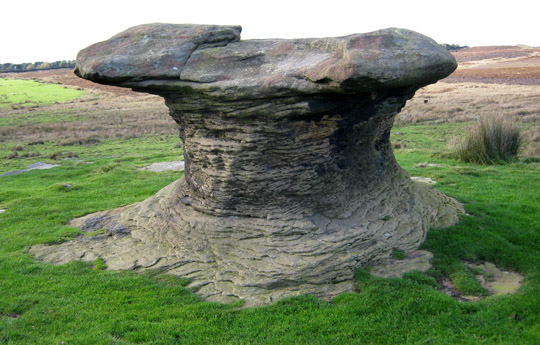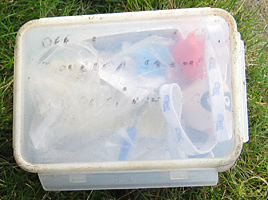 16th October 2010 – The Alphabet Caches – E for England GC29XRP – cache #869
This was a hard one to find, it was no problem finding the co-ordinates, which is he corner of two walls, the hint said in the corner but not in the wall, and there was no sign of the cache !
It took a bit of searching, but eventually I realised that if it wasn't apparent on the surface then it must be underground, so a bit of fiddling abut came up with a loose turf and a surprisingly large cache to say it was so much trouble to find it when I knew exactly where it was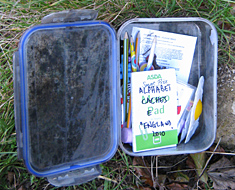 16th October 2010 – Year 6 Adventure #2: Rooting Around GC2DGT4 – cache #870
On the way back to the car I went back to the cache I'd had to pass on the way up, and found it fairly easily at the base of a small tree under some stones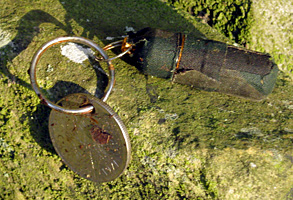 16th October 2010 – Carneva 08 GC21MZB – cache #871
On the drive back home I took a road that would bring me past another couple of caches, they were close together, in fact I parked next to one and walked back along the path to the this one, which is an interesting little cache to get to being in a crack on the side of a large boulder about 8 feet off the ground. You have the option of climbing up the overhanging face of the boulder which is not easy unless you are an expert, or you can climb up the back of the boulder, which is easier, but then you have to reach over the top to get the cache, which was about as far as my arms will stretch, but I managed it without mishap (though using my walking pole to push the cache firmly back into place from the ground where I could see it properly was a good idea !)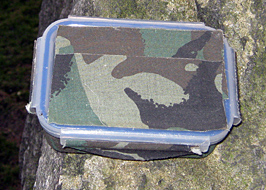 16th October 2010 – Wols Views #4 Aire Valley Vista GC15BCA – cache #872
The final cache of the day was this one, under a large rock at the edge of the layby, it would be quite easy to find in Spring, but by Autumn the grass and weeds have grown tightly around the rock so it took a bit of excavating to get it out.