Home » Geocaching
250 Up – Caches No's 246 – 258
Mar 6th 2010 – Aireborough Panorama – Looking South GC1NGEY – Cache #246
This cache is on a footpath leading down from the Royalty pub, the path has a big high bank on one side – put there as protection as there is a clay pigeon shooting range there. However the path is covered in bits of clay pigeon, I wouldn't fancy walking the path when they are shooting, you are safe from the gunshots, but obviously not too safe from the falling debris !
Mar 6th 2010 – Wharfedale Panorama – Looking West GC1NGEY – Cache #247
I'd driven past the spot where this cache was many times, even stopped once for a brief look but that was in the summer when it was all overgrown and I didn't find it (well,  I didn't have my GPS so was really just going on hoping I could see it, and I couldn't – cos I was looking about 10 feet from the right spot)
This time, I had no trouble, the GPS took me to the exact spot and someone had already been along and dug it out of it's hiding place – judging by the amount of mud on the box they had literally dug it out !

Mar 6th 2010 – Misspent Youth Cache GC12J0W – Cache #248
Another one I had failed to find in the summer, at the time I was using the basic Etrex which didn't have the accuracy under the trees so when the hint said look for the W Johnson carving and all I could find was C Johnson carved into the rock then I didn't find the cache. This time I found the right carving, but it still took me 15 minutes or so to find the cache, even though it's less than 6 feet away from the grafitti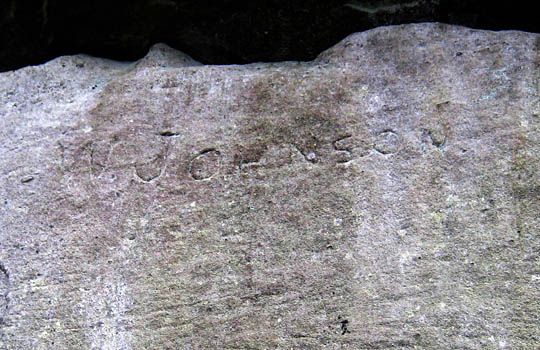 Mar 6th 2010 – Chevin Lodge  GC1NGF2 – Cache #249
This was one of those caches where you spot where it ought to be as you are walking towards it, GPS says 45feet in that direction and when you look there's a tree with some small logs piled up by it's base… guess where the cache is ?
Mar 7th 2010 – Up, or down, the Junction GCW4JM – Cache #250
My 250th cache – I was quite glad I got out early on a Bright but cold Sunday morning because the track up to this one is just a sea of mud, fortunately it had been -3°C overnight so the mud was frozen and in most places firm enough to walk on. The cache was easy enough to find, under the fence at the side of the railway line.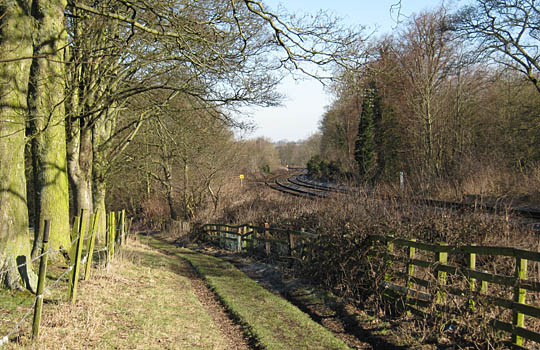 Mar 7th 2010 – East Keswick Walk #1 GC245TJ – Cache #251
I'd decided that as the weather was nice I was going to do a cache series around the village of East Keswick which is about 10 miles away from home, 6 caches and a bonus for which you have to collect the nubers in the other caches to get the co-ordinates. It turns out I was not the only one doing this as at the very first cache I came across another couple looking furtive, who by their actions were obviously cachers, they turned out to be the Mansonfamily3, and I came across them all the way round the walk (even though we tried to avoid each other). They had the cache spotted before I got there, and so I actually don't know where it was hidden, as I signed the log then gave it back to them to put back. It was a 35mm film cannister, so it was probably hidden under a rock !
In our conversation all of us managed to forget to actually look to see the clue for the bonus cache…

Mar 7th 2010 – East Keswick Walk #2 GC245TR – Cache #252
I did walk on ahead and find this one, another 35mm film cannister. Then I left it with the Mansons, who had caught up with me,  to rehide while I went on ahead again. In our attempts not to follow each other we managed again to forget the bonus clue.

Mar 7th 2010 – East Keswick Walk #3 GC245V0 – Cache #253
The Mansons actually stopped for a while to put some distance in between us so I managed to get to this one, sign the log, and put it back before they came into view.
At this cache I dropped off the Bullfrog TB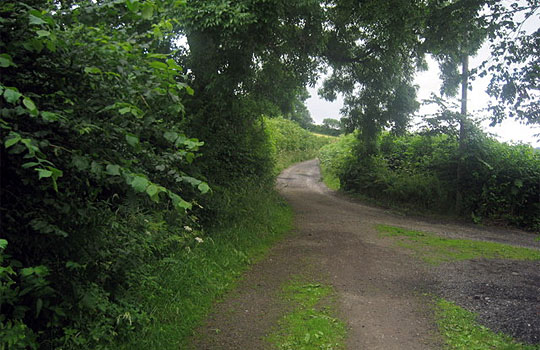 Now I had a choice, to follow the path down a nice bridleway or to turn off onto a footpath through a muddy field to grab an extra cache… I turned of and tramped down a very muddy field to find Walking on water?  GCNGWN which is situated on a short footbridge over a fishing pond, but it was Sunday morning and the ice covered pond was surrounded by bored fishermen who had nothing better to do than stare at anyone who goes past… Walking across the bridge was was like being on stage, loads of pairs of eyes following your every step. There was no chance of being unobserved while looking for the cache so I left this one for later.

Mar 7th 2010 – East Keswick Walk #4 GC245VD – Cache #254
My abortive detour had taken me to the spot where EKW#6 was, and I passed another cacher going the opposite way, I amd sure it was another cacher (possibly Flookbird) as she had a GPS in one hand and her iphone in the other much as I had GPS in one hand and PDA in the other.
Anyway I had to go back down the path to find the caches I'd missed, and of course I met the Mansons again, Cache #4 was hidden by a rock at the base of a tree.
Mar 7th 2010 – East Keswick Walk #5 GC245VK – Cache #255
I caught up with the Mansons again here as they had not managed to locate the cache, I had read the hint, so it took me 2 seconds to retrieve it from it's hiding place… another 35mm film cannister…
It was now that I remembered that I should have been collecting the clues for the bonus cache… not very good to remember on number 5 that you had already missed 4 clues
Mar 7th 2010 – East Keswick Walk #6 GC245VT – Cache #256
I sped off again to put some distance between myself and the Mansons, but I was still signing the log when they came into sight, not that they would have had any problems finding the cache, even if I'd not been there.
At the cache I collected the Morse Travel Bug Dog Tag TB193EF
At this cache I dropped off the Sam's Key To Success Geocoin

Mar 7th 2010 – East Keswick Walk the Bonus GC245W2 – Cache #257
I had only got two of the 6 clues for the bonus cache and armed with just the last two digits of the co-ordinates it seemed like the only way to get the bonus was to go round again… or was it ?…
With just the cache hint to help me, and the thought that it would likely be on the route back to the car, I checked every possibility – and after walking up and down two possible paths back to the car I saw something that looked just a little out of place… Okay it was a rock at the base of a bush and underneath was a 35mm film cannister, the bonus cache !

Mar 7th 2010 – Child's Play 4 GC15WEA – Cache #258
On my way home I stopped off for a final cache, this one is part of a series of 4 with clues in each. I have found one of them before, but have got to go back to it cos I haven't got a note of the clue !. This one I did remember to write down the clue… it was a very wet 35mm film cannister hidden not by a rock this time, but by a half brick.