Home » Wharfedale Plus
Bonfires, Fireworks & Marigolds
Top Farm near Wakefield was a venue we used several times in the late 1980's, mainly for the JAC weekend camping events, but in 1988 it also hosted the Yorkshire Area Bonfire Bop.
Back in 1987 we had an event in Ilkley, while I was there this bloke came up to me and passed over a business card and told me to get in touch if we could make use of their services… The card was for "The Bang Brothers" Firework display experts. I kept hold of that card for over a year until I heard that the Area was having a bonfire dance and so I passed on the card to the organisers, who contacted them to arrange for a firework display.
Of course the Bang Brothers were very busy at Bonfire night so they couldn't actually set the fireworks off themselves so we were treated to the spectacle of Thornbush dressed in wellies, safety goggles and yellow marigold gloves running around the field setting off the fireworks… Meanwhile at the top of the field, those of us with mini-rockets of our own were firing them at a low trajectory towards where Thornbush was launching the display from.
We had a minibus to get to the event, not one that I was driving which was actually quite good the way things turned out as there was a rather large bonfire on a slope that had never seemed to be that steep when I had been at Top Farm before, but for some reason I had great difficulty traversing it without falling over later that night (although the reason, I expect, was most probably Smirnoff)
Come the last dance, I was at the stage where a) I needed to lean on the girl I was dancing with to stay upright, and b) I had to keep my eyes open or I would have thrown up !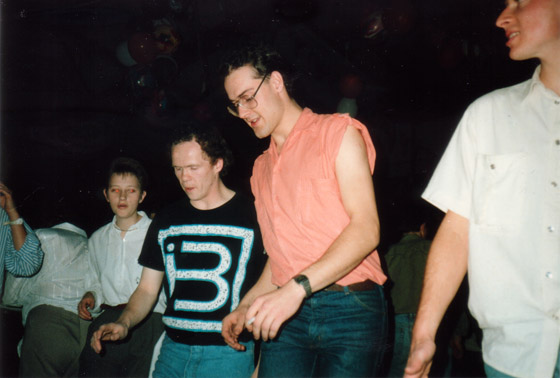 Wendy-woo, Greedo, Tobias and Hubert on the Top Farm dance floor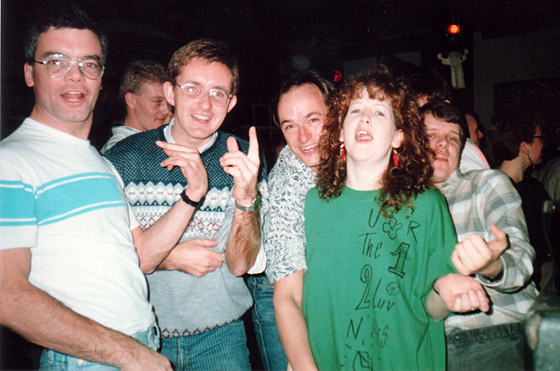 Roger, The Git, Podders (from Altrincham), Jane (From Doncaster) and Nelly
Rocking on air guitars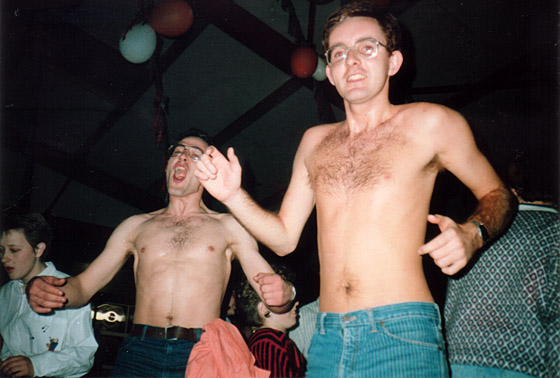 It might be November but it's hot inside, Tobias and The Git getting their six packs out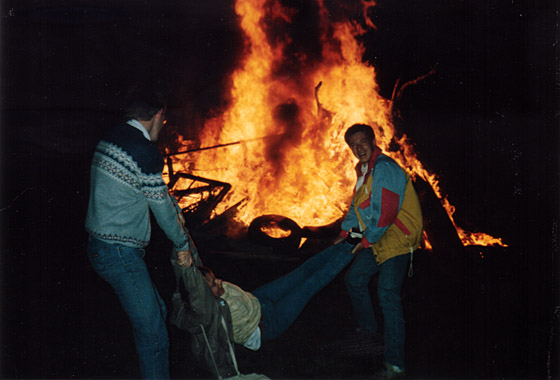 The Git and Hubert, attempting to throw Zippy onto the fire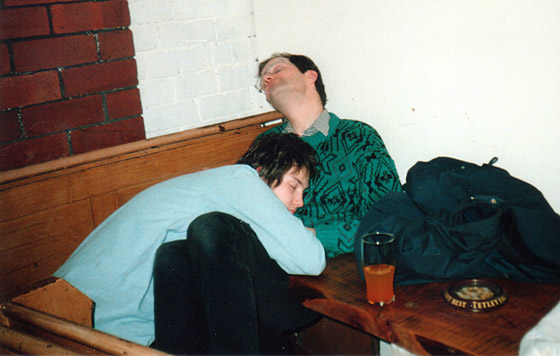 The dance went on past some peoples bed times
Ian and Silke 'resting' in a corner