Home » Geocaching
Caches No's 4591 to 4596 – Caching with the Wright Girl
I'd got on well with Jen of the Wright girls in Wales and Dublin so I went down to stay with her for a couple of days, and while there we went to Talacre Beach and spent a couple of hours walking along the sands… Then we went for something to eat in a cafe at Prestatyn and saw that there was a virtual cache nearby…
1st October 2018 – Gwaenysgor Hill Viewpoint – Virtual Reward GC7B8R8 – cache #4591
… And not being one to miss out on a virtual we drove up… not sure that Jen was too happy with the speed I went round the hairpin bends (though they didn't seem anywhere near as bad on the way down)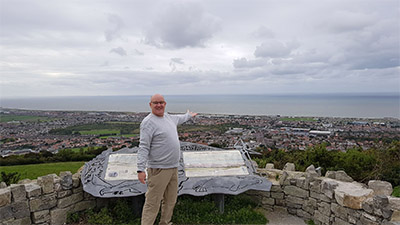 1st October 2018 – Irish Sea View GCHMYN – cache #4592
After stopping in the car park for the virtual cache it was only sensible to walk along the road to find this cache… which was easier to locate when we had worked out which side of the road we should be looking on !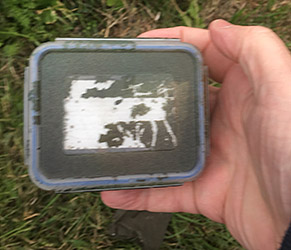 1st October 2018 – Duck and Cover GC219RP – cache #4593
A quick drive by on our way out of Prestatyn… came with Jen of the Wright girls and signed the log as team 'Life's a Beach'. A few earlier cachers have reported just finding a camo bag with a log sheet, we found a bank cash bag with a novelty cache container in it (with a log sheet inside), not sure what is going on there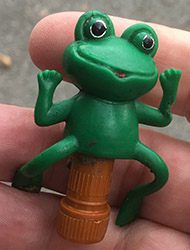 2nd October 2018 – King Charles Tower – Battle View GC2C1K4 – cache #4594
Next day we went to Chester, not really to find caches but because I wanted to walk round the walls, which is a very nice way to see some of the sights of the city.
However as we were only a few yards from the cache and there was an easy way to get down to it we couldn't really just pass this one by.
Jen seemed a bit hesitant because we had seen a couple of rats near the cache, so I had to find the cache (and then she stopped a bit further along the wall to take a picture of another scavenging rodent, but as it has a bushy tail it looks cute – a squirrel is just another type of rat !)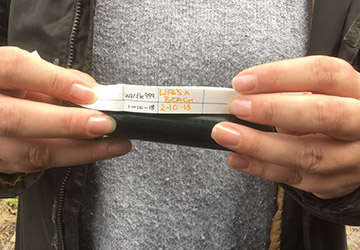 2nd October 2018 – Chester City Cache – Eastgate Clock GC1A9WC – cache #4595
Found while walking the walls with Jen of the Wright girls – well Jen found it while I was looking in totally the wrong place (as usual)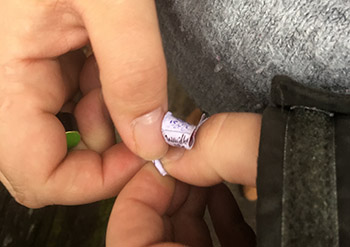 2nd October 2018 – Wright Girls 5* Travel Bug Hotel GC4AW1C – cache #4596
I didn't have the coordinates, didn't have a map, but I did have the CO with me so it wasn't hard finding the cache 🙂