Home » Geocaching
Caches No's 4005, 4006 & 4007 – March Caches
The Mega 2018 Committee decided that as we had held our inaugural "Meet the Committee" meeting in West Yorkshire we ought to do one in North, East and South Yorkshire as well, so we could introduce ourselves to the wider Yorkshire caching community. Being on the Committee also means that I really am obliged to attend all the caching events that I can, so I am likely going to be going to more events over the next two years than I would ever have thought of doing before. I mean I wouldn't have thought of going to events more than about 15-20 miles away, certainly not in South or East Yorks before unless they were going to be 'special', and now that is going to become normal.
5th March 2016 – Mad March Meet VIII Yorkshire GC69KXZ – cache #4005
The first Geocaching event I ever went to was MMM II… here we are 6 years later… Excellent event as always, Thanks to Dave and Carol for organising
5th March 2016 – Try Tri Trigonometry  GC6C61V – cache #4006
This was one of the new caches put out by Dave for the Mad March event, he put it out as a puzzle cache the idea being that you had to go to three trig points and calculate bearings and distances to find the final locations to the final cache and he was trying to stop "armchair cachers" working out the answers using the internet and just visiting the final cache…
Being that way inclined I determined a way to find the final cache without visiting the feeder points, I was beaten to the FTF by 10 minutes – I obviously spent too long in the pub at the event… Still the FTFers did it properly not by internet, mathematics and assumption like I did ! (the fact that much of the area where the cache has to be is off limits for placing geocaching reduced the number of possible coordinates no end)
Here's one of the trig points I didn't go to !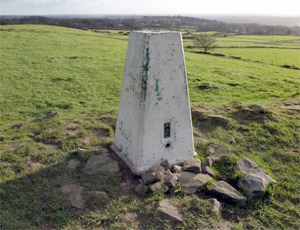 20th March 2016 – Meet the Yorkshire 2018 Committee – South Yorks  GC6BTA4 – cache #4007
The second of our Meet the Mega Committee events, this time held in a park in Sheffield, and even though it was in theory the last day of Winter it was warm and sunny enough for us to stay outdoors in the sunshine with just our polo shirts on… Thanks to everyone for coming and to the sun for staying out