Home » Geocaching
Caches No's 3585 to 3601 – An Easter Monday drive in the country
Easter Monday, and I decided that I needed a little 'me' time, and also decided that I needed to do some caching cos I've been really slow at it so far this year.
I checked out all the YOSMs. Virtuals, Earthcaches and Church Micros in the North of England trying to make a route up that was under 200 miles and took in enough of these to make it fun – other caches optional as really these days the caches I like doing are the aforementioned types.
The route that seemed the best was a circular route that took me from Thirsk up Sutton Bank over the North Yorks Moors to Whitby and then back across the top of the Moors and back down the A19 to Thirsk again
6th April 2015 – MOTORWAY MAYHEM A1M-A59 J47 (relocated 06-2014) GCTDXY – cache #3585
I'm in sync with the lasat finders a few days before on this one, I struggled to find it at first, and like them walked round to the other side of the hedge, eventually after I had examined everything in the vicinity the cache poked it's head out of it's hiding place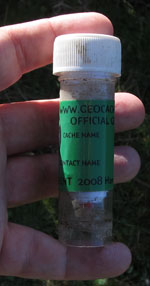 After this I didn't find GC3V2W3 Finest View in England
I didn't find the cache but I'm not putting a DNF as there were so many people up on the viewpoint on a sunny holiday that there was no chance of searching for the cache…
I had a quick look and feel around and though I knew what I thought I was looking for it couldn't find it… So I took a photograph and used it as the headline shot for this post
6th April 2015 – Church Micro #902 St Chad's, Sproxton GC1ZJVT – cache #3586
I nearly DNF'd this one, I looked and felt in the right place on about 4 occasions but couldn't find the cache… then as I was walking away I turned for a last look and spotted something that looked like a spiders web in a place where I had rubbed round with my hand so would have removed any spiders webs… so it was obviously fishing line which I pulled on, and out popped the cache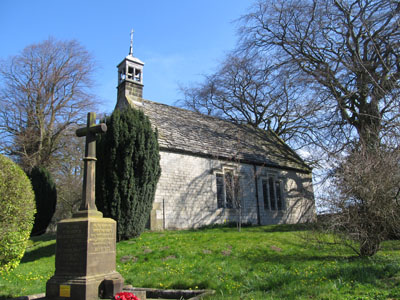 6th April 2015 – Ye Ole Survey Monuments GC45CC – cache #3587
This time logging YSM378 – Pockley Moor
It was obvious where this one was as the ground had been dug away over and around the concrete square, so the location was readily apparent even if I had to brush the loose soil away to reveal the rivet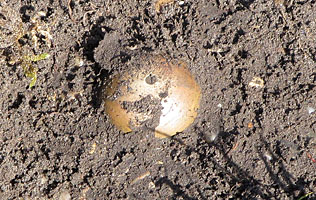 6th April 2015 – Horcum Hole GC1TFZ6 – cache #3588
An earthcache at a popular stopping off point on the Pickering to Whitby road, I was almost tempted to put a DNF – the Hole of Horcum is almost too vast to recognise as a hole !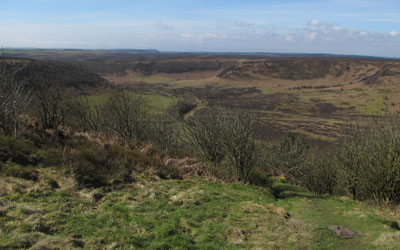 6th April 2015 – Ye Ole Survey Monuments GC45CC – cache #3589
This time logging YSM321 – Brow Top
It was a lovely sunny day all the way from Yorkshire over to about 200 yards from the pillar, then we were into the sea fret and so you couldn't see more than about 50 feet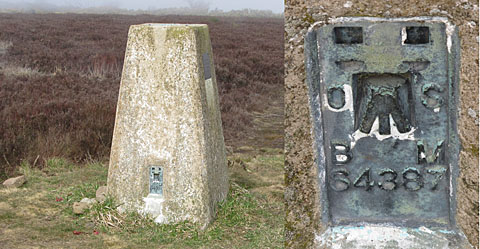 After this I didn't find GC1RV81 Jim Rushworth
Unlike the last few loggers I logged a DNF for this one. I was at the right place and know exactly which hole I think the cache is in – though whether it is actually in there I don't know as there were the implements the last two cachers had used to try and poke the cache out stuck in the hole… But just because I was in the right place does not constitute a 'find' of the cache in my way of playing the game so I logged a DNF where they logged finds
6th April 2015 – Ye Ole Survey Monuments GC45CC – cache #3590
This time logging YSM072 – Potato Hill
A rather folorn location just inside the field gate – I was a little disappointed that the crop in the field was not potatoes !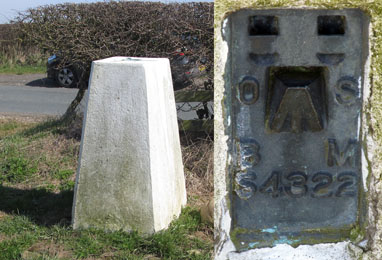 After this I didn't find GC4KM7V Z is for…
after the YOSM I went a few hundred yards down the road and stopped off for this one, but I couldn't find anything
6th April 2015 – Never another nano?! GC515AB – cache #3591
A quick find of this easy to spot nano cache – well it's a nano cache inside anyway !
6th April 2015 – High Street? GC34QB4 – cache #3592
Something just didn't look right here, so it was a quick find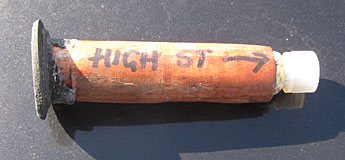 6th April 2015 – Ye Ole Survey Monuments GC45CC – cache #3593
This time logging YSM020 – Danby Beacon
The actual beacon stands out high above the surrounding moor so you can see where you are heading to from the main A171 which is a couple of miles away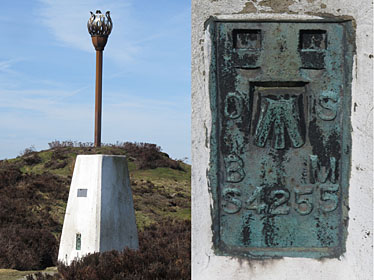 6th April 2015 – Danby Beacon GC1JATN – cache #3594
Came for the YOSM and it would have been rude not to do the cache here as well…
Plenty of people around but I hope I managed to be inconspicuous as I retrieved, signed and replaced the cache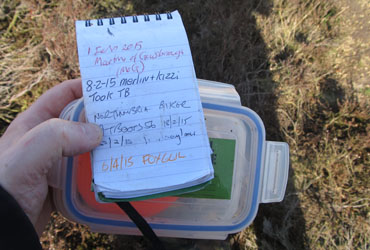 6th April 2015 – LQ:North Yorkshire – How Now Birk Brow GC15FD7 – cache #3595
As I was passing I thought I would stop off for a cup of tea from the burger van and a walk over to this cache… the tea was remarkably cheap and the walk pleasant with an easy find at the end…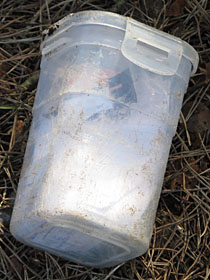 6th April 2015 – Church Micro 5355… Guisborough GC4ZH5J – cache #3596
A quick find on a lovely sunny afternoon… I am glad the shops were all shut for the bank holiday as I bet parking around here is nigh on impossible when the town is open !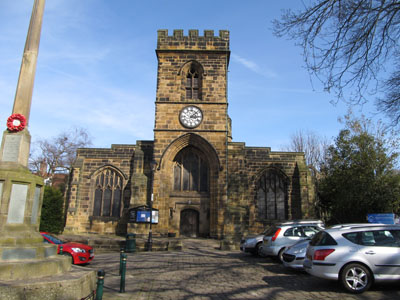 6th April 2015 – Church Micro 881 … Nunthorpe GC48JVX – cache #3597
Took a while to find, but then inspiration struck and I pulled the cache out of it's hiding place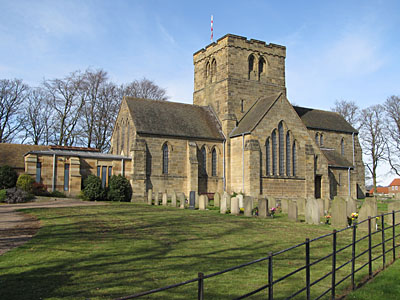 6th April 2015 – Ye Ole Survey Monuments GC45CC – cache #3598
This time logging YSM150 – Newby Grange
Sometimes these Surface Blocks are damn near impossible to find, being well below the current surface level, but this one had been dug out by a previous trigpointer, and has another rivet/nail in the centre of the road which indicates how far along the verge it is, so all in all an easy find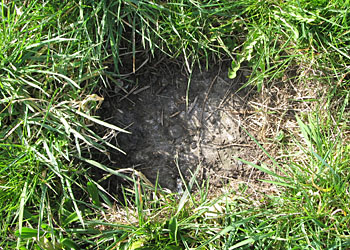 6th April 2015 – Church Micro 2801…Potto GC3NRKG – cache #3599
In this village there is nowhere to park anywhere near the church without abandoning your car in front of someones drive, so I drove around the corner and walked back to the church, sat on the bench to read the cache description on my GPS and spotted the cache before I had read anything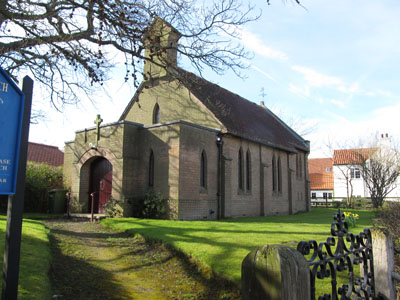 6th April 2015 – Church Micro 2815…Ingleby Arncliffe GC3PA4J – cache #3600
I wasn't sure what the latin botanical names in the hint meant, so I just went for the cachers favourite – Ivy Covered Tree… and it was correct !
6th April 2015 – Motorway Mayhem A19 – Do not find this cache (N.Y) GC37FX2 – cache #3601
The last cache of the day is put out for those with a caching problem not to find, if you can answer yes to three or more of the questions in the description then you have a caching problem and need to resist finding this one to cure your obsession… I'm finding this cache because I don't have a caching problem… my honest answers to the questions are
1. Has caching interfered with work?
No… well I was once late back from lunch cos the cache took longer to find than expected, but that's not really interference
2. Do you have trouble refusing geocaching?
No… I'm a confirmed fair weather cacher so you don't find me up on top of hills in the snow and howling winds just cos someone suggested we go to one of the BWAV events in December – all photographic evidence to the contrary is photoshopped !
3. Do you need geocaching in order to have fun at a party?
No, Vodka will do nicely
4. Do you use geocaching to help you relax?
No, I use geocaching for excercise and intellectual stimulation (solving puzzle caches)
5. Have you tried to give up geocaching and failed?
No, I give up quite happily every Autumn and start again in the spring when the weather improves
6. Do you crave geocaching as soon as you wake up?
No, usually as soon as I wake up I crave a wee
7: Have you ever cancelled or changed plans in order to nab a FTF?
No, I don't go chasing FTF's
8: Do you check your email every day to see what new caches are in your area?
No – the emails come and I look at the email title and specifically the distance and direction, I then only look at the new cache if it's in an interesting part of my notification area
9. Do you lie to others about how often you partake in geocaching?
No, I just don't tell anyone in the first place
10. Have you found yourself in financial difficulties because of geocaching?
No, I was brought up to not touch what I can't afford
11. Do you often wish people would just mind their own business about you and geocaching?
No, not a problem that has ever arisen
12. Have you put relationships at risk because of geocaching?
No – what relationships ?
13. Do you have a special caching bag that is always ready to go at a moments notice?
No, GPS and pen is all I take and so I have to load caches on the GPS before I set out
14. Do you have special caching pants used solely for caching?
No, I have hiking trousers which I wear when hiking… and all the hiking I do is caching related, but if I did just go hiking I would wear them, so they are not special caching only pants
15. Do you check geocaching.com web site more than once a day?
No, in winter it's more like once a week
16. Is geocaching the only reason you own a PDA?
No I used a PDA for reading books on long before I heard of caching (and long before Kindles were released in the UK)
17. Do you own more than one GPS?
YES – I currently own eleven GPS's that I use or have used for caching(not counting phones and car sat nav's)
18. Does your car have sat-nav just because of caching?
No – the Sat Nav is built in to the dashboard… it does have all the virtual caches, earthcaches and YOSM locations as POI's on it though
19: Is your car or your dog a travel bug?
No – well at least not really, I have a TB number that sometimes appears on my car, but sometimes appears elsewhere as well
So you can see I am honestly only answering yes to one question… I do not have a caching problem, just a gadget problem !