Home » Geocaching
Caches No's 2976 to 2982 – Fifty Shades of Caching
Another dull, miserable and damp day but a morning appointment put me near Shipley so I thought I would go and get a few caches, and then a few more drive-by's around home.
NOTE: It had to happen sometime that I deleted the photo's from my camera instead of saving them, and it happened with the ones from this week… so for now they are temporary images that will be replaced when I revisit these spots and can re-photograph the caches
15th October 2013 – Airedale Way Walk – Revisited. GC4EZE9 – cache #2976
Shipley is Grayglove country so I ignored the obvious spot as it didn't look like a place Grayglove would hide a cache… A quick look around and I spotted a more likely cache hide… less artistic, more functional !
15th October 2013 – L&LC – The Last Supper. GC33GDQ – cache #2977
Walking along the canal bank I came across two cyclist stopped just where the cache would be, They were just putting pens and a map back into their pockets so I wasn't sure whether they were cachers or not… I walked past and hung around outside the cycle shop until they had gone… though maybe they didn't go far as their log indicates that they recognised me as a cacher.
On a previous visit here I failed to find the retrieval tool, which was no problem to find today.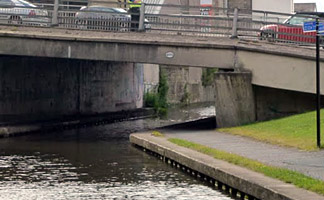 15th October 2013 – Fifty Shades of GrayGlove! GC3VQWD – cache #2978
As others have logged I
A) didnt know this underpass existed
B) Used the flashlight function of my phone to find it
& C) Found it in the second of two possible places – I never get it right first time
15th October 2013 – Off The Old Road No.2 GC4PYMV – cache #2979
Just where I expected it to be…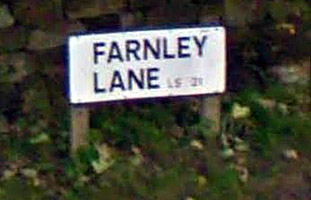 15th October 2013 – Cloaked GC4GTCD – cache #2980
Keep forgetting to divert off to this cache when I am going to/from Harrogate… today I remembered !
Followed my GPS to where it said the cache would be, but found nothing but rubbish… so I read previous logs and decided to widen my search and look for a cachers trail… the trail was quickly found and led me to the cache !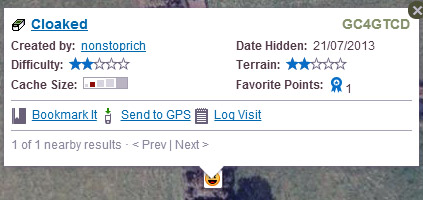 15th October 2013 – The 'Yellow' One GC4MF1T – cache #2981
I parked up at the Farm Shop regularly and wandered down the road to the cache.. easy enough find – the hint doesn't leave much room for doubt as to where the cache is !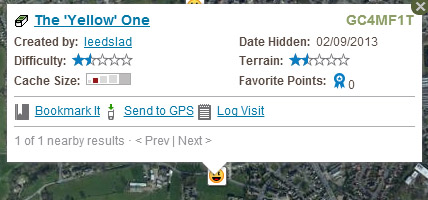 16th October 2013 – All Saints Micro GC4K39Z – cache #2982
I've had the coordinates since this was published (I can see the church out of the window of my home) but I have never made the opportunity to retrieve the cache… I have been to the co-ords several times, I have spotted the cache, but it's always been during the day when the town is busy and there were too many people about to grab the cache – a couple of weeks ago I walked through the churchyard one day and there was a couple sitting on one of the benches overlooking the cache eating their sandwiches… I didn't think Churchyards wee really picnic spots, but obviously this one is !
Anyway, I happened to be driving home after the pub quiz tonight at 11:30ish and thought it would be an ideal time to get the cache without interference from passers by – and I was right… nobody about at all !