Home » Geocaching
Caches No's 1081 to 1086 – Tramping the footpaths, at last
After four months of restricted movement and relative inactivity my sciatica seems to be fading away, which is good, cos it means that I can get out and find more caches, ones that aren't roadside drive-bys and hopefully I can lose this extra stone and a half I have put on through doing no exercise for the past four months – it's about 150 days since I last went to the gym !
I have got this thought that I ought to buy myself a mountain bike, that way I could cycle between caches, which would mean being able to go further in a session and thus do more caches, and it would be better exercise than walking, there are a lot of caches in the 10 mile radius of my house that are 15 minutes apart walking – only 4-5 minutes apart cycling.
April 14th 2011 – L&LC – Canal Cap! GC2RW69 – cache #1081
Another new cache that's within my lunchtime range (well it officially would be if my lunch were 10 minutes longer – but whose counting ?)
knowing how the cache owner likes to hide his caches I could see where it was going to be from 20 yards away, in fact I can see it in the photograph below

April 24th 2011 – UP THE CHEVIN GC2QEB8 – cache #1082
My first venture out over uneven ground this year (I don't count the canal towpath as uneven !) a little walk on Easter Sunday of 3 miles or so to a cache in the rocks. Now I was a bit concerned by this cos some of the cache logs talked about 30 minutes of scrambling up and down the rocks to find the cache, but I spotted where it was most likely to be without any scrambling, and it was possible to get to that spot quite easily, and the cache was there !
As the headline picture shows this was an "I can see my house from here" cache which is why I picked it as the first (and nearest) cache to clear with my new found agility.
April 25th 2011 – Joseph's Journey #1 GC2MQCT – cache #1083
Easter Monday evening and I thought I would try a more challenging terrain… uneven ground with hills ! A new(ish) set of caches about 4 miles from home seemed ideal for this, I parked between caches 3 & 4 and headed off along the path to start the finding at cache #1 which was on the top of a steep gorse covered bank. It wasn't as easy as it could be to find as it was hidden in a hole that had been dug under quite a large stone. Now it was obvious that the stone had been moved by the ground around it, but you often get to a cache site and find that it is obvious that every stone and branch for 10 yards around has been moved by searchers, and as it was quite a big stone I at first discounted it as a hiding place, but in the end it seemed like it was the only possible place for the cache to be… and it was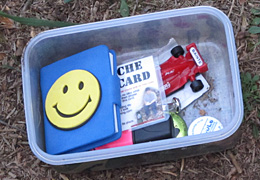 April 25th 2011 – Joseph's Journey #2 GC2MQD4 – cache #1084
Cache #2 had a misleading hint, that said 'Dead Wood' There was a dead tree stump with a fallen trunk and a few branches about 20 feet away and also a few more fallen branches nearby, but the co-ordinates led me to a tree that was struggling, but was definitely not dead yet – though probably as the cache was set before the leaves came out the distressed state of the tree led the cache owner to assume it was dead wood.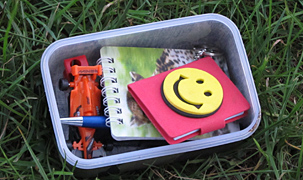 April 25th 2011 – Joseph's Journey #3 GC2MQD9 – cache #1085
A bit of confusion about this cache as the co-ordinates seemed on my GPS to put the cache about 10 foot into the field at the side of the track, which obviously wasn't right. So I looked at the hint which said 'Joseph's height' – which isn't very useful as Joseph could be either a chihuahua or a 7ft6″ Basketball Player for all I know. There was an obvious place to look nearby, a tree stump being used as a gatepost, but that wasn't the right place, instead the cache was about 4ft6″ up in the hedge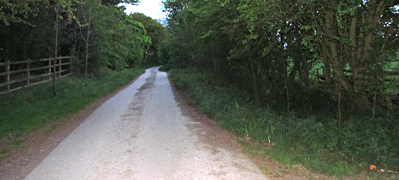 April 25th 2011 – Joseph's Journey #4 GC2MQDE – cache #1086
I walked across the field to the last cache, and was fiddling around with it about 10 feet away from the stile, and this four wheel drives up the road, then turns around in an entranceway and parks and this chap gets out, and still cache in hand I decided I'd better get out of there, so I walk over to the stile and he comes into the field
"These are my hens" he says, confused I say "pardon", "these are my hens" he repeats, I turn around and have a look back across the field, there are about 60 ewes and 100 lambs visible in the field, not a hen in sight… "they look like sheep to me" I say and quickly escape. He then walks off across the field giving me chance to lean over the wall and rehide the cache