Home » Geocaching
Caches Nos 191 to 203 – Another weekend away
This was probably my last weekend away of the year, not in tents this time, but at a caravan park in Hunstanton Norfolk – and with the same people that I was camping with earlier in the year and in Tenerife with. I planned my journey to take in some caches and did a couple while I was there.
November 13th 2009 – Harewood Road Cache GC1WQWQ – Cache #191
The first of the weekend, and only a few miles from home, the cache is hidden only a few yards from the road, fortunately by a lay-by so parking is easy !
November 13th 2009 – Linton Bridge Collingham GC20CGT – Cache #192
There's a public car park by the river, with plenty of trees and plenty of ivy covering them… guess where the cache is hidden !
From this cache I collected the Geocoins Finn's Caching On The Moon Geocoin TB2X8B4 and Bring me home to Denmark TB1EAYC
November 13th 2009 – Motorway Mayhem M62 J33 GC166CJ – Cache #193
An easy little cache to find on a side road that leads off the roundabout which used to be the junction of the A1 and M62
From this cache I collected the Geocoin Yorkshire Geocoin TBYE4H
November 13th 2009 – Motorway Mayhem M62/A1 TB Hotel N/S meets E/W GC1CKFK – Cache #194
Wandering around a motorway roundabout in the rain grubbing in the leaf litter at the base of bushes must seem very a strange way to spend time to the people passing by in their cars !
November 13th 2009 – THE JOURNEY NORTH & SOUTH No 1 GC1NMY2 – Cache #195
The first film can of the weekend, but at least it was a magnetic one which is much better than it just being hidden under a rock.
November 13th 2009 – A Road Anarchy- A17 Leadenham GC1BPJK – Cache #196
Once you get off the A1 to get to Norfolk you go over the A17, which was once a single track road going through all the little villages and towns, fortunately it now has bypassed most of these. This particular cache is where the Leadenham bypass turns away from the old route.
November 13th 2009 – By George, That's a good Statue/Seat/Nightmare! GC1VQBC – Cache #197
There was a geocaching meet at the pub in the village earlier this year and several caches were put out for it, I only had time to do this one as time was passing (and it was raining and there was nowhere to park near the others !)
November 13th 2009 – Where Old meets New GC1WF0C – Cache #198
At the other end of the Leadenham bypass the Old A17 route meets the New A17 route, and that's where the cache is hidden
November 13th 2009 – The Short Cut GC1N5QW – Cache #199
The last cache of my journey down, as I was running out of time, it was easy to find – after I had worked out which side of the road to look on !
I suppose I could have done more caches, but I was saving my 200th cache to be one at Hunstanton, a place where I have visited for a weekend with my friends every Autumn for the past 24 years.
November 14th 2009 – Norfolk Haunts- On our Jolly's!! GC161CZ – Cache #200
The next morning I went for a little stroll to get some fresh air (okay I was walking off a hangover) and to grab my 200th Geocache 🙂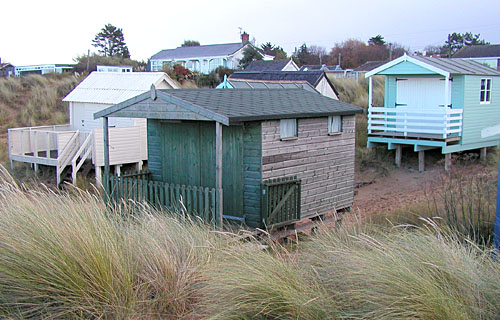 The cache is hidden under the hut shown above, and is the cache in the headline picture
November 14th 2009 – Seaside Rock should be stripy! (Hunstanton Cliffs) GC1M17G – Cache #201
Near the last cache are the famous stripy cliffs of Hunstanton, and here I logged my first Earthcache. An earthcache is a special place that people can visit to learn about a unique geoscience feature or aspect of our Earth. Visitors to EarthCaches can see how our planet has been shaped by geological processes. For more information about EarthCaches, visit http://www.earthcache.org/.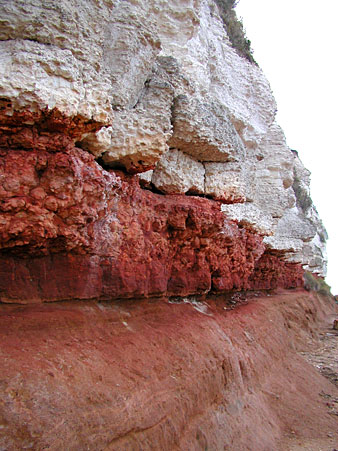 After that I couldn't find GC1J156 Norfolk Haunts – Random Bench #11- Lovers Lane.
November 16th 2009 – Ouse Valley Way Mile Marker # 141 GC1XB2P – Cache #202
On the way home I stopped off to grab this cache in Kings Lynn, It's a film cannister, and is the second to last along the River Ouse… I wonder whether all the other 141 caches are film cannisters ?
November 16th 2009 – Flashing Stars GC1NZVZ – Cache #203
This was an unexpected hide… most caches are hidden by rocks or 'stickoflage', this one is hidden by a sponge !
From this cache I collected the Travelbug A Mini TB TB28JRD
At this cache I dropped off the Purdy – Golden Eagle Travelbug