Home » Geocaching
Caches No's 2209 to 2216 – 5 Miles Out Again
Not being employed means that I have more time to go out caching than I have previously had, so I am gradually finding all the local caches… my aim is to get back to having no caches within the 5 mile radius… a thing I managed in 2010 but have let slip since
14th November 2012 – Keep to the path GC40VBA – cache #2209
I saw this cache pop up the night before, so I went down this morning to find it, wasn't sure I'd be FTF at 10:15 but it turned out that I was
I've lived in Otley for over 40 years, and have no doubt that when the trees drop their leaves I'll be able to see where this cache is from my house… but I have never been along this path before.
14th November 2012 – Otley Old Road: Holt Park Entrance Micro GC3WNRX – cache #2210
I'd failed to find this cache on a previous occasion… well on two previous occasions actually… the description said it was hidden between the wall and the base of a tree by a small piece of sandstone… and there was an obvious tree and stone for it to be under… and it wasn't so I logged a DNF… only for it to be confirmed that it was still there where it should be and the hint refined to say that it was the first tree on the left of a gap in the wall, which was where I had been looking, so I went back, looked again and still didn't find it… then some more cachers did find it… so I decided it wasn't going to beat me and went back… and found the cache under a stone that was part of the wall at the base of the second tree… but at least I found it
14th November 2012 – Otley Old Road: Nano at The Beginning of the Trail GC40Z8A – cache #2211
Three caches on the road near my Dentist, so I parked there and decided to do my usual routine of walking down to the fartherst away one and getting the others on the way back. The farthest away one was a simple magnetic nano on a BT switch box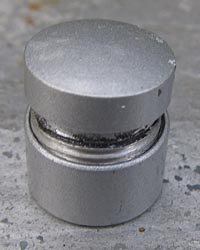 14th November 2012 – Otley Old Road: The Rotten Log GC40Z83 – cache #2212
I was a bit concerned about the guy washing his car on the other side of the road watching me as I went into the woods, but he couldn't see me at the cache and I walked up through the woods before getting back out onto the road… several possible hiding places but I hit on the right one first time

14th November 2012 – Otley Old Road: If You Go Down To The Woods… GC4182C – cache #2213
It's a good job I'm not a FTF chaser or I'd be mad at myself about this one, as it was a new cache and the nearest one to where I'd parked… so the last one I would get to with my normal start on the furthest away cache and grab the ones I've passed on the way back…
As I was walking down the road, out of the corner of my eye I spotted Leeds Tyke popping out of the woods from Rotten Log and heading up for this cache… I thought about changing direcion and racing him back for the cache as there might still be an FTF available, but in the end decided to let him have it and carried on to the Nano… but he was the only other person to find it so I would have had the FTF if I'd gone for this one first !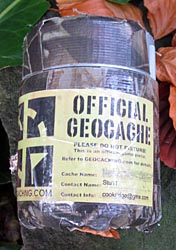 14th November 2012 – Eccup Challenge #9 GC1TNTX – cache #2214
I'd failed to find this cache when doing the Eccup Challenge walk three years previously (caches 125 onwards, 27/9/2009) at the time I was a relative novice at caching… but I would have struggled again to find this cache probably if it hadn't have been for a dog walker coming along the path who caused me to stop my search and wander along the path a bit covering my hanging about by sending a text message… as I was texting I spotted the cache peeping out of it's hiding place – I got it to be 57ft away from the given co-ords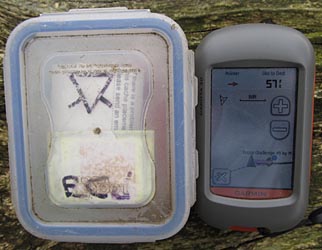 14th November 2012 – Sam's first bike ride GC3VZXF – cache #2215
A straightforward find once I'd ascertained that there was nobody sitting in the car parked right at the GZ !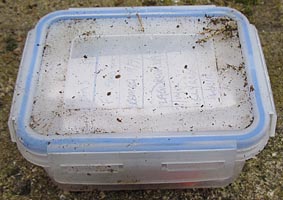 14th November 2012 – Curse of the FTF Leeds #15 Bowshaws GC2B7R2 – cache #2216
Dear Mr Farmer,
Please can you leave wider wildlife margins around the edges of your field and not plough right up to the hedges, then there may actually be footpaths as there should be and the walkers would not have to walk through the furrows you have ploughed !
(I hate walking through mud ! !)
Finding the cache was straightforward enough when I got there