Home » Geocaching
Caches No's 2217 to 2223 – A Saturday Morning Shopping Trip
There are a number of caches that invite you to take a walk around a town and gather clues at particular points which are combined to make up the co-ordinates of the final cache. To tell the truth I can never be bothered with doing this type of cache. There is one of this type in Bradford, so rather than walk it I set out to see if it was possible to solve the clues using Google – using satellite view, street view and the normal search engine.
17th November 2012 – A wet afternoon in Bradford GC101C2 – cache #2217
Rather than criss crossing Bradford City Centre for an afternoon to find 14 answers I solved all the clues but one in about 90 minutes… from the comfort of my own chair sat in front of the PC. Using Google street view I could even work out exactly where the final cache was going to be hidden
I was supposed to be shopping on Saturday morning, but as I parked up I realised that I wasn't too far from where the cache was hidden, so I went looking for it and found it without too much interference from members of the public
17th November 2012 – Boar's Well No1 – Bus GC3TVVC – cache #2218
After that I decided that as it was now a blue sky sun shiney day I would forget the shopping and go off to find Grayglove's Boars Well series instead… I think I need a wet afternoon to persuade me that shopping would be preferable to caching !
The first cache was a typical Grayglove cache construction and pretty obvious where it was going to be hidden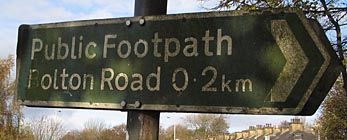 17th November 2012 – Boar's Well No2 – Steps GC3TVT8 – cache #2219
Another typical Grayglove cache hide… I knew I was onto the right track when I found the Munzee ! and a short search then brought up the cache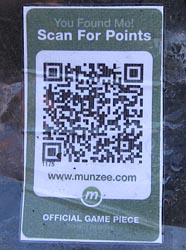 17th November 2012 – Boar's Well No3 – Locks GC3TVWJ – cache #2220
I wasn't sure how to get from Number 2 to Number 3… but I did know how to get from Number 1 to Number 3, so I went back down to the start of the path – which was good as I had forgotten to get the clue from No. 1 in the first place !
Number 3 was easy to find… the camouflage looked obvious to my eye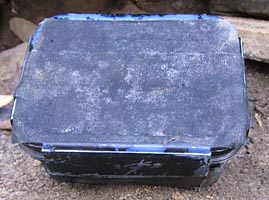 17th November 2012 – Boar's Well No4 – Well GC3TVXD – cache #2221
What a lovely little well, it took a while to find the cache as I was busy trying not to get my feet wet… spotted the munzee long before I found the cache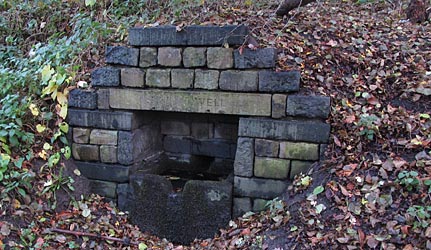 17th November 2012 – Boar's Well No5 – Gate GC3TVZ0 – cache #2222
Another typical Grayglove cache hide, both well camouflaged and yet easy to spot if you think about it, as it#s disguised as something that serves no purpose being there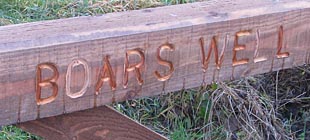 17th November 2012 – Boar's Well No6 – Bonus GC3TVZP – cache #2223
Wasn't sure which the best way was to approach the cache site, in the end I just sort of bashed my way through the undergrowth, spotting the cache hide from several yards away.
This has been a nice series to do on a Saturday morning and got a favourite point from me. It took about an hour to walk up from town and do the series. I never knew the path was there, and was pleased that it wasn't particularly muddy (which is good as I only had my normal shoes on) It was interesting to see that there are still cobbled streets in Bradford by cache No.5
A well deserved favourite point was given for the series