Home » Geocaching
Caches No's 3798, 3799 & 3800 – Filling the Empty Calendar Days
Last year I was filling in the blank days on my caching calendar and had got months filled from February to August, and plans to fill the last 6 blank days in September when I was struck down with an agonisingly painful recurrence of the trapped nerve in my back, which had been grumbling on since that February.
So my attempts to fill the caching calendar failed, the next blank days I had were the 7th, 8th and 9th September, but last year by then I was in severe discomfort and barely able to stand up, let alone walk or drive.
So fast forward 12 months and these days still needed filling, but I'm working this year so I had to work out suitable caches to get on my trip home from work or in an evening when it's getting dark. Nor do I want to do all the easy ones first as I still have 10 other blank weekdays to fill before we get to my cache hibernation months of December and January (where I still have 42 out of the 62 days left to find a cache on)
7th September 2015 – BUSHED OUT GC5J75F – cache #3798
So… first blank day of the week and a quick walk in the woods after work… followed the clue not the co-ords and quickly found the cache
8th September 2015 – YE OLD OAK GC5JMK3 – cache #3799
A different way to drive home and another short walk in the woods. Several trees to try within the accuracy range of the GPS… it wasn't at the obvious one, nor the biggest one… but it wasn't too hard to find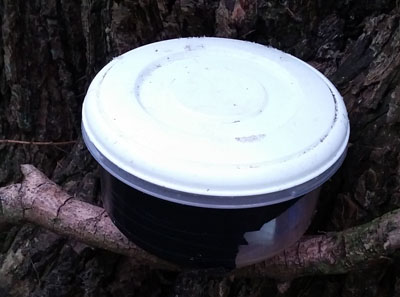 9th September 2015 – Somewhere Else GC12NH1 – cache #3800
Looking back through the logs on this cache I saw that the first time I failed to find the feeder cache was back in June 2011… what the logs don't show is that I have failed to find the feeder cache on two subsequent visits, don't know why, I just must be feeder cache blind.
Anyway, every so often I look at the logs on the cache to see if there are any hints in new finders logs and this time when I looked I saw from a previous log that there was mention of parking under a bridge and jumping out for the cache…
Now as far as I am aware there's only one bridge in Addingham that you can park under – and to get to it by foot you would park at the designated spot and walk in the driection given by the hint – I thought it was worth checking out.
So I did…
… and it took just a minute or so to find the cache when I got there. The 3rd blank day filled and a cache that has eluded me for over 4 years is finally laid to rest !