Home » Geocaching
Caches No's 3024 to 3037 – Yet Another Trip To Norfolk – Again !
My annual Autumn trip to Hunstanton in Norfolk (see 820, 1670, 2070 & 2,820 caches ago). On this trip I had planned a whole slew of caches for the way down, but then on 5th November the  Ye Ole Survey Monuments cache was moved to a location "sort of" in the general direction I was heading so I replanned the route to take a 25 mile (and apparently 55 minute) diversion to go and find it. Of course driving through Norfolk and Lincolnshire is always likely to take longer than you expect, the journey which should have taken an extra 55 minutes actually took an extra 2 hours excluding a further hour spent stopping at caches and rest stops… lorries tractors and caravans, the bane of rural drivers everywhere… and a tractor towing a caravan is your worst nightmare, fortunately the only one I saw of them was in the camp site car park

8th November 2013 – Ye Ole Survey Monuments GC45CC – cache #3024
This time logging YSM132 Gringley
Even though it had been dug out earlier in the year by a previous finder I still had a bit of trouble spotting this rivet as the verge is quite overgrown. I was just about to go back to the car for a tape measure (as the T:UK Trigpointing page for this location has some good measurements to find the rivet) when I spotted it in the long grass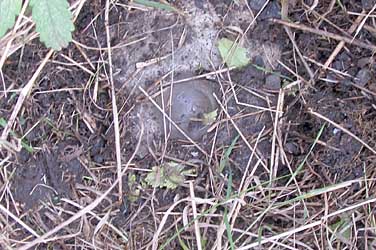 j
8th November 2013 – Ye Ole Survey Monuments GC45CC – cache #3025
This time logging YSM551 – Walesby Top
Yay ! Only the second time I have logged a find at the cache's current location.
With Trig points in field boundaries it is always a debate which side of the hedge you should walk up… as usual I chose the wrong side and had to crawl through a hole at the bottom of the hedge to get to the right side for the flush bracket.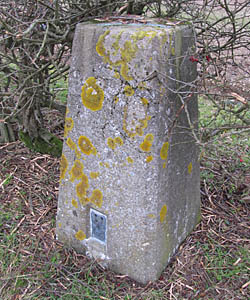 9th November 2013 – Church Micro – 2863 St Mary Sedgeford – Norfolk GC3QNEQ – cache #3026
An easy find once I had negotiated the narrow village roads to find the church
9th November 2013 – Church Micro 2864 St Marys Docking Church View GC3QNEX – cache #3027
An easily found cache… not sure that you can actually 'view' the church from here, maybe I was just looking in the wrong direction !
9th November 2013 – On way to Nelson GC2TT3H – cache #3028
This cache was a bit further down a very wet track than I thought it would be, but I found it easily enough when I got near as there was only really one place for it to be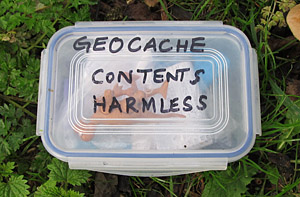 9th November 2013 – Mushroom Tree GC3RNY2 – cache #3029
I looked exactly where the hint says not to look and surprise surprise I found nothing !
Then I turned around and spotted the cache a few yards away in the hedge.
(I tucked it back a bit more out of sight, though I don't suppose this is at much risk from passers by)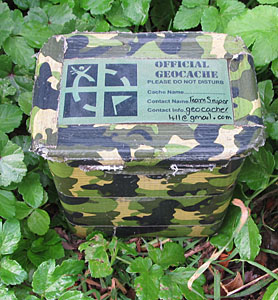 9th November 2013 – my way to the by way GC4Q22H – cache #3030
This little blighter took longer to get the cache out of it's hiding place than it did to find it, it was well jammed into a hole, but I got it out of there in the end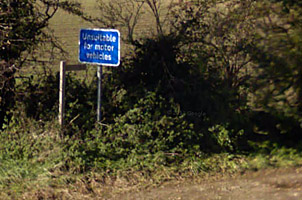 9th November 2013 – Ye Ole Survey Monuments GC45CC – cache #3031
This time logging YSM022 – Cley Eye Surface Block
Easy to spot this one as not only is it the only feature on the top of a concrete drainage ditch retaining wall, but it has obviously been refurbished in the last couple of years and the old small rivet head (shown on the T:UK trigpoint page gallery) replaced with a new large "Survey Point" marker.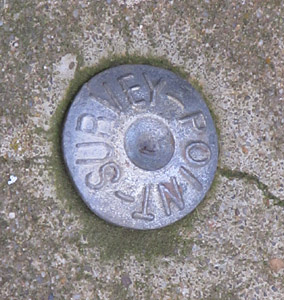 9th November 2013 – Holkham Haul GC1984 – cache #3032
One cache in Norfolk that I had planned on finding was this 'old' cache from August 2001, it is the 6th oldest cache I have found to date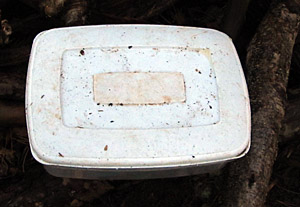 9th November 2013 – Favourite Places No 1 GC1WYX3 – cache #3033
A nice easy find at 4:30 on an Autumn day… the sun was going down and there was nobody else on this part of the beach so no problem getting the cache unobserved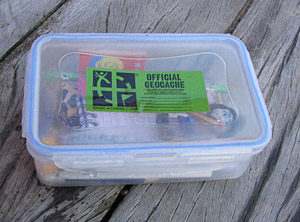 10th November 2013 – PonyVile GC4MTZM – cache #3034
Walking through Hunstanton to the Flash Mob that Adam had organised I stopped off to get this cache, it says in the description that this is in a busy place with lots of stealth required as there are lots of people about… not on a Sunday morning in November there aren't !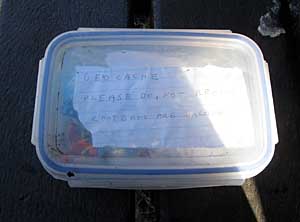 10th November 2013 – Geocachers Pier Pressure GC4NZAG – cache #3035
A flashmob on a lovely sunny morning… but a bit bracing in the breeze.
We had a chat about caching then moved over to the War Memorial for the Remembrance Day Ceremony (I did feel a bit like those TV programs you see of penguins all huddling together in the wind and using each other as wind breaks to keep warm)
A nice bacon sandwich followed with more cache talk…
I guess we'll probably do it again next year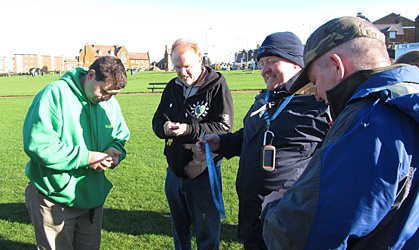 11th November 2013 – All Washed Up GC279YW – cache #3036
On my way back from Hunstanton to Leeds I took a detour to grab the trigpoint as a YOSM and collected this cache at the same time.
The cache is at the end of the world, a 5 mile drive down a dead end narrow road and then a mile woalk out along the river bank to the place it empties into the Wash
I took the TB3N850 Nightcache Light travel bug that was in the cache. I don't usually bother with TB's but this one has been stuck in the cache for 3 months as I was the first visitor since then… and as mine was only the 4th visit the cache has had this year the TB could have been stuck for several more months before the next visitor !
11th November 2013 – Ye Ole Survey Monuments GC45CC – cache #3037
This time logging YSM200 – Clay Hole Trigpoint
From where I set off in Hunstanton it was 17.3 miles to this trigpoint in a straight line… it was 43 miles and 90 minutes away in reality ! If only I had a boat to cross the Wash in !