Home » Geocaching
Caches No's 3022 & 3023 – Geocaching in Space
Geocaching Rockets into Space (Again) – On 7th November Astronaut Rick Mastracchio took off from the launch pad in Khazakstan to go to the International Space Station. With him he took a Travel Bug (TB5JJN1) which he will be using as an educational tool to help teach students around the world about geography and provide other educational lessons.
This isn't the first TB to go into space, back in the early days of caching the first 'space tourist' Richard Garriott, (who made his millions designing video games) also known as Lord British in the geocaching world took a TB into space and left it on the ISS.
6th November 2013 – Off The Old Road No.3 GC4Q1D2 – cache #3022
I had looked for this new cache before and failed to find it, and I thought it had gone missing after just one find = but as it had been found a couple of times since I looked I thought I would go and have another look. I can see this bit of road from where I live across the valley (okay not this exact bit because of the trees, but I can see above and below this exact bit)
The cache took a few minutes to find, mainly because I read in the logs that people said the coordinates were a bit out… so I looked in all the obvious places on the whole section of fence as I had done the previous time… then I started examining more closely and found the cache was well within the GPS accuracy zone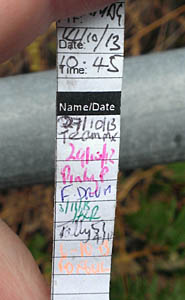 6th November 2013 – trackable in space GC4QEQ8 – cache #3023
As part of the Geocaching in Space celebrations events were held all over the world. An event cache is the only type of cache to find on a dark, wet night, a nice warm pub with convivial company and an array of tasty dishes to sample… all there is to say is T.F.T.C.