Home » Geocaching
Caches No's 2903 to 2932 – Another Drive-By Afternoon
The next few days after doing the Timble series I was either busy or it was raining, I had had 92 caches to do in 23 days, 4 caches a day… but as the days go past I was recalculating the avarage number of caches I needed going up day by day, by Saturday it was 92 caches in 20 days, over 4.5 per day – and no guarantee that there were going to be many days when I wasn't busy or that the weather was going to be fit for caching. What I needed was to plan some places to get a large number of caches – 20 days at 4.5 caches a day is the same as 4.5 days of 20 caches… and 4.5 days of caching in 3 weeks is a lot more likely than 20 consecutive days !
So I worked out some locations, the furthest away of which, a 21 cache drive by series north of York was both the furthest away and the one I decided to do first.
5th October 2013 – A168-Old Great North Road#1 GC4N3HA – cache #2903
First of all though, I had to get north of York, and there were caches I could do on the way.
I had to pass on this one last Sunday as it was too dark to see much (I was doing the series in reverse so this was last not first) So today I went back and made an easy find
5th October 2013 – good bye little ribston off to wetherby GC4DGJ8 – cache #2904
At caches like this I always wonder what the passing drivers think I am doing poking around in the hedge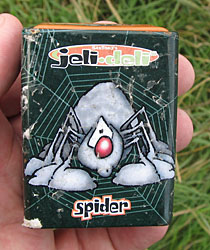 5th October 2013 – benji's walk 9 GC4M118 – cache #2905
Fairly straightforward find, good job the road is not too busy as I did this as a drive-by and I was not parked in the most off-the-road fashion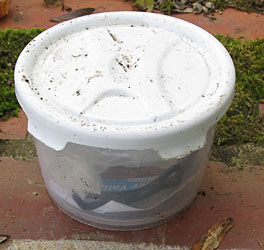 5th October 2013 – benji's walk 8 GC4M10X – cache #2906
This was in the first place I looked – which surprised me as I wasn't expecting to find it there… I was thinking from the hint it would be further off the path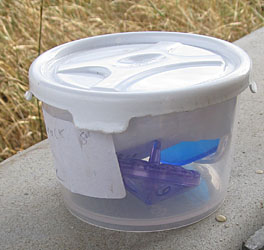 5th October 2013 – rolands revenge GC45Q79 – cache #2907
Despite the power of google and being an expert on a pocket calculator I never did get the geochecker to give me a green tick, but the co-ordinates that I did come up with looked likely enough to not be too far out.
At those co-ordinates there are about a dozen other possibilities within sight… so I checked them on my way to so the SWS series and found nothing, then I checked them again while doing the A168 series and found nothing… today I thought twice about stopping but in the end decided to and this time rather than just search I looked about and spotted that I hadn't checked the most obvious place.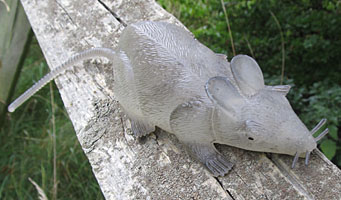 5th October 2013 – Hatch "me" Chick GC1MJRT – cache #2908
A simple drive-by, an easy find… I would have done it's companion cache but there was a Sainsbury's delivery van stopped for a break next to the cache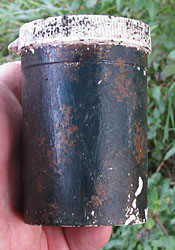 5th October 2013 – No 6 Group (Bomber Command) – Dalton GC19D6K – cache #2909
Once I had worked out which side of which road I needed to be on this was an easy find – if not that easy to get the log out… made even less easy because as usual for me I opened the wrong end first.
5th October 2013 – Close to The Works GC29HV6 – cache #2910
Once I go to the co-ordinates I quickly understood what the hint was on about and found the cache… which looks to have been in the wars as the lid is missing. The log is dry-ish at the minute but is likely to suffer as the weather gets cooler and damper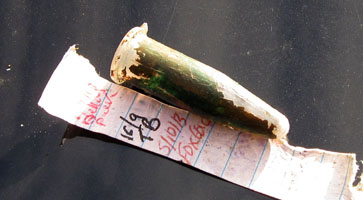 5th October 2013 – Close to Oak GC1WRFH – cache #2911
Didn't even need to look at the hint – well there's really only one place a cache is going to be hidden here

5th October 2013 – Close to Free Holme on the Range GC1WV0J – cache #2912
Pretty muddy along the road and the verges looked a bit soft so I parked in the chicken shed entrance 50yds down the road and walked back to the cache… and got nettled while retrieving it

5th October 2013 – Close to the Grain Prairie GC1WV0Y – cache #2913
Found a pile of sticks and rocks that looked like cacheouflage, but the cache wasn't underneath… it was tucked in a few inches away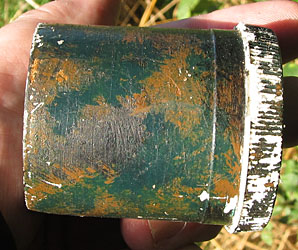 5th October 2013 – REALLY SideTracked – Sessay GC4FRAR – cache #2914
At first I found it suprisingly difficult to spot such an obvious cache
5th October 2013 – Crayke View Mk2 #17 GC46J12 – cache #2915
This was the first of the drive-by series I had set out to do, though it was already about 5pm when I got here. Due to my route to get here I was starting at Number 17 of a 21 cache circular series. I found this cache difficult than expected and had to do a fingertip search for it as the attraction method wasn't what I was expecting… Lovely view though !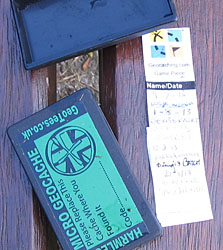 5th October 2013 – Dutch House #16 GC46J0F – cache #2916
I had a choice after #17 – which way to go round ? I decided to go round clockwise (i.e. backwards !) so #16 was next, I pulled up at the end of the dead end lane opposite this cache… it is surprising how many cars went up and down that dead end lane at 5:15 on a Saturday teatime… it was busier than the main road !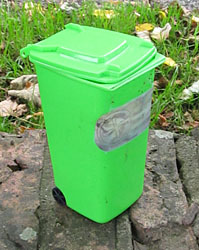 5th October 2013 – FTF Take your Pick! #15 GC46J07 – cache #2917
I might have been the 53rd person to find the container but I got an FTF !
(at least I picked an unsigned log out of the 100 or so in the container)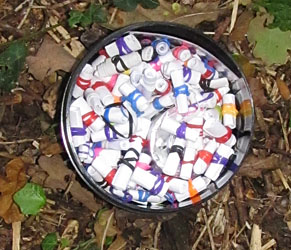 5th October 2013 – Lollipop #14 GC46HZV – cache #2918
As many others have obviously done I looked in the wrong place first… then searched a bit harder and found it !
I managed to drop the cache into the grass and leaves below, but fortunately after a brief search I found it again and replaced it safely
5th October 2013 – Footpath to Crayke #13 GC46HZE – cache #2919
Didn't take too long to find… helped by the low sun which glinted off the container catching my eye !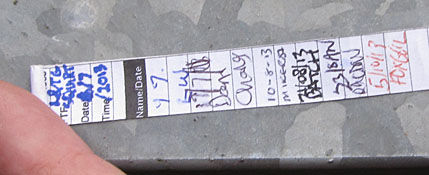 5th October 2013 – Watch the Horses Gallop By #12 GC46HZ1 – cache #2920
Somehow from the title I was expecting the cache to be on the other side of the road overlooking the gallops, but instead it was on the other side of the road, behind a big tree and nowhere you would be able to see the horses gallop by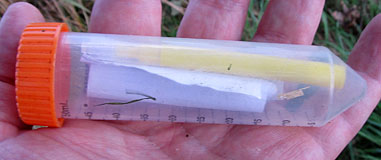 5th October 2013 – High Energy #11 GC46HYM – cache #2921
Got to the co-ordinates, read the hint… okay the cache should be just there… hmmm, that looks like litter, it doesn't look like a cache… or does it ?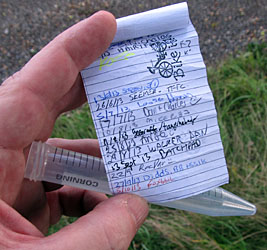 5th October 2013 – I'm Still Standing! #10 GC46HYA – cache #2922
Bit of a cachers trail to this one… which I am quite glad about as it means the prickles and nettles are beaten down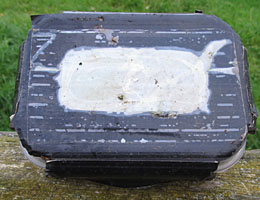 5th October 2013 – Woody #9 GC46HX – cache #2923
Found easily enough, but I couldn't sign it as the top was unfastened and the log was totally sodden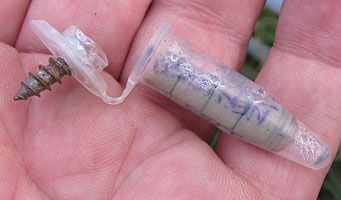 5th October 2013 – Please mind the gap #8 GC46HWX – cache #2924
Parked at the wrong gap, but fortunately it is only a few feet away from the proper one… a bigger cache than these usually are !

5th October 2013 – Eye Spy with My Little Eye #7 GC46HW6 – cache #2925
I didn't really need the cachers trail to get me to the right spot, the object the cache is hiding under is big enough to be obvious !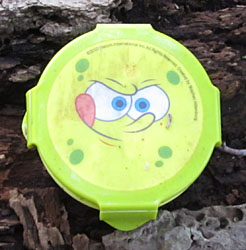 5th October 2013 – Zephines easy find #6 GC46HVZ – cache #2926
I got to the co-ordinates and there were 4 possibilities (2 each side of the road)… looked at the hint and then there was just one… and a cache that was hardly hidden at all.
I tucked it back behind so it's a bit less visible than when I found it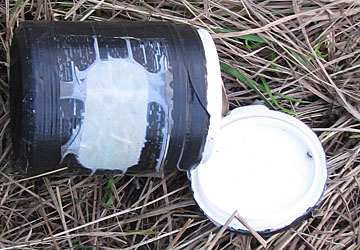 5th October 2013 – Gone ……#5 GC46HVM – cache #2927
Only a few possible places to search so it didn't take long to land this one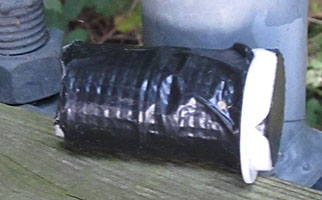 After this I didn't find GC46HV7 The Holly and the….#4 – By now it was too dark to really see clearly and the trees were making the GPS jump about a bit… so with no GPS and poor visibility I didn't spend too long looking for the cache
After this I didn't find GC46HV0 One Flew Over….. #3 – Again I was stymied by the gloom of the rapidly approaching night… There was a trail leading into the hedge, but I couldn't see a thing inside
5th October 2013 – Fly Away Home #2 GC46HTD – cache #2928
Found the cache easily enough, but the logbook is sodden and unuseable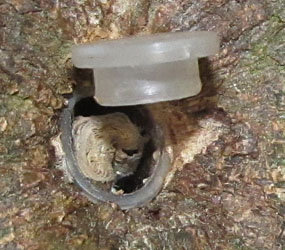 5th October 2013 – Round The Bend #1 GC46HT0 – cache #2929
As always when there are two possibilities I choose the wrong one first… it's just a gift I have !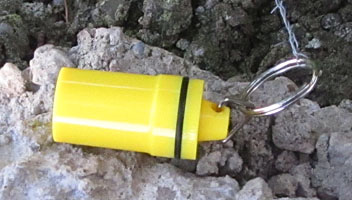 After this I didn't find GC46J2Q Something a bit fishy! #21 – A bit too dark to see much by the time I got here and as the previous cachers had DNF'd this I didn't look too hard
5th October 2013 – Hitching Rail #20 GC46J28 – cache #2930
An easy find even in the gathering gloom of sunset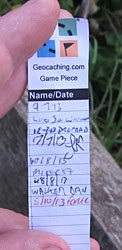 5th October 2013 – Stumped #19 GC46J1K – cache #2931
The second one of these I have come across today… this one looks a bit ratty though, not in top condition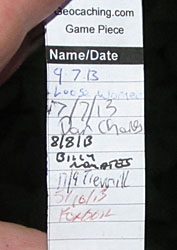 5th October 2013 – 5 Bar #18 GC46J1E – cache #2932
I'm glad this was the last cache of the series for me, and that it was an easy find as I was caching by headlights as the sun had gone down