Home » Geocaching
Caches No 2611 to 2627 – Streaking to the end of June
Ten consecutive days caching… I was on a roll ! There are challenge caches that require doing a full month (31 days) consecutive to be able to claim… could I stretch my streak for another 3 weeks to cache every day for a whole month ?
Only one way to find out…
16th June 2013 – GG65 #2 – Mellow Yellow. GC4A29E – cache #2611
A typical Grayglove cache… I just had quarter of an hour to spare between going to the tip and having my dinner so I parked at the end of Station Road and walked down to grab this cache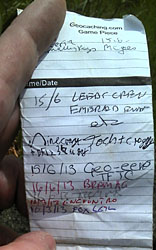 17th June 2013 – Cache me if you can GC4B5KV – cache #2612
I can't believe that I am only the 3rd visitor this cache has had, and the first since the cache was 2 days old.
It is impossible to get to the place where the cache is hidden without leaving a trail through the metre high nettles – so anyone who follows me in the next few days will see where I went – though I followed some other footsteps myself so I guess not all trails are cachers trails
I found the cache on the floor, I don't know if the cache should have had any swaps in it, all it did have in it was the logbook and a Shipley-Ilkley Train ticket dated 5/5/13 – As the FTF found the cache before that date and I was the third finder I think we can guess who left that in there !
Obviously I don't know where the cache was originally hidden – I put it back in a suitable place which matches the hint and description – but may not be the intended hiding place.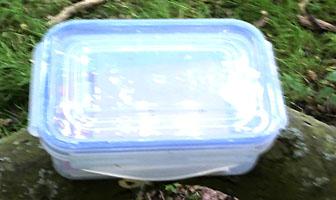 18th June 2013 – Entonox GC3NZYJ – cache #2613
Straightforward drive by… sat on the bench to write my log, I like a cache with a convenient place to sit and sign the log

19th June 2013 – View to Kill GC4DBCX – cache #2614
Not wanting to drive for miles just to get a cache a day I was picking off caches within 5 miles from home… another nice day for a walk, and a nice path to walk along to get to this cache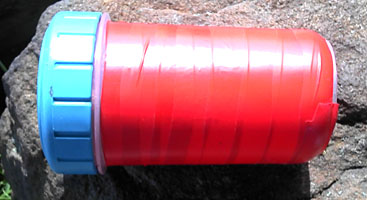 19th June 2013 – Get your Stripes GC4DBDG – cache #2614
The path to here is a little bit overgrown, lots of lovely tall nettles and umeven footing to trip you up… I'm sure I stumbled over the same obstacle (tree root I think) twice as I went either way along the path
Nice easy find though – not much doubt where the cache was going to be hidden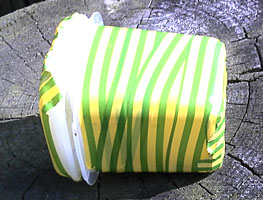 20th June 2013 – Rigton Rock GC4CGEE – cache #2616
In the morning I went out to find a cache for the day and I didn't find GC3MWR0 Hidden Aireborough IV
It's actually the second time I have gone to look for this cache and come back empty handed. I looked for it in August last year but couldn't find it then (it had gone missing) and again this time I couldn't find it – Obvious where it should be but I couldn't see it or feel it no matter which side I was on or how I contorted myself… Either my arms aren't long enough, or this one has fallen victim to the floods and winter weather over the 8 months since it was found last.
So I was still missing the days cache for the streak, so I went to find another which again was actually my second visit to this cache site, I came along one evening when the sun was bright and really low and I couldn't see a thing with the light in my eyes – this afternoon I had little problems turning up the cache… And as I have said on many previous occasions I do like a cache with a convenient bench to sit and sign the log !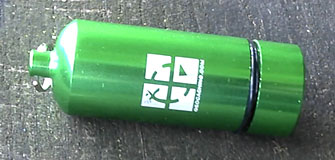 21st June 2013 – Crimple Gu Cang Bao GCXG06 – cache #2617
Seems to have taken me a long time to get to this cache, looking back through the logs I see I found the second part of the clue in October 2010, so two and eight months to get from there.
I did get to the third point a few weeks ago but it was so long since I got the answer to part two I had forgotten all about the method of finding the cache so I had to go home and find the clue again and then come back to find the cache…
The actual cache site is a bit overgrown so it was bit difficult to know which side to attack it from – and tonight at least the field was full of cows with their young calves… and you have to be a bit careful around mothers and their young, so what with one thing and another – and the barbed wire mentioned by finders in previous logs, I was glad to eventually spot the cache.
22nd June 2013 – GG65 #5 – Pipe Bridge. GC4A2B7 – cache #2618
A quick drive by… once the GPS had told me which side of the gateway I needed to be at it was a quick find – well it's a Grayglove cache, so I knew what sort of thing to be looking out for !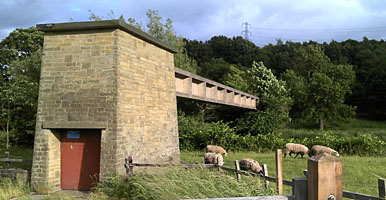 23rd June 2013 – Cheers Grandad George GC4A491 – cache #2619
I could see where I expected the cache to be, and was scouting round for the best way to approach it when I realised that there are two ends to a tube and I could see the corner of the cache from the lower one… reached in and retrieved it without any difficulty at all… there must be an underground stream running down the hillside that surfaces here as the ground is a bit soggy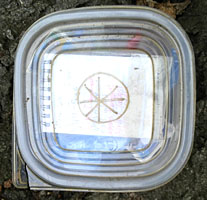 24th June 2013 – Big Chief Wiggum Cracks The Code GC3GKYH – cache #2620
A Multi cache that involves getting clues from one place and using them to calculate co-ordinates for the cache. I've had photographs of the clue items on my phone for months (see the headline picture)… so as I had got a new phone at the weekend I thought I'd better use the pictures to solve the puzzle before I stopped using the phone the photo's were on completely.
Good coordinates led me straight to the cache, and I managed to avoid wet feet which other finders hadn't done – well the stream is hardly a raging torrent at this time of year.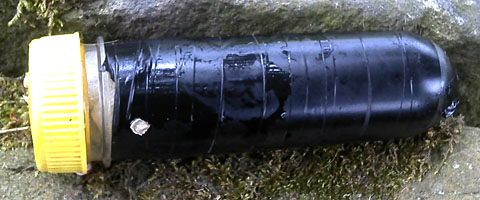 25th June 2013 – Pirates Ye Be Warned 1 GC2VR17 – cache #2621
GPS was a bit dodgy under the trees, but the hint is descriptive enough to find the cache without a problem.
Loved the treasure map but unfortunately I didn't have time to go for it today, though as I'm doing this caching streak I don't mind having to to save part two for a later date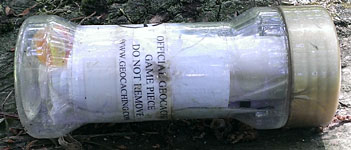 26th June 2013 – Scalebor Park GC38Y50 – cache #2622
An easy enough find… once I had got on the right path ! (two paths fork and go parallel for a while on different sides of a fence… the cache is on the one which seems the least likely !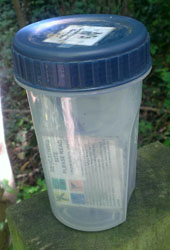 27th June 2013 – Pirates Ye Be Warned 2 GC2VR2Y – cache #2623
After finding part 1 a couple of days back I had chance to go for part 2 today.
I am glad the hint is descriptive as I had no GPS lock at all under the trees, but fortunately there are only a couple of the items mentioned in the hint in the vicinity – so I found it on the second one (I never seem to get it right first time)
I like this little pair of caches, a nice treasure map and a nice treasure chest… gets a favourite point from me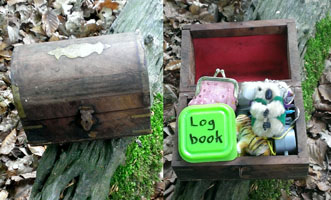 28th June 2013 – GG65 #4 – No ATM! GC4A20K – cache #2624
Easy to see where previous cachers had been looking. A quick find, but unfortunately the bench was too wet to sit on and write the log.
29th June 2013 – GG65 #6 – Esholt Beach. GC4B36Z – cache #2625
On a cycle ride this evening, along the canal from Apperley bridge to Shipley, then back up through Esholt and the Sewage Works.
I didn't really need the clue for this one… there was an obvious place to look and there was the cache.
I forgot to look for the bonus number, which means I might have to go back if I can't work out the cache location without it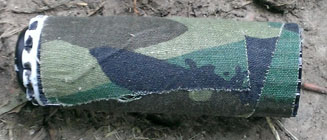 29th June 2013 – Hidden Lake GC3QRGJ – cache #2626
my cycle ride took me back up through Esholt sewage works where although there are footpaths through I had to make a couple of cross country diversions and lift my bike over obstacles to get around the large metal fences and gates which seem to have grown since last time I was here. No problem finding the cache though… I am well tuned in to Grayglove's cache style so went straight to it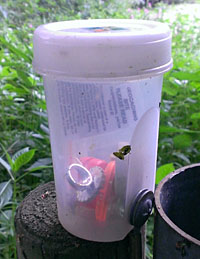 30th June 2013 – Britannia Bridge Bingley B GC3X0XA – cache #2627
A quick cycle and dash as I was riding along the tow path – I'd found the previous incarnation so knew what I was looking for. And that was the last cache for June, my streak was now 25 days long