Home » Geocaching
Caches No's 2601 to 2610 – A Caching Streak ?
Another thing that Cachers talk about is the length of their caching 'streak', that is the number of consecutive days on which they have found a Geocache… some people do a full year, some much much longer, the longest local one is Bob Adam's whose streak lasted 1,111 days (just a couple of weeks over 3 years) the longest one I know of in the UK is Mario McTavish who gave up at 1,500 days (4 years and a month). My longest streak was a whole 9 days back in March 2010… so as I had done 3 consecutive days and the weather was still looking reasonable I thought I would go on finding a cache a day for another week until I got a new longest streak of 10 days !
9th June 2013 – In the Rubble GCY21B – cache #2601
I parked as suggested in the cache description, a parking spot that gave me a nice walk across the moors past Yorke's Folly, a lovely sunny day but too hazy for having a good long distance views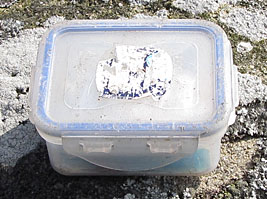 9th June 2013 – Yorke's Folley GCGWVV – cache #2602
After finding the previous cache I retraced my steps back to the folly, makes you wonder rich landowners shouldn't be building follys these days to provide employment in these times of recession !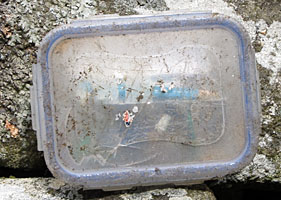 10th June 2013 – Stranger Things Happen At Sea! GC3V0VD – cache #2603
Next day to keep the streak going I had a nice evening walk on the moors… though there isn't much of a path to this cache – I'm glad I didn't try it in the snow like the previous finders, I would have broken my neck tripping over unseen rocks and heather I'm sure. The co-ordinates were spot on, although when I was stood at ground zero I was a little higher than the cache, but I soon found it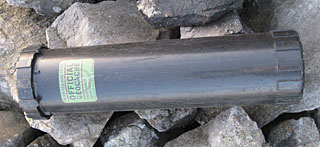 10th June 2013 – Cache Cow GC430AM – cache #2604
Coming back to my car I had to pass within a few yards of this cache so I stopped off the find it… a surprisingly large cache to be hidden in such a well visited place, but it's hidden well down inside a void under a large boulder so I guess you don't find it unless you are looking for it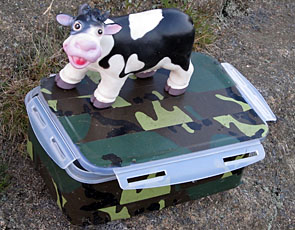 11th June 2013 – Keep a lid on it GC4D2JX – cache #2605
An easy find. The cache I have to say is pretty ordinary – but the clue is clever enough to deserve a favourite point… a lot of finders have logged that the clue is meaningless to them, the clue says 'Hidden Boo Radley style' – Now to most people Bod Radley will have little meaning except as a pop band who had a handful of hit singles in the mid 1990's, but if you investigate the origination of the Boo Radley character and explore the book he's from you will find the meaning of the cache clue !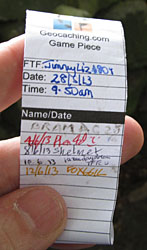 12th June 2013 – Shepherd's Retreat GC4D1CR – cache #2606
A walk across the fields to a fallen down sheep shelter. No sheep about today, just a field full of cows and rabbits on the other side of the railway arch
The nettles are getting a bit tall though !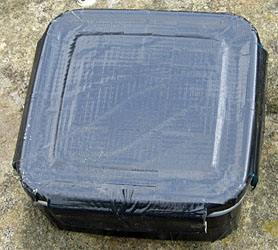 13th June 2013 – The Christmas Word.. GCJPN3 – cache #2607
Two years (less a week) I came to look for this cache and gave up because of the amount of undergrowth (for undergrowth read head high nettles and brambles)
I was passing by today so thought I'd go for another look… as we had such bad weather in the winter and spring the undergrowth isn't half as grown as it was in 2011, so after a couple of nettles were cleared away with my trusty walking pole I could get the cache… I'm afraid I definitely left a cachers trail but the cache is well hidden so can't be seen unless you stick your hand in and move it's covering.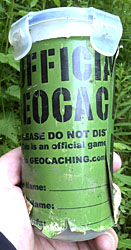 14th June 2013 – Lydias Lockup GC4CEJH – cache #2608
Found easily enough though I was surprised at where the cache was. There could be issues with the way this is hidden in a hole in a dry stone wall… Dry tone walls tend to get damaged by overexuberant cache hunters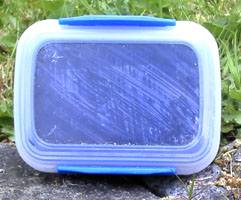 15th June 2013 – GrayGlove's Pension Plan! GC49XZM – cache #2609
To take me past my previous caching streak I went to a well attended event. GrayGlove who has hidden a lot of the local caches had reached his 65th birthday and was having an event to celebrate… He had put out a new cache series for the event but I thought I would leave them for later as the weather looked a bit unsettled – those hailstones aren't really nice for walking through !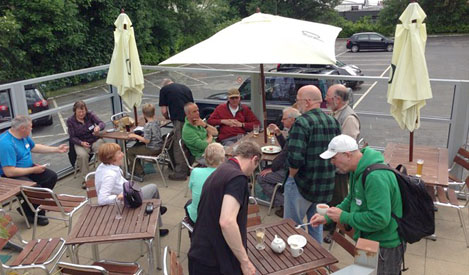 15th June 2013 – Shipley View GC4ARA0 – cache #2610
Came up after Graygloves event, as I just had a half hour or so to fill. I walked along the path and the GPS was counting down and there didn't look to be anywhere to hide a cache, you know, no bushes, fence posts, benches or what have you… but I followed the arrow until it got to a couple of feet away from the coordinates and there was the cache. And they are right, you do get a view of Shipley from up here at the cache site.
I didn't manage to get back to my car before the next rain shower blew in so I got a bit wet