Home » Geocaching
Caches Nos. 125 to 144 – The Eccup Challenge
A few miles away from where I live is the tiny village of Eccup, notable for really only one thing – giving it's name to a reservoir. There are fotpaths all around the reservoir and a cache trail of 21 Geocaches – The Eccup Challenge, together with a few more that are on the same footpaths.
On a late September Sunday morning I set off to walk the walk – but unfortunately I was not alone…
Sunday morning brings out the recreational outdoor people… like me and so on the paths to the north of the Reservoir there were hikers, bikers, horse riders and dog exercisers a plenty – which created delay after delay trying not to be seen retrieving and replacing the caches – and then when I got to the reservoir itself things just got worse.  To tell the truth it was probably not the best day to pick, it being the day when there was a sponsored walk for the local hospice around the reservoir (though the next week would have been no better as there's a running race around the reservoir) so there were gaggles of walkers, doing it in ones and twos, in family groups, in mobs of friends – I had less trouble caching in the middle of the shopping precinct in Harrogate on a Saturday morning than I did around the reservoir.
September 27th 2009 –  Eccup Challenge #5  GC1TNTG – Cache #125
Start at number 5 cos the google map showed it was a good place to park, started off well… 35mm film cannister under a rock.
September 27th 2009 –  Eccup Challenge #6  GC1TNTH – Cache #126
September 27th 2009 –  Eccup Challenge #7  GC1TNTP – Cache #127
September 27th 2009 –  Eccup Challenge #8  GC1TNTR – Cache #128
These were all straightforward, two click lock boxes and a 35mm film cannister magnetically attached to it's hiding place. The next one in the sequence GC1TNTX-  Eccup Challenge #9 has been reported missing by people who spent over an hour searching, so I didn't bother and just passed on, the area it should have been in has a tree with a thick holly undergrowth and a myriad of potential sites around, suffice it to say previous cachers had left no stone unturned trying to locate it. I figured it didn't matter in the full scheme of things as the puzzle for the bonus cache could be solved without one of the caches being found as the missing one would obviously be the missing letter in the sequence.
September 27th 2009 –  Scouting Around – Explorer Scout  GCZBA9 – Cache #129
The Eccup Challenge series are not the only caches on these paths, this Scouting Around series of four caches has one on the path, I took note of the clue for doing the other Scouting Around caches another day.
September 27th 2009 –  Eccup Challenge #10  GC1TNV0 – Cache #130
September 27th 2009 –  Eccup Challenge #11  GC1TNV2 – Cache #131
Another couple of straightforward finds which led me onto another DNF GC168Y3 – Got You By The Dingles, there was the post where it should be and there were stones which could have been used to cover the obligatory 35mm Cannister ("***There is only room for the log so please bring your own pencil***") but no cache.
September 27th 2009 –  Eccup Challenge #12  GC1TNV5 – Cache #132
This cache overlooks Beckindale… well Beckindale mark III as the soap was originally filmed in Arncliffe in Littondale, but then moved to Esholt and now is filmed in a purpose built copy of Esholt on the Harewood Estate.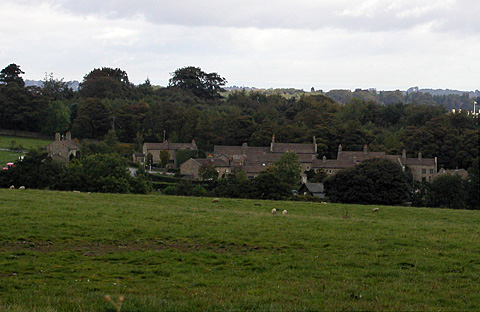 I didn't find the next one of the sequence GC1TNV6 – Eccup Challenge #13, it was not immediately obvious and there were so many people passing that hanging around in one particular place in the middle of nowhere would look suspicious – so I moved on
September 27th 2009 –  Eccup Challenge #14  GC1TNV9 – Cache #133
September 27th 2009 –  Eccup Challenge #16  GC1TNVC – Cache #134
From this cache I collected Travel Bug TER42R – Travel Express
September 27th 2009 –  Eccup Challenge #15  GC1TNVB – Cache #135
These two were done in the wrong order as #16 is up a spur off the main path and as there were people around #15 I went up and grabbed #16 first – however this showed me the difficulties I was about to face as the path here was just a seething mass of sponsored walkers, fortunately I could duck behind a hedge into a field to fill in the log and replace the cache without being seen by anyone who was not right on top of the cache.
September 27th 2009 –  Red Kite Kache GC1BN8W – Cache #136
A sneaky one this, a dog collar screw top tube, the type you put the dogs ID details in, this one fastened to the back of a fence board so you can only undo the bottom part and remove it, much easier to take off than get back on, especially when there are a horde of sponsored walkers all milling about cos there's a feeding station right next to the cache site and lots of people hanging about.
September 27th 2009 – Eccup Challenge #18 GC1TNVF – Cache #137
I missed out GC1TNVE – Eccup Challenge #17 entirely, due to following the 'next cache' directions on the GPS… #17 was another down a spur off the main track and wasn't as near to the last cache as #18 was, so I ended up at the wrong cache and then it would have been over half a mile to go back to #17 and retrace my steps again, so as I was running out of time and the place was full of people and I had to come back to find#13 anyway, plus I could park near this end of the walk I decided to forget it. #18 was well away from the path, the only one on the Challenge that wasn't at the path side
September 27th 2009 –  ay up! Eccup  GCGQCB – Cache #138
Another cache that was on the route but not part of the Challenge, actually it was 50 yards off the route and well hidden in the woods under a holly bush, but although some finders had logged DNF's with lack of GPS accuracy under the trees I had no problems going straight to it.
At this cache I dropped off the World Travel Geocoin
September 27th 2009 –  Eccup Challenge #19  GC1TNVG – Cache #139
This one was tricky, you have to reach through a wire mesh fence behind a kissing gate… difficult at the best of time, but when you have only a few seconds of time between parties of sponsored walkers it's very difficult and took several minutes of hanging around and more than one try to get it back under cover
September 27th 2009 –  Eccup Challenge #20  GC1TNVH – Cache #140
#20 was easy although there were plenty of people about, cos it's by a bench so you can sit down and write the log as if you are writing a note and no-one takes any notice of you.
I Couldn't get to GC1TNVJ Eccup Challenge #21 at all, there was a sponsored walk Marshall sitting right on top of where it should be, nut it's on the road side so when I go back to find #13 and #17 it should be an easy grab – and numerically it's the last of the Challenge series – though there's still the puzzle bonus cache to do as well
September 27th 2009 –  Eccup Challenge #1  GC1TNT7 – Cache #141
September 27th 2009 –  Eccup Challenge #2  GC1TNTA – Cache #142
September 27th 2009 –  Eccup Challenge #3  GC1TNV2 – Cache #143
A couple of easy caches to start the Challenge series if you do it in the proper order, the most difficult thing was that my notes blew away into the neighbouring field which involved traversing a barbed wire fence to get them back – as they had all the answers for the puzzle I would have to do the walk again if I had truly lost them
#3 was by another sponsored walk marshall station, however the walkers had all about passed this point and the marshalls were packing up… as I sat in the corner by the signpost and had a drink and tied my shoe lace one of the marshalls said "Are you doing that Treasure Hunt thing ?" I suspect I wasn't the first cacher to pass them that morning ! Sneaky hide in a false stone, but it looked out of place so was obvious when you thought about it
September 27th 2009 –  Eccup Challenge #4  GC1TNTD – Cache #144
The last cache of the day… the 20th cache of the day, 7.2 miles walked, 2 hours and 18 minutes moving, 1 hour and 34 minutes not moving according to my trip computer… there was a lot of not moving time waiting for the coast to be clear !
I suppose I can work out the puzzle from the 17 caches I have answers for, as it's a process of elimination and you know what some of the answers are going to be as they are co-ordinates of a place less than a mile form the reservoir, so the 'big' numbers of the co-ordinates will be the same… but as I have to go back to the area to get the bonus cache I can get the other 4 I missed at the same time and complete all the series but the missing #9.