Home » Geocaching
Caches No's 1846 to 1856 – The Cockersdale Constitutional
25th June 2012 – CC#1- The Starting Post GC32J9D – cache #1846
Monday, and after a hard day at work a nice evening walk was called for, so I thought I'd have a go at the Cockersdale Constitutional cache series near Pudsey. I had to wait in the car for a few horse riders to pass at the start, but after they had passed I soon worked out where the cache must be
25th June 2012 – CC#2-Power To The People GC32J9W – cache #1847
An easy enough find, but there were enough people about on the lane and in the houses and gardens to make me feel just a little uncomfortable… I don't like overlooked caches !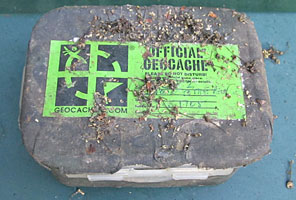 25th June 2012 – CC#3-Wise Owl GC32JA4 – cache #1848
This blooming horse in the field next to the cache didn't like me ignoring it and looking for the cache, so it bit me ! quite painful and I had two bruises on my upper arm where it sank it's teeth in.
I found the cache though !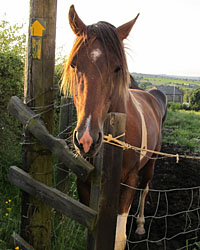 25th June 2012 – CC#4- Lumb Bottom GC32JAB – cache #1849
Another straightforward find in a very public area, although I didn't see anyone actually twitching the net curtains to see what I was doing there were overlooking windows only a few feet away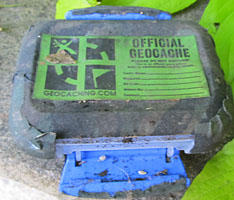 After this I didn't find GC32JAM CC#5-Spring Gardens the hint said between fence post and wall… well I couldn't actually see there was a wall because of the brambles and nettles, so I didn't search too hard
25th June 2012 – CC#6-Manor View GC32JAX – cache #1850
Hidden behind an old stone gatepost with a convenient low wall next to it on which to sit and sign the log… in full view of the houses on the opposite side of the road !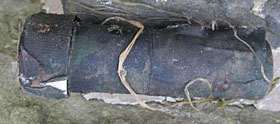 After this I didn't find GC32JB8 CC#7-Doles Wood, neither had several previous cachers found it, so I didn't look too hard
25th June 2012 – CC#8-Ringshaw Beck GC32JBQ – cache #1851
I am glad no-one came along while I was retrieving this one ! after all the recent rain the beck was quite swollen and the only way to get at the cache was to lay on the path and reach for the cache… I nearly knocked my glasses off into the water – which wouldn't have been good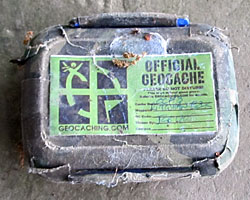 25th June 2012 – CC#9-Church View GC32JC4 – cache #1852
The biggest problem here was getting to the cache without sinking in the mud !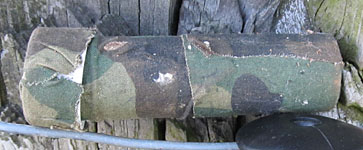 25th June 2012 – CC#10-Tong Village GC32JCC – cache #1853
A cache in a phone box outside a pub, many people had been unable to go for this one because of people sat outside the pub having a smoke – or just enjoying the sunshine, however although there were some people outisde the pub having a smoke, but they went back inside just as I got there leaving me to find the cache in peace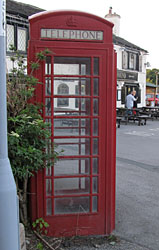 25th June 2012 – CC#11-Manor Farm GC32JCN – cache #1854
This should have been a well hidden difficult cache to find, but the last cacher (or someone else I suppose) had not put the camouflage back properly so the cache was staring me in the face… made this a quick and easy find for me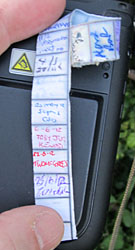 After this I didn't find GC32JD2 CC#12-Hungry Post, but neither has anyone esle recently, and it was getting a bit gloomy so I gave up looking when I came across barbed wire hidden in the undergrowth and unseen in the darkness
25th June 2012 – CC#13-Springfield Lane GC32JDB – cache #1855
I sort of expected the worst when the hint said 'Prickly, prickly' and as I walked down the path I could see a huge holly bush – but fortunately the cache was spotted near the edge of the holly and I could get to it without getting too stabbed and scratched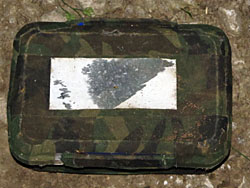 25th June 2012 – CC#14-Bent Tree GC32JDT – cache #1856
Once I had worked out the clue it was fairly simple to spot the item it referred too even in the gathering dark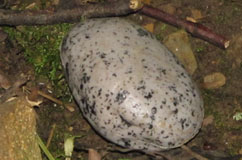 After this I didn't find GC32J8K Cockersdale Constitutional Bonus, although one number had been in the missing cache#12 I still managed to pull together a set of co-ordinates that made sense, in that they were on a public footpath about 250 yards from the final cache. When I got to the co-ordinates I found a place that matched the hint, but it was protected at one side by 4 foot high nettles and when I tried to get round the other side I sank into an ankle deep bog.
I think I might have to come back when it's been dry for a while and the place is a little more conducive to searching