Home » Geocaching
Caches 205 to 217 – A visit to that there London
February 12th 2010 – Curse of the FTF Wharfedale #2 GC21J25 – Cache #205
It felt a bit like I was coming out of hibernation when I was planning a few caches to find around a trip down to that there London. I had to be down in Lichfield by lunchtime so I had worked out a slight detour of a route to take in 11 drive by caches on the way… unfortunately it didn't work out like that, and I was an hour later setting off than I had hoped for. This meant that the only cache I could really get to on the way down was this one that's only about a mile and a half from my house but is a realtively new hide so I hadn't been there yet… Easy find, base of a tree, covered by a stone, but much bigger than a 35mm film can.
At this cache I dropped off the Geocoin – A Mini TB
February 13th 2010 – East End Trail – Cobbles GC1MJX0 – Cache #206
Down in London after a night at the theatre Angel78 and I decided to have a walk round by the hotel and grab a couple of caches. The number of large buildings plays havoc with the accuracy of the GPS so we had a little searching to find the right spot for this magnetic 35mm film can.
I left the signing of the log to Angel78 while I took a photograph !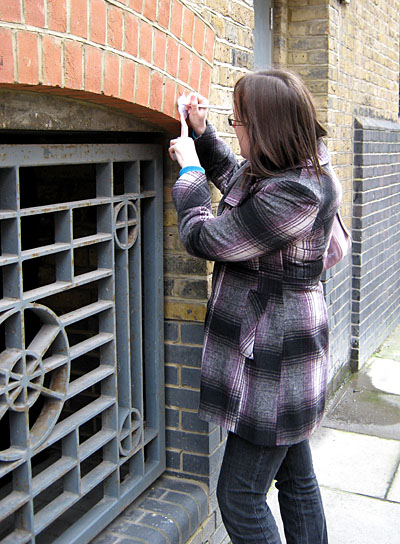 February 13th 2010 – Face railings GC16KA4 – Cache #207
Easy enough to find except for the Railway construction team that were working on the line next to the cache and had parked their van right in front of the railings so were 'interested' in what we were doing around their vehicles !
February 14th 2010 – Sidetracked Lichfield City GC20YKN – Cache #208
After finding the previous cache I was thinking that I had found all the caches I was going to get to on the trip, expecting to be driving back home on Saturday evening in the dark, but a side trip to see a relative in Essex meant we didn't get back to Lichfield until late Saturday evening and so I stayed over until Sunday.
This meant a leisurely drive home and chance to get the 10 caches I hadn't managed to stop for on the way down.
The first one was an excellently camouflaged container, and others have reported having to be sneaky due to the number of people about at the station, but on a Sunday morning there wasn't another soul in sight.
February 14th 2010 – Sidetracked Lichfield Trent Valley GC20YKX – Cache #209
This was actually harder than expected, the clue says something like "Post, Micro, Ivy" so you are looking for a small container hidden in the ivy around a post… and there's an obvious ivy covered post, but the cache isn't there ! So you look round a bit more at other ivy covered posts and still don't find it… It's actually amazing how obvious it is when you do find it !
February 14th 2010 – Oak Tree Corner GC21NZ0 – Cache #210
This is an easy one to find… there's an oak tree stood by itself and a well worn cachers track from the footpath to the tree and the cache
At this cache I dropped off the Finn's Caching On The Moon Geocoin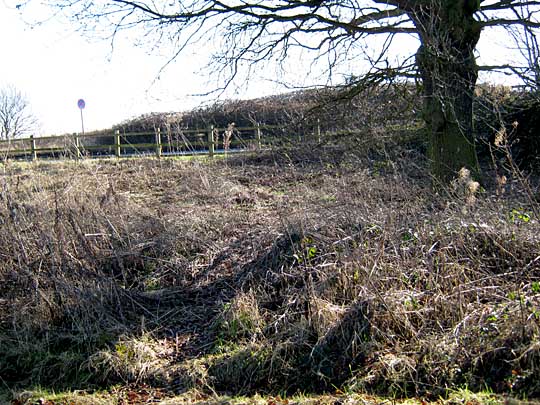 Spot the Cacher's track leading to the prize
February 14th 2010 – View of the original style CITO GC20YM7 – Cache #211
CITO stands for Cache In Trash Out, which is a cachers way of keeping the countryside clean by removing rubbish. In this case it relates to a small scrap yard situated in the little island caused by a road junction. I've driven past it hundreds of times and not known it was there.
At this cache I dropped off the Bring Me Home To Denmark Geocoin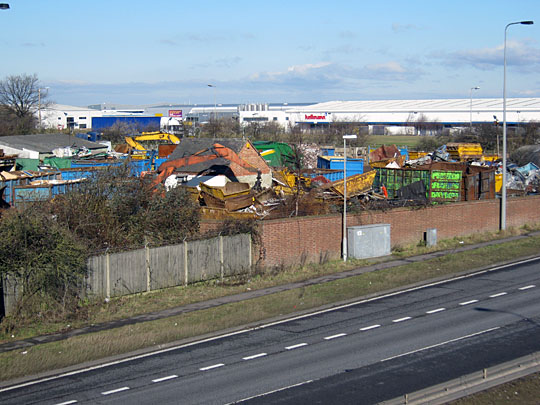 February 14th 2010 – Side Tracked Brookhay "Orange" GC21RX5 – Cache #212
This is another excellently camouflaged cache, designed to look at first glance like the litter people leave lying around in laybys, but a closer inspection shows there's a hidden 35mm film cannister there
February 14th 2010 – Barking Dogs GC21RXN – Cache #213
Another easy drive by… and I heard no dogs
At this cache I dropped off the Geo-Kate's Cache A Day Geocoin
February 14th 2010 – Motorway Mayhem A1(M) J44 GC232KF – Cache #214
A hundred or so miles nearer home I stopped off for another drive by cache, and looking at the log sheet showed I wasn't the first one to do so that day. A cyclist stopped by me after I had just pulled up, I wondered whether he was a cacher looking for the same cache… I've never met another cacher while out caching, but there are plenty out there at weekends when I am.
At this cache I dropped off the Claude the Crab Travelbug
February 14th 2010 – Motorway Mayhem A1 Bramham Village GCV894 – Cache #215
I had looked for this one twice before, once it had been moved by workmen, the second time I know I looked in the spot where I found it and it hadn't been there, so I don't know what had happened to it, but third time lucky I found it.
February 14th 2010 – Curse of the FTF Wharfedale #6 GC22ENG – Cache #216
Another relatively newly hidden cache, and a nice easy drive by… apart from the road crossing for which I had to wait for about 20 cars to pass before it was clear.
At the cache site I had to avoid a couple of walkers… I suppose you look a bit suspicious skulking around by a hedge a few yards off the footpath.
At this cache I dropped off the Bully Travelbug
February 14th 2010 – Curse of the FTF Wharfedale #7 – The Post Box GC235VN – Cache #217
Another magnetic 35mm film can, pretty obvious where it is from the name of the cache and the fact it's the only bit of metal for yards around !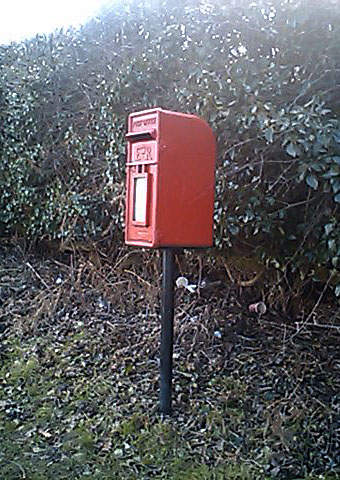 Hmmm… I wonder where a cache called Letter Box is hid ?