Home » Genealogy
William Perry 1837 – 1888
As we saw in the last post, Andrew Perry was the son of William and Sarah Perry. From the 1861 & 1871 census's we can see that William Perry was born in Little Hadham, Hertfordshire, in 1837. Unfortunately the Free BMD only starts in September 1837, so there is no confirmation of his birth date available from there. His birth is recorded on the IGI, but only with the year as 1837, no month or date.
On the 1841 Census he is shown as living with his Parents at an address called 'Ford' – Which as far as I can make out is a generic name for the houses in what is now the separate village of Hadham Ford
Name: William Perry
Age: 4
Estimated birth year: abt 1837
Gender: Male
Where born: Hertfordshire, England
Civil parish: Little Hadham
Hundred: Edwinstree
County/Island: Hertfordshire
Country: England
Street Address: Ford, Little Hadham

Household Members:
Name Age
Thos Perry 30
Elizabeth Perry 25
William Perry 4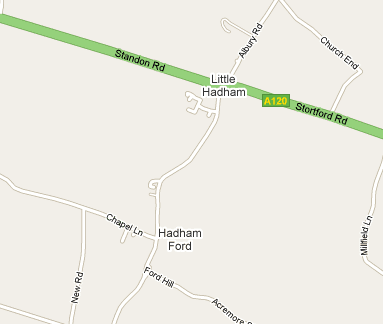 Little Hadham & Hadham Ford today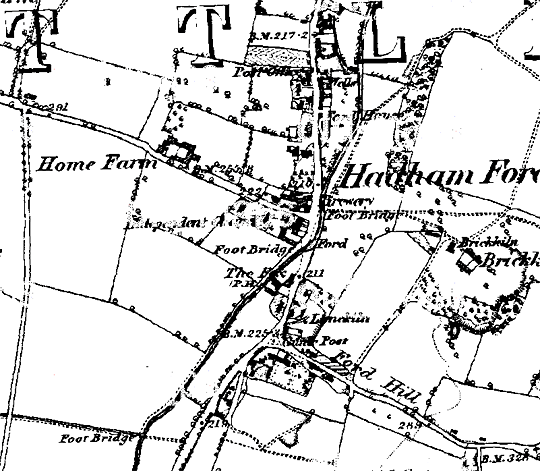 The 1883 map shows little difference from today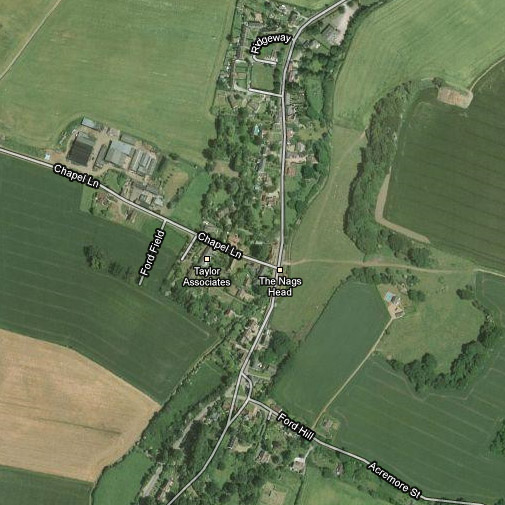 Hadham Ford was once the home of agricultural labourers and other farm workers, today it is one of the more desirable parts of Hertfordshire to live in, being a little rural village that is only 5 miles away from Bishops Stortford, 7 miles away from the M11 and 8 miles away from Stansted Airport
By the 1851 Census, there were 5 more children in the family, but they were still living in what is now Hadham Ford
Name: William Perry
Age: 14
Estimated birth year: abt 1837
Relation: Son
Father's Name: Thomas
Mother's Name: Elizabeth
Street Address: Ford, Little Hadham

Household Members:
Name Age
Thomas Perry 45
Elizabeth Perry 36
William Perry 14
Henry Perry 11
Sarah Perry 9
Charles Perry 7
James Perry 3
Thomas Perry 10 Mo
On the 1861 Census, as we have previously seen from the details of Andrew Perry, the Perry's were living in London. William Perry was a Police Constable who had married Sarah, a girl from Brockhampton in Herefordshire. The only Brockhampton I can find is the Brockhampton Court estate, about 5 miles north of Ross-on-Wye – which could explain how William and Sarah met, if she was a lady's maid at the big house and came to London with the Family she could have met the young Police Constable there.
Name: William Perry
Age: 24
Spouse's Name: Sarah
Street Address: 7 Highbury Crescent, Islington
Occupation: Police Constable In Charge Of House

Household Members:
Name Age
William Perry 24
Sarah Perry 26
Wm Gibson Perry 2
Andrew Perry 4 Mo
The interesting thing about this 1861 Census record is where they are living, 10 Highbury Crescent, these days split into flats that are collectively worth over £3M ! Not a bad residence for a country boy turned Policeman.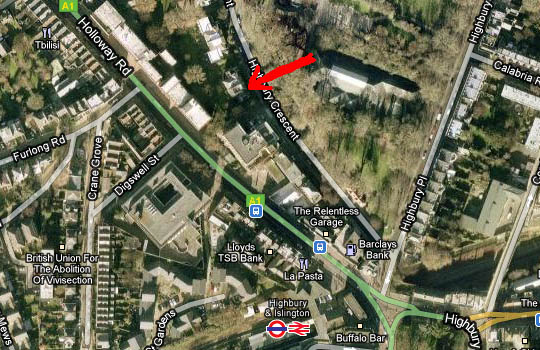 10 Highbury Crescent – a rather grand residence for a Police Constable

I looked to see if I could find who owned the house, someone of means if it needed a Police Constable to house sit while it was not being used, but the 1851 Census showed it owned by a 70 year old Carpet Merchant, Robert Rickard, and the 1871 Census showed it owned by a 42 year old Attorney & Landowner, Richard Smith – either of these two could have owned the house in 1861, or it could have been someone totally different !
We've already seen the 1871 Census details from the post about Andrew Perry
William Perry
Age: 35
Spouse's name: Sarah
Street Address: 7 Model Cottages, Eden Road, Walthamstow
Occupation: Metropolitan Police Constable

Household Members:
Name Age
William Perry 35
Sarah Perry 36
Andrew Perry 10
William Perry 5
Elizabeth Perry 3
Charles Perry 1
By the 1881 Census William had served his 20 years in the Police and had moved back to Hadham Ford – living on his Police pension
Name: William Perry
Age: 44
Spouse's name: Sarah

Street Address: Ford, Little Hadham
Occupation: Superannuated Police Constable
Household Members:
Name Age
William Perry 44
Sarah Perry 46
Charles Perry 11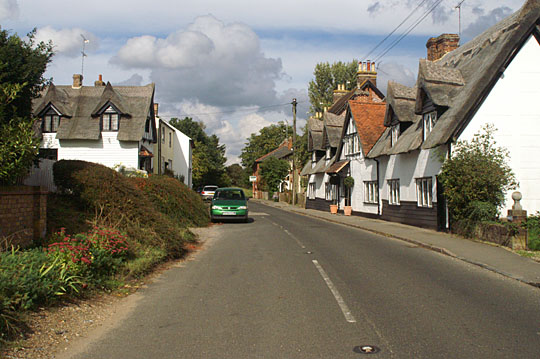 Hadham Ford today, all of the buildings would have been present in the 19th century
– though probably divided inside into much smaller units than they are today
William Perry does not appear on the 1891 Census, Sarah and Charles had moved back into Walthamstow by then. A check of the Free BMD shows that William Perry died in the Apr, May, June quarter of 1888 at age 51