Home » WASH
WASH 2008
The 25th Anniversary of WASH was little different to all the previous 24 – but then, that's the way we like it !
The major difference this year was that the dates for WASH had been pushed back another week, allowing us to do something we'd not done in a lot of years… go to a bonfire party at home !
To say the dates had been pushed back a further week did not mean it was any colder at WASH, in fact at midnight on the Friday night I was down on the beach in just a Tee shirt and jeans and I was plenty warm enough.
Christine now can give you the recipe for Carrot Cake off the top of her head after making enough of them to feed over 250 people, then sticking them all together and then icing them with 6 kilo's of fondant icing to make a birthday cake big enough for a mega 25th Birthday Party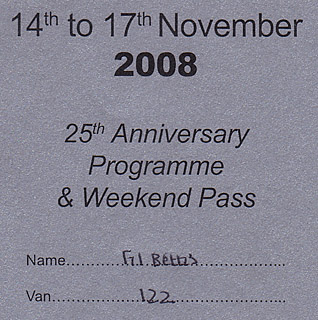 What the Committee said…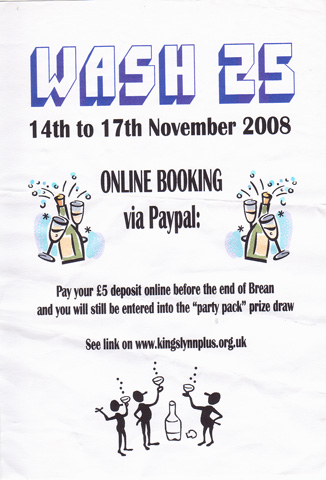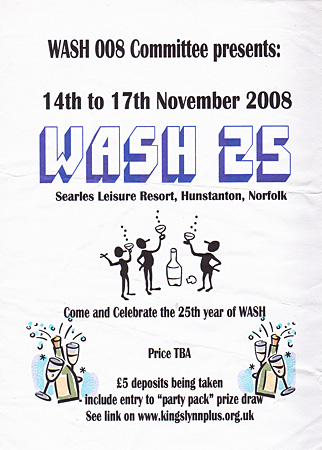 What they said…
Well, as expected, there is still some blood in our alcohol.. Not much, but I bet it is still there! Friday afternoon we all met up at our shed for the weekend.. All shopping was done and the cars were parked. We started with a few bevvies there and than.

After a nice bit of pizza, garlic bread, wedges (thanx to Rich) and some more bevvies we got changed a little and set off to the venue. It was great to see so many people there! We had a dance, a couple of bevvies and decided that the bus stop was the best place for the latest gossip (even Mike took up passive smoking)!

I have managed to offend at least one person that night – Someone tried to convince me that when men like Startrek, women don't like them as they never had sex! Well, I love Startrek and I do know a few men who like startrek, who have had sex before and sometimes even have to fight off the women…! The guy changed his statement; only women in London don't like men who like Startrek as these men never had sex.. So, I thought to give him some advise (which he didn't seem to appreciate much); 'You've got to move, mate!'.

The band was impressive and we danced the night away until we got broomed out of the venue.

Saturday morningish saw the first full English to start us of nicely. We decided to go Clay Pigeon Shooting and it was great fun! The guys who were teaching us were hilarious as ever – random and hilarious. Weird to discover that they actually knew what they were talking about too, especially when Hannah was made into a pirate and suddenly hit loads of pigeons and even beat my score!

Our Quiz Team was named 'Three Trekkies and a Virgin' and we managed to get not in the bottom! This was due to 3 lovely ladies who came to sleep at our table and dreamed up many right answers!

Back to the shed to finish our masks – bet that next year you still will find the glitter everywhere in our van (and pint glass shatterings, but that is a different story). After a bit of grub, bevvies and Ironman we went to party in the venue. Mike and Rich looked great in their tuxes, Hannah scrubbed up very well and I was a Super Hero – all with masks and capes.. Great times had by all – we definitely liked the firemen! We were so knackered, that we went back to the shed afterwards and all fell asleep.. Well, it was about 2am, so not too bad going..

Sunday we all dressed up again and visited the casino. In our cocktail dresses and a sophisticated glass of dry white, Hannah and I perched at the stud poker table and did quite well (when we finally understood the game). Rich acted as our waiter (as he lost most of his monies on Black Jack and the bar). Unfortunately we lost our winning streak as a toilet break was needed and lost it all when we got back.. Ahwell, a few hours of gambling for only £2.50 is time and money well spend 🙂

After dinner we decided to play our own Texas Hold 'em, where I lost my chips in rapid succession.. It might have been due to the bottles of wine we polished off.. And here I must say that we finally realised that we are getting older – getting changed again didn't held that much appeal, so we stayed in for the night. Popcorn, Con Air, The Other Bolyen Girl and Sea Breeze Cocktails made our night!

This morning the shower was the best and warmest one all weekend!! A little hungover with a massive left over breakfast in our bellies, we cleaned our shed for the weekend and cleared out.

Needless to say, we had a great weekend! We managed to drink quite a few litres, eat ourselves silly, met some great (new) people, caught up with friends from far, danced our feet until it hurt and are looking forward to the next!

Kirsty, Plus email forum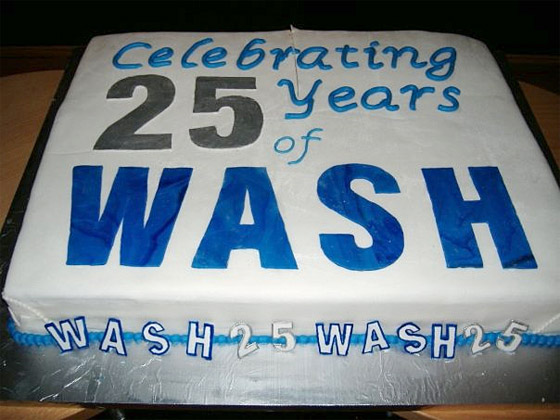 The WASH Birthday cake
(well one of them, there were two – a big one and a smaller one !)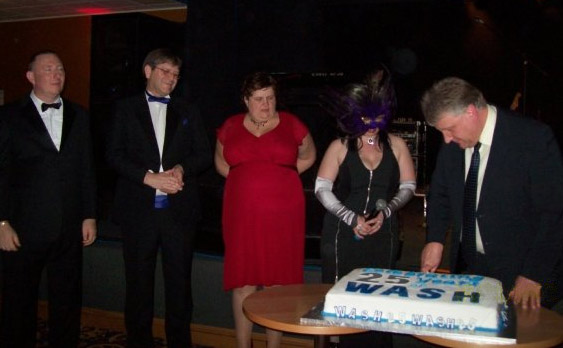 The cake was cut by Mr Searle
(Don't the WASH Committee look posh !)

What they said…
In the words of Craig Revel Horwood – FA-BU-LOUS
Ballroom dancing – great, now I have new hobby… to get fit with…
Music great too – esp Daniel from Foxx, and the bass player from Shomaddymaddy.
Great – a great thank you to Paul Catterwell et al. Keep up the good work. Here's to the next WASH… – Kathy

I would to give my thanks to the WASH 25 organiser for organising the best party weekend of the Plus year, bands on Friday, Saturday & Sunday night were very good. I did enjoy the casino afternoon, I also liked the Quiz, however one year a team from Solihull will win it. – James

Hey Keith,Paul+Dawn,Christine and Lynne, Thank you so much for doing a gr8 weekend at wash,and thanks for gr8 Sunday karaoke night in your lodge and thanks to Lala for gr8 Party and Gary for gr8 party as well. Wash gets better every year, last year was gr8 but this year was even greater Many thanks.gR8
GR8 GR8 EVERYTHING WAS COOL AND FAB MANY THANKS AGAIN – Lisa

Hello, must thank u all very nice wash committee for again such a great weekend and it was nice to spend some time with you all at the end of sunday night, the mulled wine was lovely and i hope paul had good time celebrating his birthday i have to thank lala too for the parties she is a star foxx were good but i now seen them three times and the very first year we saw them was the best (the ripped jeans and that catwalk)
the maskerade fancy dress was good success and there are lots of our photos on facebook for you all to go look at the entertainment was good the weather was great so it really was weekend at sunny hunstanton – Lucy

I would like to congratulate Keith and the team for putting on such an excellent WASH. I especially liked the evening entertainment, and thought the Casino on the Sunday was a brilliant innovation. – Joe

All from the Plus email forum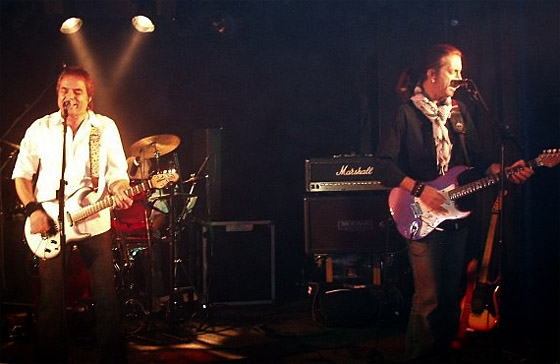 East of Java made a welcome return to WASH on Friday night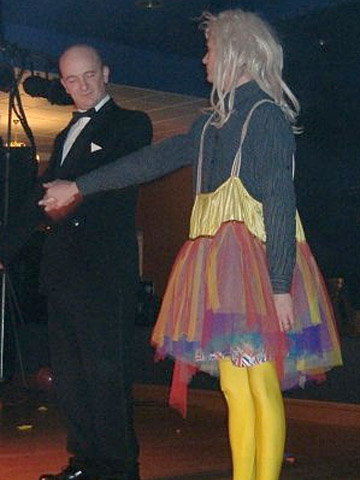 Joe gives Rollo a helping hand
A funny thing happened…
The first time I drove down to WASH myself was 1988, 20 years ago, and to come home I filled up with Petrol in Hunstanton at the little petrol station that used to be… well I guess under Tesco's delivery yard now. The price of petrol then was £165.9… per gallon (yes, so long ago that we still worked in gallons…) which is 36.5pence per litre. To get home in 2008 I bought petrol at 95.9p per litre
Now I'm not sure of the price we paid for WASH in 1988… but I know in 1986 it was £18.50, so I guess in '88 it was probably £20 Which means… Wash has gone up 3.5 times in 20 years… where as petrol
has only gone up 2.6 times…
And people tell you petrol is expensive !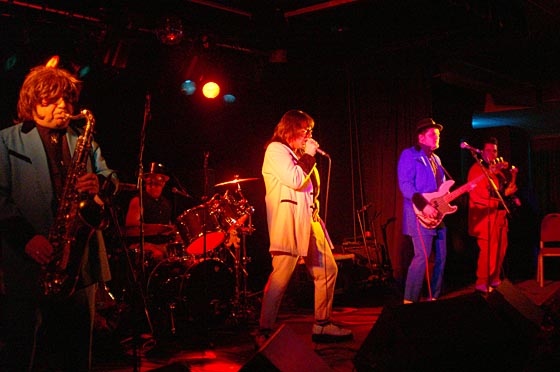 Showmaddymaddy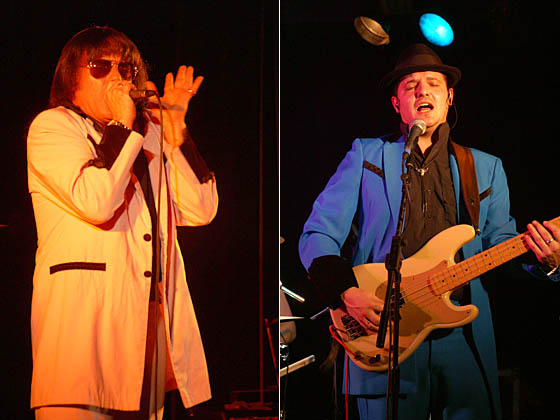 Don't they look like Badness from 2007 ?
What the Committee said…
To each and every one of you

You would think that after 17 years of attending WASH you would think that I would not feel like I do right now, which is quite lonely and and not a little tearful. Says a lot about the camaraderie and friendship that being part of Plus gives. Went to McDonalds for lunch and it felt so strange not to know almost everybody I came across.

Well I had a hell of a weekend, everything ran brilliantly and vaguely to time! I have some thank you's in no particular order

To Lala and Chris for destroying another liver, I am off to Turkey tomorrow for another transplant! THAT party should have carried a Government health warning.

To everyone who bought me a beer this weekend

To Bradford group for generously agreeing after they had got into their shed, for swapping so Lianne could have a shed with a ramp. Shame half an hour later it was rendered unsafe by someone crashing into it!

To my Mum and Dad for making me

To Pete N for letting me heckle him during the quiz, shame he allowed a certain team with about 10 people on it to beat us! bah humbug!

To all those who attended the daytime events, it is dammed hard to get up and motivate yourself.

To all those who dressed up for the Saturday night and the casino afternoon.

To Pete M for making me look like a sober and respectable individual last night at the karaoke party

Next year is already being thought about, so your feedback will be greatly appreciated. Hope to see lots of you at Brean in March. If you have never been come and have a look, its a lovely part of the world Brean and WASH are similar in atmosphere, actiivities that compliment each other and if you drink 10 pints of lager at either you get equally slaughtered

Take care gang

Paul, WASH 2008 Bookings Officer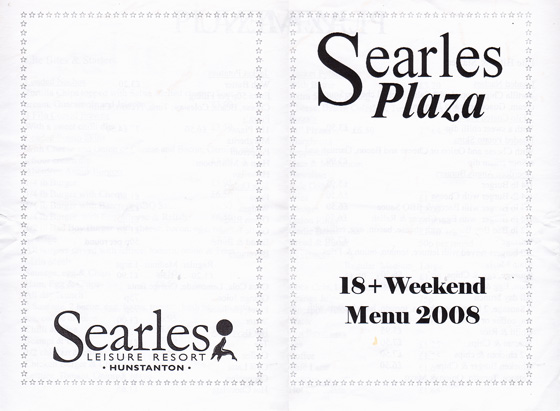 Searles menu for WASH 2008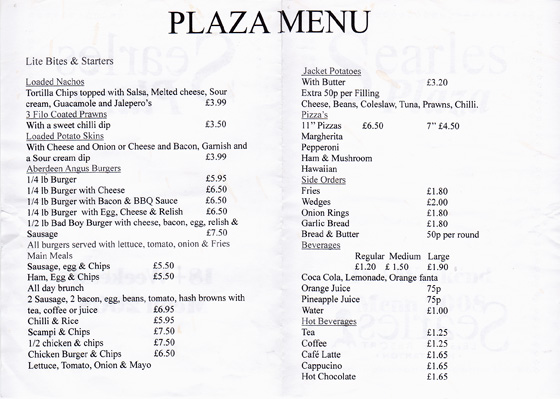 Compare prices with the Menu for 1985
A 1/4lb beefburger with cheese was £5.00 cheaper then !
What the Committee said
Is it really 2 weeks ago we were setting off for Hunstanton? The fortnight after WASH seems to go so quickly.Thank you all for your kind comments both on the one-list and Facebook I am pleased you all seem to have had a good time.It was also pleasing that some of the new additions (Dancing & casino) were so well received.It was a pleasure as always to be part of the organising committee.Lets make next year bigger and better than ever.
Thank you all for attending and creating such a friendly atmosphere.

The Israelite – Plus email forum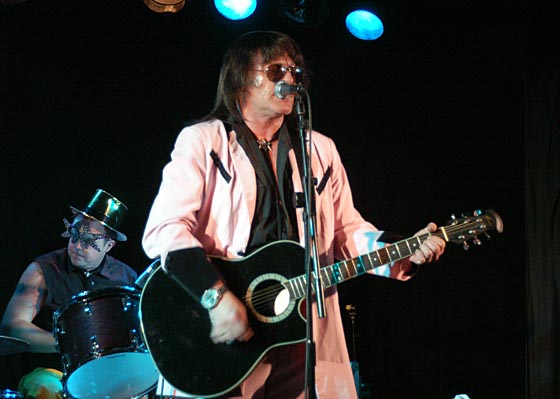 Showmaddymaddy again
Click to go to
Previous Year 2007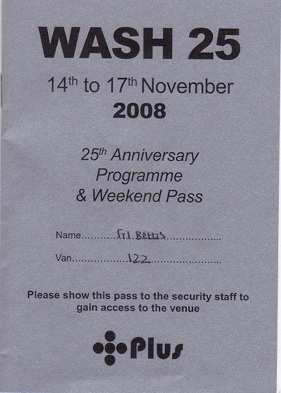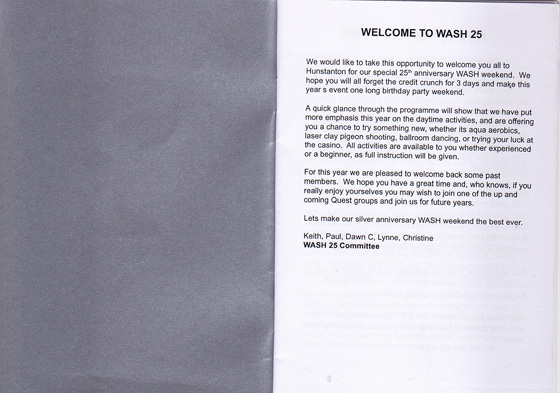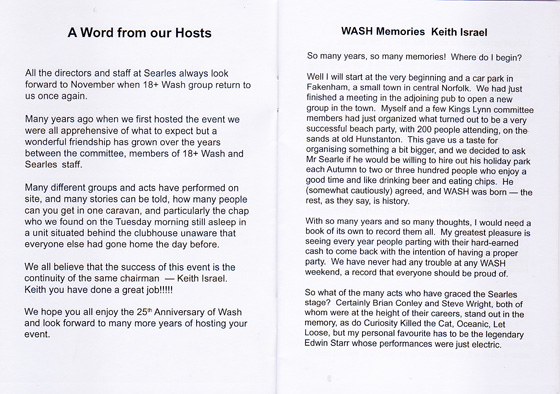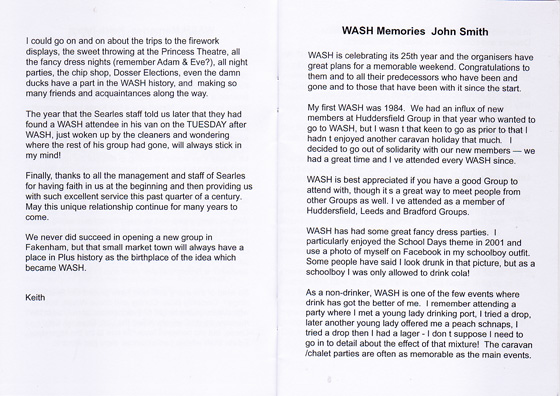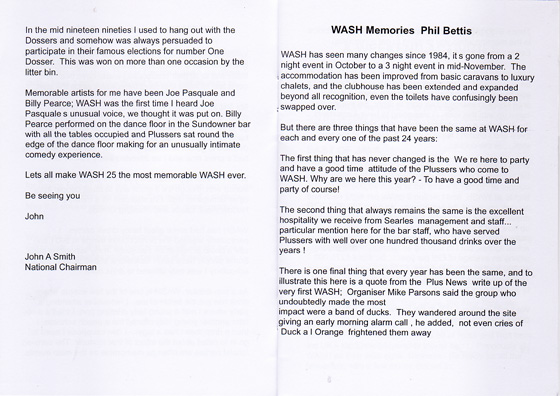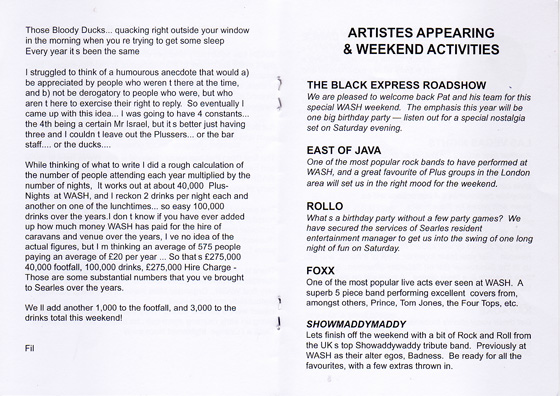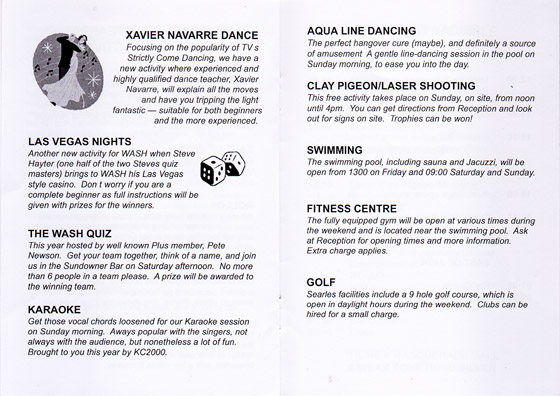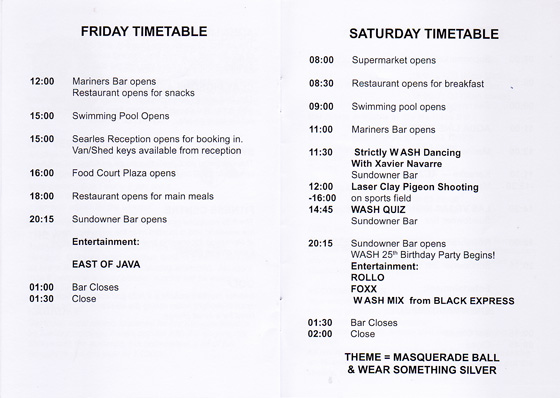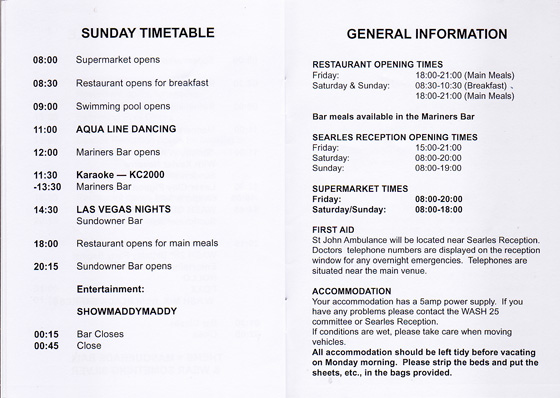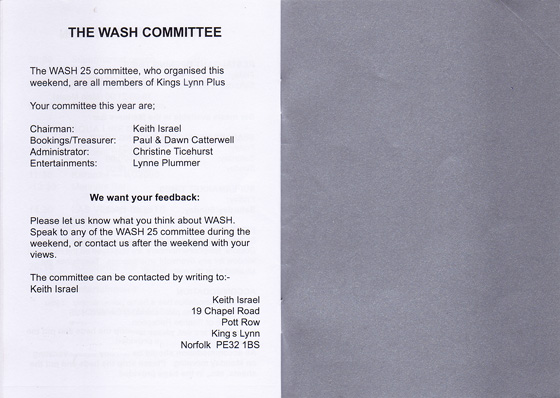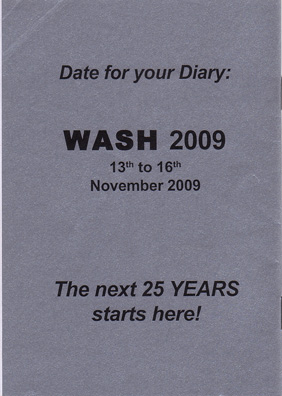 Click to go to
Previous Year 2007