Home » Geocaching
Caches No's 5047 to 5077 – GeoCoinFest Sunday
So, after another good nights sleep in the hotel it was back into Manchester for some more caching and for the Flash Mob event… bit of an issue getting into town as the Corporation were digging up the tram tracks in the middle of town, but after going a stop too far one diversion and having to come back on another tram I arrived at the place I wanted to be.8th September 2019 – War Memorial #900-Sidetracked Manchester Victoria GC89015 – cache #5048
And the place I wanted to be was Victoria Station, to find the virtual cache there… take a picture of you in front of the old Yorks and Lancs Railway map…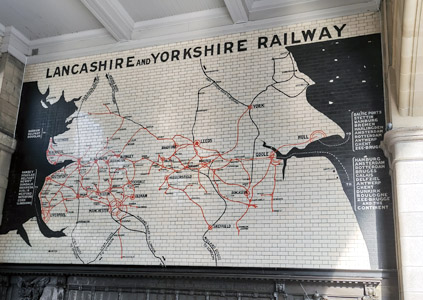 8th September 2019 – Stagecoach Manchester Lab Cache – Tree Top Golf – cache #5049
Find the entrance to the indoor crazy golf place and find the answer to what kind of Toucan you get here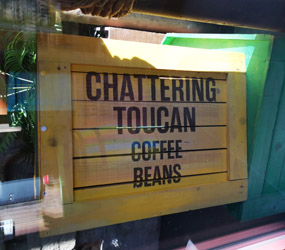 8th September 2019 – Radical ! Lab Cache – The cooperative movement – cache #5050
A statue that you had to find the sculptor of – difficult as it's fenced off as the area around is being dug up and rebuilt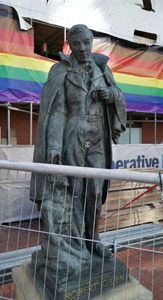 8th September 2019 – Radical ! Lab Cache – The birth of communism – cache #5051
Apparently Karl Marx went to school here, though the building wasn't always a school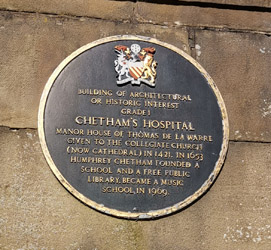 8th September 2019 – Greengate, Past, Present & Future. GC5QNAY – cache #5052
An easy find – easy because a bunch of Belgians had it in their hands when I got to the GZ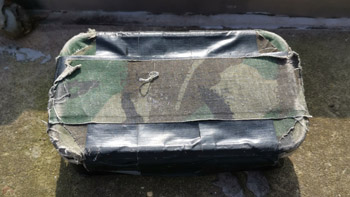 8th September 2019 – Radical ! Lab Cache – Engels in Manchester – cache #5053
Friedrich Engels, writer of the treatise "The Condition of the Working Class in England" and together with Marx a founder of Marxism wrote the book while he was working in Manchester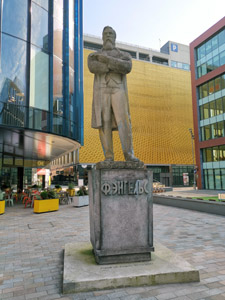 8th September 2019 – Geocoinfest 2019 – Industry Lab Cache 1 – Deansgate Railway Station – cache #5054
The Industry Lab Caches had to be done in a particular order which lead you on a walk around the city… First to Knott Mill Station – now Deansgate Station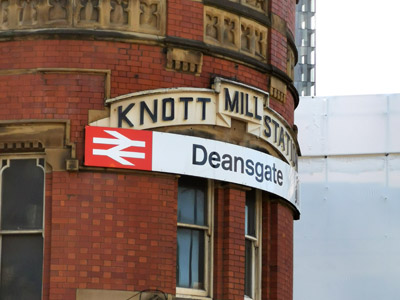 8th September 2019 – Geocoinfest 2019 – Industry Lab Cache 2 – Grocers Warehouse – cache #5055
Then down to the canals to find the site of an old warehouse and watermill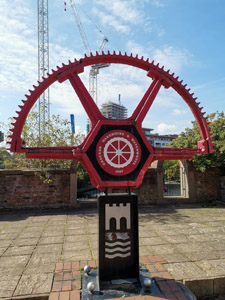 8th September 2019 – Geocoinfest 2019 – Industry Lab Cache 3 – The Bridgewater Canal – cache #5056
The Bridgewater canal was the first canal in the country
8th September 2019 – Geocoinfest 2019 – Industry Lab Cache 4 – The Rochdale Canal – cache #5057
And the Rochdale canal brought goods in from other local industrial towns (Manchester being a port city even though it is miles inland !)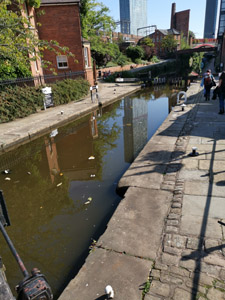 8th September 2019 – Geocoinfest 2019 – Industry Lab Cache 5 – Manchester's Roman Beginnings – cache #5058
I never knew the Romans had bothered with Manchester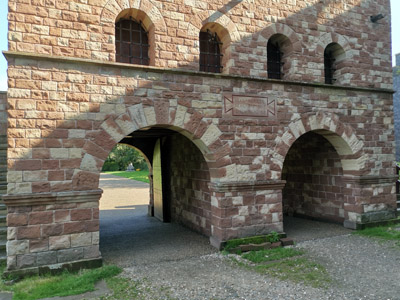 8th September 2019 – Stagecoach Manchester Lab Cache – Museum of science and industry – cache #5059
Then on to Manchester Science Museum… probably an interesting place to visit, but not on a nice sunny morning when there is caching to do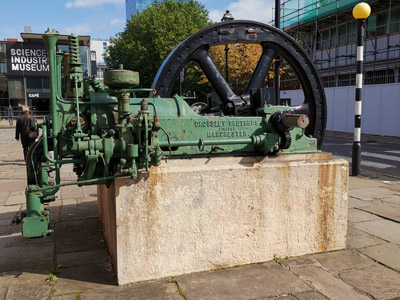 8th September 2019 – Geocoinfest 2019 – Industry Lab Cache 6 – Liverpool Road Railway Station – cache #5060
Another old Railway Station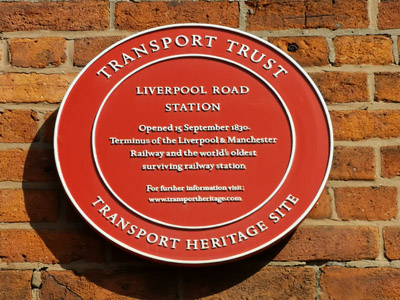 8th September 2019 – Geocoinfest 2019 – Industry Lab Cache 7 – Great Northern Warehouse – cache #5061
Not really sure why the Great Northern Railway Warehouse has an LNER name plate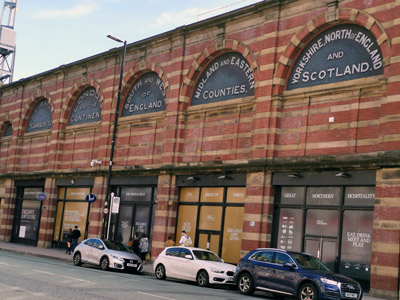 8th September 2019 – Geocoinfest 2019 – Industry Lab Cache 8 – Manchester Town Hall – cache #5062
The Town Hall, I would be coming back here a few minutes later as the Flash Mob was in the square outside the Town Hall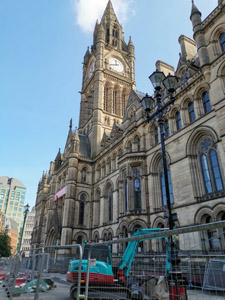 8th September 2019 – Geocoinfest 2019 – Industry Lab Cache 9 – Manchester Art Gallery – cache #5063
The Art Gallery is a fine example of Georgian Architecture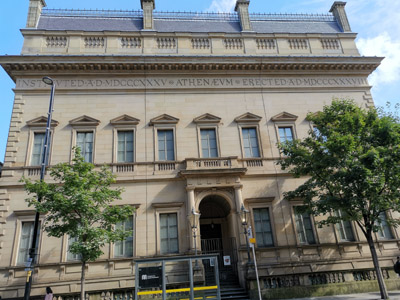 8th September 2019 – Geocoinfest 2019 – Industry Lab Cache 10 – Manchester Central Railway Station – cache #5064
The idea of this Lab Cache walk was really to take you round in a big cirle, so you began and ended near the venue for the GeoCoinFest, which was next to the old Central Railway Station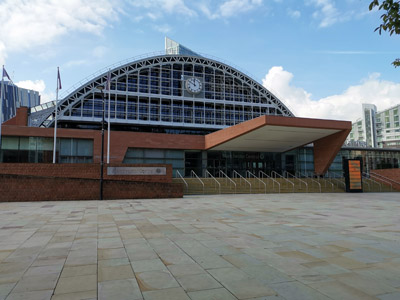 8th September 2019 – Atomic's Sting in the Tail GC85TWY – cache #5065
I'd been in town for almost 2 hours, done the Lab Cache Trail and several other caches, walked well over 10,000 steps before the Flash Mob.
It was nice to sit on a bench in the sun and rest, and say goodbye to all the people I had been with at the weekend – well apart from the rest of team CITCOT – because we had more caches to do in the afternoon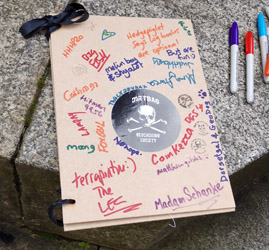 8th September 2019 – Church Micro 12853…Manchester – St Mary's GC – cache #5066
Found with Matthewgibbs after the flashmob – easy as someone already had it in hand when we got there…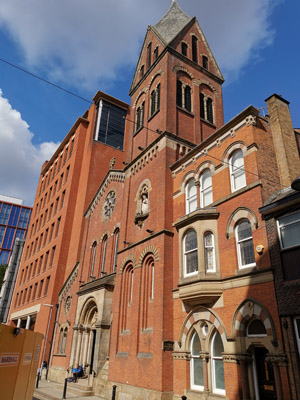 Pity the little passageway to the cache smells like a toilet
8th September 2019 – Geocoinfest 2019 – The Corn Exchange GC – cache #5067
The third cache in a row that was in the hands of another cacher when I arrived… anyone would think there was a lot of cachers in town for the Geocoinfest !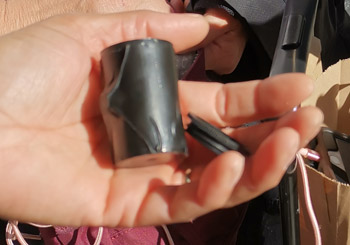 8th September 2019 – Church Micro 6600…Manchester Cathedral GC5EEZB – cache #5068
Found with the gang after the flashmob. Clare of CnJnA sorted out the answers with the CO… one of the tasks was to take a pucture of yourself in front of the building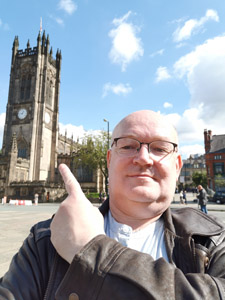 8th September 2019 – Entertainment Central GC6BRV4 – cache #5069
I've got a bad knee, so I sent CoinKezza to climb for the cache (well she volunteered actually)
We found some German Cachers nearby who had looked in vain for the cache, but we knew what we were looking for so brought them back with us to get the cache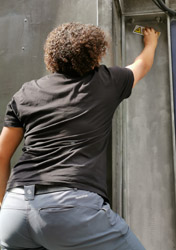 8th September 2019 – X-Sectioned Belemnites GC5V2Q9 – cache #5070
CoinKezza and I were clearing up some caches the day after the coinfest and as we had to go to the Lego shop we thought we should do the earthcaches in the Arndale Centre while we were there.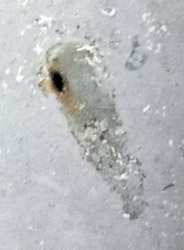 8th September 2019 – Undercover Ammonites GC5FMD2 – cache #5071
First we found the Belemnites and then went looking for Ammonites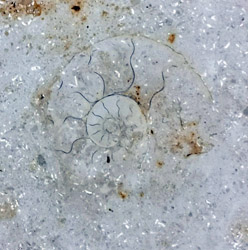 8th September 2019 – John Rylands Library – Manchester GC7BFEJ – cache #5072
What an excellent place.
Team CITCOT (Care in the Community On Tour) came here because MatthewGibbs had chosen it as his 9,000 milestone cache, and what a great choice. We were in Manchester for the Coinfest and it's interesting that the two best caches we found were in Libraries – the Letterbox cache in the Central Library was really fun to do, but coming here was like being invited into Hogwarts.. we all loved it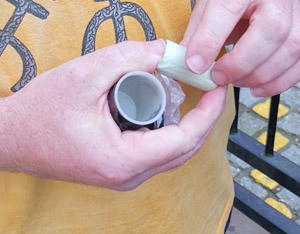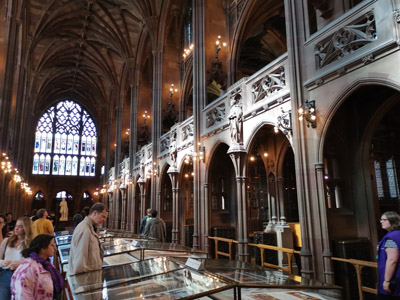 8th September 2019 – Stagecoach Manchester Lab Cache – Manchester Museum – cache #5073
And then it was time to go our separate ways and go home, I still had about half the Stagecoach Lab Caches to do, so I got the tram back to the station where I had left my car and then drove around the locations for the lab caches, logging them as soon as I was in range by googling the answers
I logged this one in the car  while queuing to get off Manchester City Centre ring road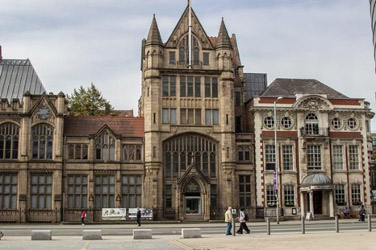 8th September 2019 – Stagecoach Manchester Lab Cache – Salford Museum Art Gallery – cache #5074
This one I did while stopped at some traffic lights, I didn't even google the answer I just guessed (that the statue of a queen outside the main doors would be Queen Victoria)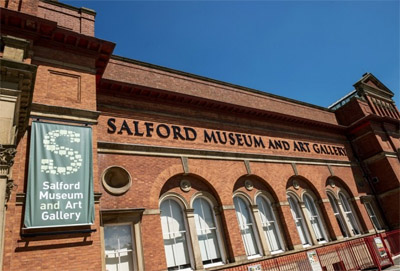 8th September 2019 – Stagecoach Manchester Lab Cache – Intu Trafford centre – cache #5075
Googled the answer about the fountain and logged it from the Car Park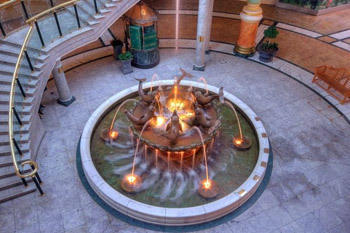 8th September 2019 – Stagecoach Manchester Lab Cache – Sea Life Centre – cache #5076
I actually had to go to the Sea-Life Centre to find the answer for this, fortunately it is at the Trafford Centre and as the place was shut on Sunday Tea-Time I could park quite close and get it done quickly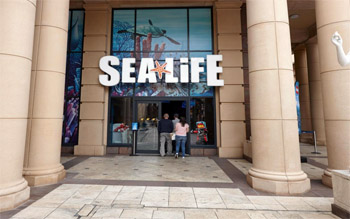 8th September 2019 – Stagecoach Manchester Lab Cache – Etherow country Park – cache #5077
And a final one about the weir in Etherow Park that I googled and then pulled over to the roadside as soon as I was in range to log