Home » Geocaching
Caches No's 4738 to 4747 – Werewolf and Whitespace
The most notorious puzzle caches in the North of England are Whitespace and Werewolf, these caches are over 10 years old now and still attract cachers from all over to do them. They are a 4 and 5 star terrain which  perhaps are a little high but they certainly involve a trek to get to and the moors can be inhospitable places on a bad day.
So on Facebook there was a general chat and then a plan made to go and find them as a group, and so an event was published to meet and go find them
1st June 2019 – Werewolf and Whitespace.. A walk to end all.. GC85KB6 – cache #4738
So many people standing around chatting in a car park in the middle of nowhere just off the Motorway… good job I got there reasonably early otherwise like the CO I would have had nowhere to park !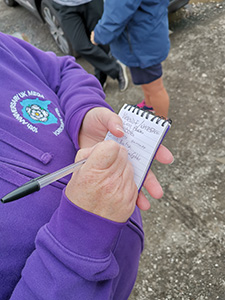 1st June 2019 – White Hill GC12C4M – cache #4739
As Kerry, Matt and I were a bit behind the main group (Kerry took ages changing into her boots) the cache had already been found before we got there. The caches were signed as Team Werewolf (except for Werewolf and Whitespace which we all signed individually)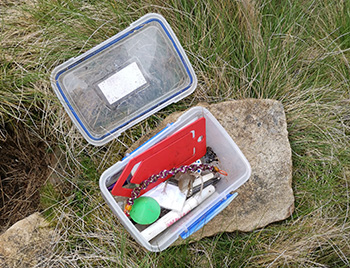 1st June 2019 – Way Stone GC1NH63 – cache #4740
Bit of a trek over the moor from the car park to the White Hill cache then back over to this one… and all to get to Werewolf in the end…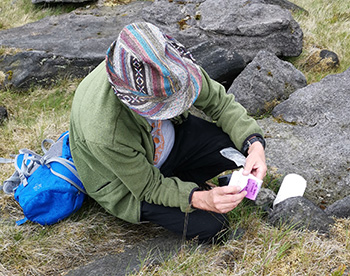 1st June 2019 – WEREWOLF GC1NH60 – cache #4741
I solved this cache back in October… October 2010 that is.
It took until a mob visit was organised for me to venture over the moors to get to the cache…
Still sometimes caching is better done as a mob
I loved the puzzle, and 9 years on it is still one of the best cache puzzles out there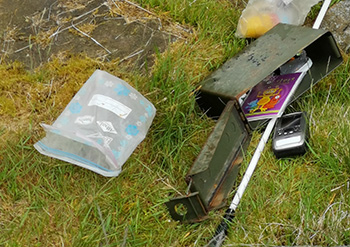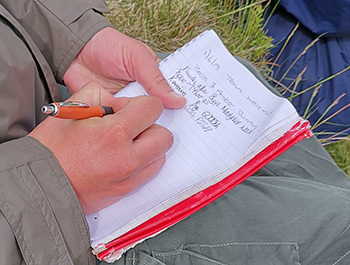 1st June 2019 – Motorway Mayhem M62 J22 – Saddleworth Moors GC81D2F – cache #4742
I found a previous cache at this location back on April 16th 2010 – GC1DKJP The Pink Rose.
That was the last time I pulled off the Motorway to this car park.
Here again to find the two great puzzle caches so it's nice to see that there is still a cache in the car park (and that it is on the Yorkshire side of the border !)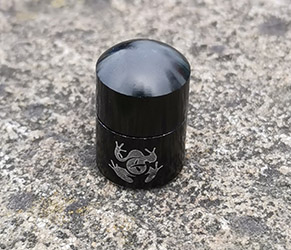 1st June 2019 – View 62 GC42B5Q – cache #4743
Coinkezza, Matthewgibbs, Tentmantent and I formed Team Werewolf's Tail, because we were too busy eating lunch to set off at the same time as the main body of Team Werewolf… so we had to find the cache ourselves after everyone else had gone on to the next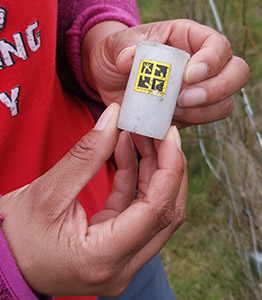 1st June 2019 – Frosties First GC3BAT3 – cache #4744
Not hard to find this one as there is a very suspicious looking pile of rocks covering it ! (well suspicious to the experienced cacher, maybe not to others)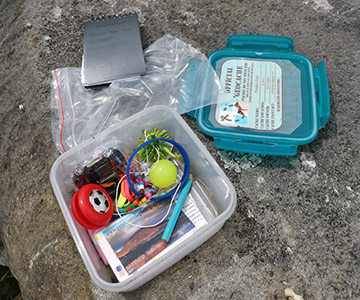 1st June 2019 – Mad Hatter's Home GC24N90 – cache #4745
Matt rushed ahead and shouted 'Found It' before the rest of us had got up the hill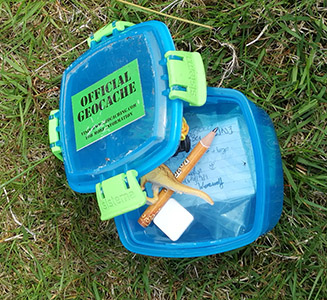 1st June 2019 – WHITESPACE GC1AF96 – cache #4746
I solved this cache back in October… October 2010 that is (I solved this one first then went straight on to solve Werewolf).
However it took until a mob visit was organised for me to venture over the moors to get to the cache…
Hang on, didn't I say the same thing a few caches before about Werewolf ?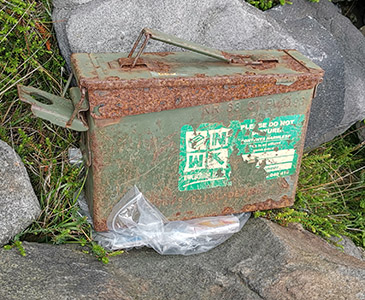 1st June 2019 – Sign traveller GC42B4Z – cache #4747
Coinkezza and I were so busy chatting we walked right by this cache on our way to find Whitespace, so we had to come get it on the way back – whereas the main mob who found this on the way there headed across the top of the hill to the Pennine Way path and avoided having to go down and up the steep gully again !