Home » Geocaching
Caches No's 4724 to 4734 – Hamburg GIGA Part 3
The last couple of days of our Hamburg trip were the drive home… and as we were booked into a hotel just on the Belgian side of the border with France we decided that we could easily find caches in 4 countries in a day – Germany, Holland Belgium and France.
5th May 2019 – Noch stabiler GC7M87D – cache #4724
We started our journey home by picking up this cache which was near the Krupunder train station… a Magnetic disc on top of a 2mtr high steel bollard covered the cache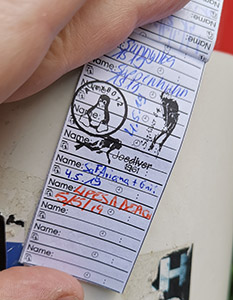 5th May 2019 – Hollenstedt GC8527G – cache #4725
Breakfast time – well maybe Brunch at a motorway services (the Schnitzel with sweet and sour sauce I had was really nice)
While we were there we found the cache in the car park as well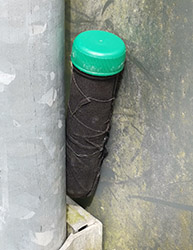 5th May 2019 – KC04 – Rastplatz Buddenkuhle an der A1 GC546DR – cache #4726
You don't really have to have any knowledge of Dutch to understand the title of this cache.. the Buddenkuhle Restplace on the A1 – A restplace is a large layby with toilets (no shop at this one)
We stopped here for a break, then noticed there was a cache… I wondered over to where I thought it would be and a voice shouted, "It's in the corner" – the people in the next car were also cachers and had found it (and recognised that I was English from my car and overheard conversation with Jen), and they showed me where it was
After I had put it back I was standing by my car when three men walked over with their phones in their hands and started looking – so I shouted over "It's in the corner" and showed them where it was just as the previous finder had done for me !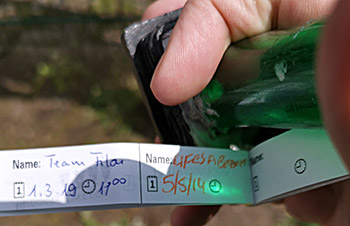 5th May 2019 – De klotspade. GC4WKYE – cache #4727
On the drive from Antwerp to Hamburg we stopped at a McDonalds in Holland for some refreshment and saw that there was a cache on the other side of the Motorway, but because we were wanting to get to Hamburg as early as possible we didn't have time to go and find it. So on the way back we agains stopped at McDonalds for refreshemts (banana milkshakes) and came over to find it – and what a lovely little cache it is.
Klotspade means Peat Spade I think, there is a hut with a lot of peat around it drying under the eves, in the peat you find a box… with a tube in it….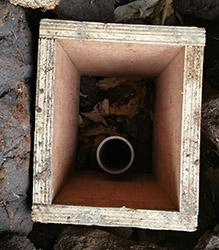 as you can't get the cache you then have to go to a separate location and uncover a container which has in it all the swag and such… and a magnet on a string…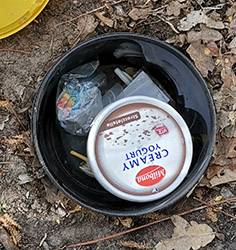 Which you then can use to get the cache.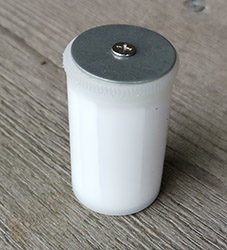 I gave it a favourite point for being different.
5th May 2019 – Schaapskooi D'n Heikop GC2V954 – cache #4728
From the Klotspade cache we could either have rejoined the motorway straight away or taken a little trip through Holland to find some more caches – we decided on the detour
A nice cache in a pony stable, fortunately the ponies were very friendly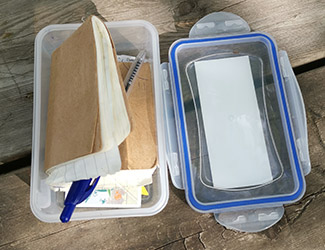 5th May 2019 – Horster Bankjes #92 GC78717 – cache #4729
Took us longer to find that it should have done – but then we may have missed some clues in the cache name and description as we don't read Dutch !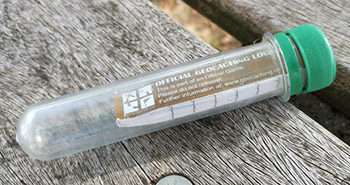 5th May 2019 – Horster Bankjes #93 GC7871H – cache #4730
We assume that Horster Bankjes has something to do with roadside benches / picnic tables as all these caches were on similar items
5th May 2019 – Horster Bankjes #84 ~de pieël in brank~ GC770F9 – cache #4731
The last cache of our little detour.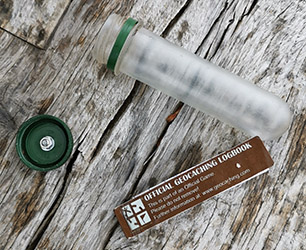 5th May 2019 – [GN18] 24 – Les Dunes Cabourg et aux Pins GC7MZMZ – cache #4732
We came along to the border to find caches in Belgium and France, this is the last cache in Belgium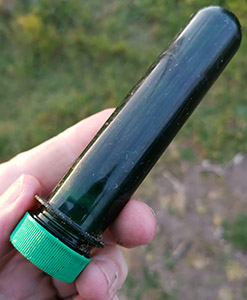 5th May 2019 – [GN18] 25 – Les Dunes Cabourg et aux Pins GC7MZMB – cache #4733
A quick walk over the border and we soon found the first cache in France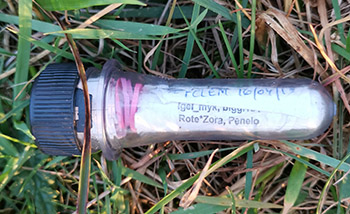 The weird thig was the Jen had found these last two caches before, about 4 years ago, however they didn't show up as smilies on the map because the caches had been reset for the 2018 GeoNord event, so she could find them again
6th May 2019 – Bastian verstopt 3: Kykhill park GC81WHC – cache #4734
We stayed in De Panne overnight and next morning walked into the city in search of Breakfast – but found a cache first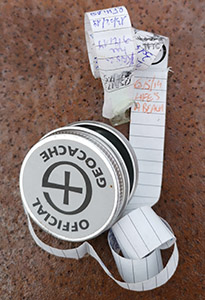 Then after breakfast on a bench on the beach it was time for the Eurotunnel and then a 350 mile drive back home from Folkestone.