Home » Geocaching
Caches No's 3865, 3866 & 3867 – Filling the 9th Month
In my continuing attempts to fill the caching calendar I had 3 more days to fill in October. I had decisions to make about which caches to go for, do I go for caches local to home ? or do I perhaps save them for blank days later in the year to do in the dark ? as weekday caching will be in the dark after the clocks have gone back. Though in reality the chances of finding caches on every blank day when I am working during the week is zero as I've been caching long enough not to have many 'local' caches left to do and I am not going to go on a 20 mile round trip just to fill up a blank spot on my calendar
13th October 2015 – A Rocky surprise GC5JG8V – cache #3865
I had failed to find this cache a couple of weeks earlier, but reading the logs it was obvious I had looked in the wrong place, and so I ignored the GPS (well, I didn't even take it with me) and used my eyes this time… Found that I was looking on the wrong side of the road last time, and found the cache after only about 5 minutes searching !
22nd October 2015 – B-Trolls Rule GC546V0 – cache #3866
Ive been down to this path before and not gone for the cache because of people in the garden of the house overlooking it… but tonight in the dark I was able to get it without being watched… (it was school holidays when I went before and the kids were playing out in the garden)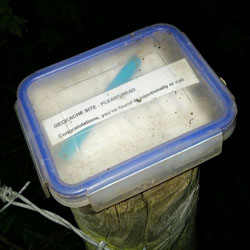 29th October 2015 – UP'T Moor GC5NXPT – cache #3867
The final blank date on my October caching calendar got me out caching in the rain and mud – conditions that I would not usually be tupperware hunting in.
It wasn't actually too bad underfoot getting to the cache there were some wet and slippery places where the 4×4 boys had been churning it up, but it was possible to get round them.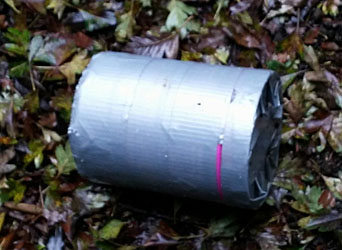 A nice big cache so easy to find, and that's October filled on my calendar… (though I don't think I'll get November and December filled in this year… or any year soon !)