Home » Geocaching
Cache No. 3772 – 1 Cache, 2 Souvenirs
"Happy International Geocaching Day! By logging a geocache on August 15, you have joined thousands of geocachers around the world who are celebrating geocaching"
I'd forgotten that Saturday 15th August was International Geocaching Day 2015 until I logged onto Facebook around 6pm, but once I had realised it I decided that I ought to go out and find at least one cache (and get the IGD 2015 souvenir).
Then there was the 15 years of caching souvenir for Earthcaches to get, so I decided I ought to go out and find an Earthcache. There were a couple of possibilities, one in the middle of Leeds, or one up in the Dales… unsurprisingly a drive up the Dales won out
15th August 2015 – Limestone Landing GC41KYM – cache #3772
I didn't get to the earthcache site until about ten to nine, the sun had gone down and it was getting a bit gloomy, the earthcache is based in an old quarry where the strata are visible. So I spent a happy 15 minutes clambering all over the quarry face sorting out the answers. I even brought home a piece of rock from the quarry, no idea why other than it's size and shape appealled to me !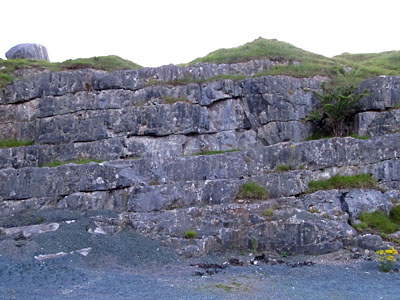 Plus of course for finding the earthcache I got the 'Geocaching Road Trip' Earthcache souvenir